UNITED STATES- If you've been in the loop regarding the discussions surrounding the Banning Babies on planes, here's the scoop: A European charter airline recently revealed plans to introduce adults-only sections on select trans-Atlantic flights starting in November.
This development has ignited daydreams among some frequent flyers about the possibility of flights without babies. And you know what? Perhaps they're onto something.
Concept of an 'Adults-Only' Section on Aircraft
Airlines have already implemented reasonable restrictions on young passengers. For instance, United Airlines (UA) doesn't allow infants under 7 days old to travel. Furthermore, there has been a genuine conversation about excluding little ones from business class. So, why not extend this discussion further?
The debate regarding the presence of children on airplanes was sparked by Corendon's recent announcement to introduce an "Only Adults" section for passengers aged 16 and above on flights connecting Amsterdam and the Caribbean island of Curaçao.
Corendon's "Only Adults" zone, situated at the front of their Airbus A350, comprises nine XL seats offering extra legroom and 93 standard seats. The section will be separated from the rest of the aircraft by walls and curtains, creating a secluded environment that enhances the flight's tranquility and relaxation, as stated by the company.
One of the airline's primary motivations behind this move appears to be financial. Booking a seat in the "Only Adults" zone costs $48 per flight, while an XL seat in this section comes with an extra fee of $106 each way.
However, Corendon asserts that this arrangement will also benefit passengers, particularly those heading to the Dutch Caribbean, by ensuring they arrive well-rested and ready for their vacation.
In a news release, Corendon explains, "This zone on the plane is intended for travelers without children and for business travelers seeking a peaceful work environment."
Corendon has refrained from responding to inquiries regarding its new "Only Adults" section, possibly due to the contentious nature of the topic among air travelers.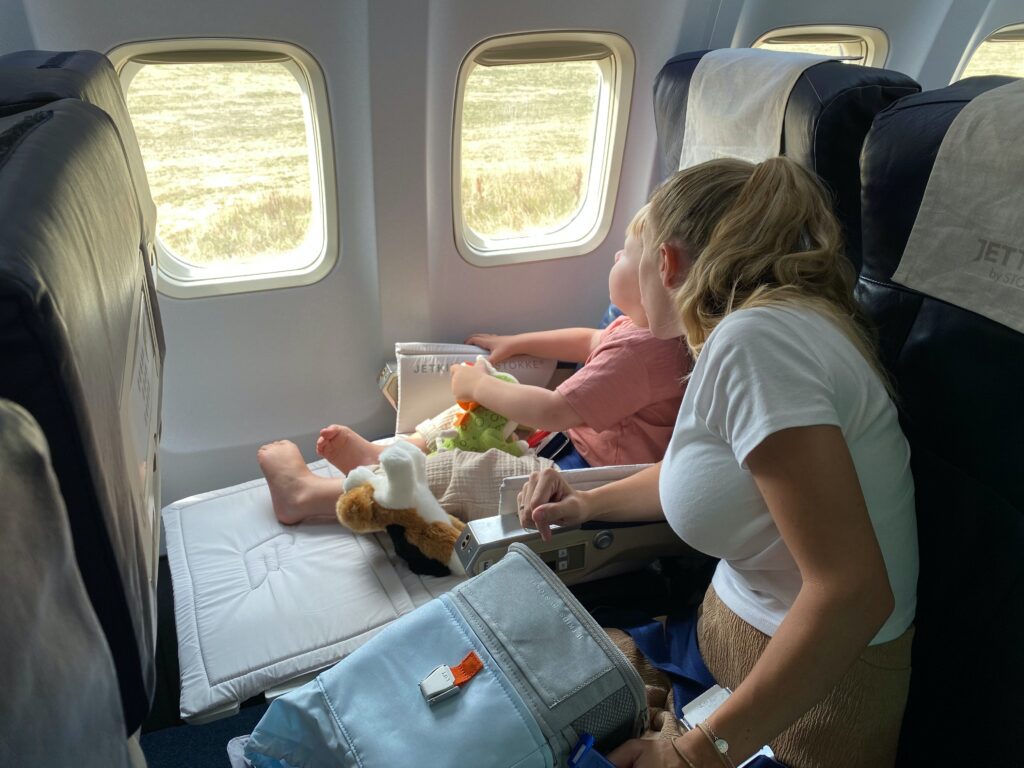 Should Babies Be Allowed on Flights?
"Debating the Inclusion of Young Passengers on Flights: Diverse Opinions Among Travelers"
Some passengers firmly believe that airlines should not restrict young passengers' ability to travel freely.
Corinne McDermott, the founder of Have Baby Will Travel, a family travel website, dismisses the ongoing discussion as unwarranted, asserting, "This entire debate is baseless. People tend to overlook the fact that babies and toddlers are individuals, too. We aspire to raise our children as open-minded and empathetic individuals who would extend a helping hand to fellow parents rather than turn them away. Don't we?"
Colleen Carswell, a hospitality consultant and expert in family travel, suggests that while limiting children's access may seem like a convenient solution, it could lead to lasting repercussions. She states, "I don't believe they'll grow up to be the kind of people we'd like them to be."
Carswell contends that isolating noisy kids at home is not the answer. She argues that such an approach does a disservice to society by fostering shame and judgment instead of promoting compassion. Instead, she advocates for welcoming all passengers onboard flights regardless of their age.
Indeed, these perspectives hold merit. Personally, I am grateful that airlines allowed babies and young children on flights when I was a young father. I took my son, Aren, on his first flight when he was just a few weeks old. As he grew into a toddler, we ventured to Europe together, and we were fortunate to receive a business-class upgrade on one of our flights.
Today, Aren is a well-adjusted globetrotter who speaks three languages. If I had been unable to fly with him during his early years, achieving this might have been far more challenging.
Why Air Travel May Not Be Suitable for Children
There is a compelling argument for establishing reasonable boundaries when it comes to allowing babies and children on flights. Some infants may face physical challenges that make air travel exceedingly uncomfortable, while others may not possess the temperament required for extended hours inside a pressurized aluminum aircraft.
Etiquette consultant Jodi RR Smith candidly admits to having daydreamed about child-free flights, though she remains skeptical that this scenario will ever come to fruition.
She believes that the most persuasive rationale for limiting children's air travel lies in their best interests. Some youngsters simply aren't prepared to remain seated for extended 12-hour flights. Moreover, during flights, one of the foremost challenges for babies and toddlers is the pressure changes experienced during ascent and descent.
Smith observes, "The child often experiences excruciating pain, which is heart-wrenching for the parent, torn between wanting to comfort their child and feeling embarrassed about disrupting fellow passengers."
Shelley Hunter, an innkeeper hailing from Quincy, California, advocates for airlines to have the ability to designate child-exclusion flights. She recalls a recent flight from Reno, Nevada, to San Diego, where she wished for an "Only Adults" flight.
Hunter recounts, "A toddler screamed loudly and continuously kicked the back of my seat throughout the flight. The parents kept praising him, but he was anything but well-behaved."
Unsurprisingly, a private air transportation company KinectAir survey found that 77% of parents have admitted to dreading air travel with their children. Parents cite their kids' loudness and the challenge of keeping them occupied as key reasons for their apprehension.
Maybe it's time for kid-free flights
Before I became a parent, I might have entertained the radical and somewhat impractical notion of completely banning babies from all flights. The idea would be to wait until children are old enough to sit quietly and manage the pressure changes in their ears before subjecting them to the challenges of air travel. Alternatively, one could argue that children under 16 should simply stay home to generate website traffic. However, now that I have three kids, my perspective has evolved.
Perhaps Corendon's approach is on the right track. Most of us can agree that certain places, like bars, trade shows, and upscale restaurants, aren't suitable for children. So, what harm could come from offering child-free sections or even child-free flights?
I understand that the very notion of placing restrictions on children might upset some parents. But trust me, if infants and toddlers could express their feelings, they would likely thank you for sparing them the discomfort of being confined in a seat for hours and the painful pressure on their ears. I believe your fellow passengers would also appreciate the consideration.
Managing a Crying Baby on an Airplane
"Staying Sane on a Flight with a Crying Baby: Strategies for Peaceful Travel"
Let's face it: Babies will continue to fly no matter what advice is offered. So, here are a few strategies to help you maintain your sanity when a seat-kicking little one elevates the noise level during your next flight.
Seek Assistance from a Flight Attendant:
If a baby's cries persist, you can approach a flight attendant for assistance. Sharon-Frances Moore, an expert in social etiquette, notes that flight attendants are trained to assess and address in-flight issues. They may offer a solution, such as relocating you to a different seat if one is available.
Invest in Noise-Canceling Headphones or Earplugs:
"Noise-canceling headphones are an excellent investment for frequent travelers," recommends LaDell Carter, the lead travel designer at Royal Expression Travels. These headphones can significantly diminish the impact of a crying baby. Personal favorites, like my Sony WF-1000XM4 headphones, can make a world of difference in your travel experience.
Opt for Baby-Free Flights:
Based on personal experience, many young parents tend to prefer morning flights for domestic travel and avoid overnight flights, fearing that their little ones won't sleep, thus keeping everyone awake. Certain destinations, such as Orlando, also tend to attract a higher number of families with young children. Consider booking a red-eye flight to minimize your exposure to crying kids, if possible.
Stay tuned with us. Further, follow us on social media for the latest updates.
Also Read: US Airlines, Including American, United, Delta, and Southwest, want you to Dress Properly – Aviation A2Z
Join us on Telegram Group for the Latest Aviation Updates. Subsequently, follow us on Google News.