MUMBAI- Tata-backed Indian FSC Air India (AI) final Airbus A321neo has departed from Hamburg Airport (XFW) in Germany. Subsequently, the plane is airborne and will soon land at Delhi Airport (DEL).
Recently, AerCap, a prominent player in the aviation leasing sector, revealed that they have completed the delivery of Four Airbus A321neo planes to Air India. Furthermore, the Indian carrier has signed the lease agreement for 4 A321neo with AerCap.
Air India Final Airbus A321neo Delivery
According to Flight Radar 24, the Air India A321neo took off from Hamburg (XFW) today, May 19, 2023, at 2:58 PM. Further, it is expected to land at Delhi Airport (DEL) at around 2:24 AM (All this time are in IST).
The aircraft has the registration VT-RTE and is the fourth A321neo that is powered by CFM LEAP-1A engines.
According to Nipun Aggarwal, Chief Commercial & Transformation Officer of Air India, the addition of these four newly leased Airbus A321neo aircraft is a significant milestone in the airline's ongoing transformation.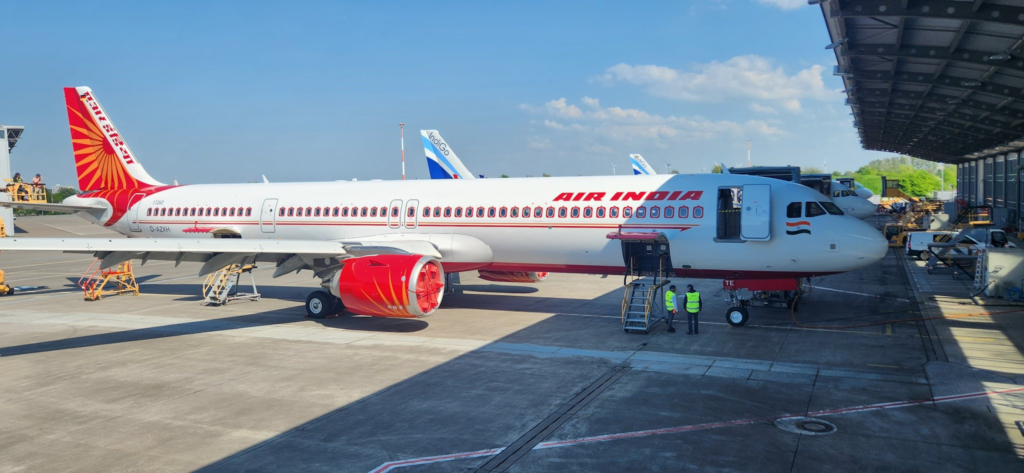 Air India A321neo Timeline
The Oldest Indian Carrier took delivery of its first A321neo, having registration VT-RTD (named after Tata Chairman Emeritus Ratan Tata) on 26th March 2023. Subsequently, they took delivery of the second A321neo with Reg VT-RTC five days later, on 31st March.
Furthermore, they added a third A321neo at the end of the last month on 28th April. These planes have been parked and have not flown any flights since their induction.
But still, due to some reasons, Air India has not operated the A321neo commercially yet. Further, these planes are part of the 36 aircraft that Air India signed a lease agreement with lessors. Remember, this is not part of the order that includes 470 aircraft from both Airbus and Boeing.
The 36 planes on lease include both narrow-body and wide-body airliners. They are 21 A320s, 4 A321neos, 5 Boeing 777-200LR, and 6 Boeing 777-300ERs.
Other Aircraft Updates
So far, Airbus has transferred four A350 registration from Aeroflot (SU) to Air India. While remaining will be added shortly to the Indian carrier. Furthermore, this A350s Manufacturer's Serial Number (MSN) is MSN 554, 558, 585, and most recently added, MSN 589.
It has secured a lease of six ex-Etihad (EY) Boeing 777-300ER. It is in the United States and will be ready for delivery in the coming days.
Four of the six ex-Etihad Boeing 777s are currently at Victorville Airport, USA. The MSN number of these planes are MSN 39687; MSN 39700; MSN 39689; and MSN 39690. Furthermore, the Indian FSC is in the stage of receiving its first B777-300ER, which bears MSN 39686.
Stay tuned with us. Further, follow us on social media for the latest updates.
Also, read FIRST LOOK: Air India Airlines New Possible Branding, Livery, Logo and More | Exclusive – Aviation A2Z
Join us on Telegram Group for Latest Aviation Updates. Subsequently, follow us on Google News.