Boeing has announced its plan for 2023 to enhance innovation for sustainability and safety through the expansion of its ecoDemonstrator flight-test program with Boeing 787 Dreamliners.
The company intends to evaluate 19 technologies on the Boeing 777 ecoDemonstrator while incorporating "Explorer" airplanes to focus on testing specific technologies.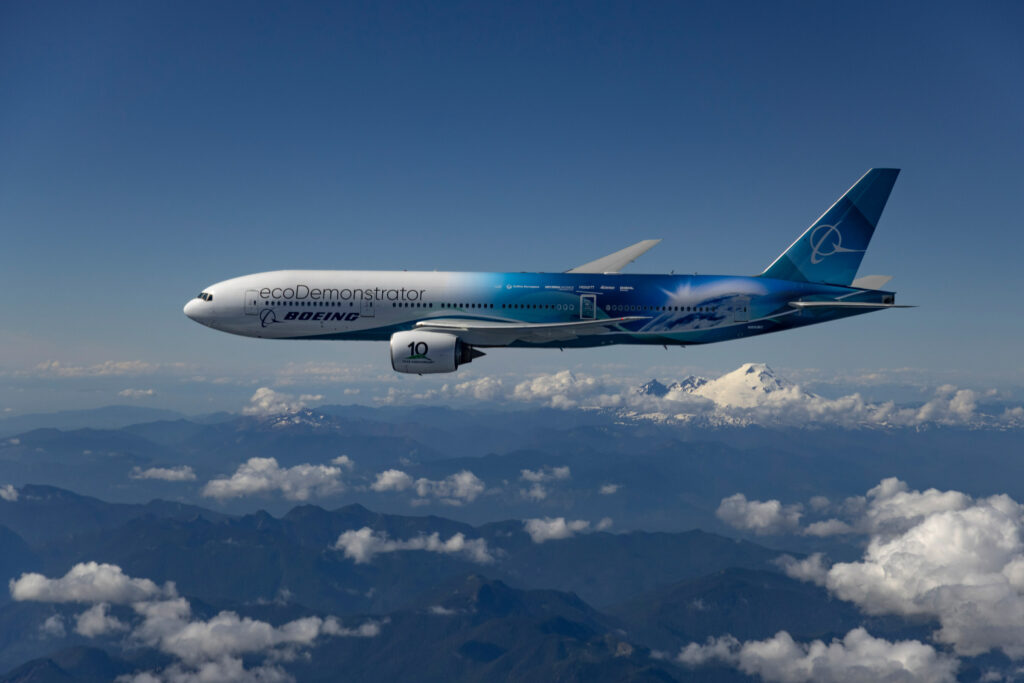 Boeing ecoDemonstrator with 787
Boeing's first ecoDemonstrator Explorer, a 787-10 Dreamliner, is set to perform flight tests in June, traveling from Seattle to Tokyo, Singapore, and Bangkok.
The flight tests aim to demonstrate how coordinating navigation across various global airspace jurisdictions can improve operational efficiency. Which can reduce up to 10% of an airplane's fuel consumption and emissions.
By utilizing the airplane's onboard capabilities, Boeing and air navigation service providers in the United States, Japan, Singapore, and Thailand will work together to sequence the airplane's routes.
Further, taking into account various factors, such as weather, air traffic, and airspace closures. To determine the optimal flight path across multiple regions. Subsequently, the airplane will fly using each location's highest available blend of sustainable aviation fuel (SAF).
Executive Comments
Stan Deal, the President and CEO of Boeing Commercial Airplanes announced the ecoDemonstrator program's expansion with Explorer airplanes to test more sustainability-focused technologies. To support the industry's goal for net-zero carbon emissions by 2050.
Boeing will continue to invest in innovation that reduces fuel use, emissions, and noise on its products. It will partner with governments and industry to make progress on sustainability during each phase of flight.
Boeing's Chief Sustainability Officer Chris Raymond said that the industry would need continued fleet renewal, efficiency gains, renewable energy carriers such as sustainable aviation fuel, and advanced technology. To meet the civil aviation industry's commitment to achieving net-zero carbon emissions by 2050.
He also added that their initial Explorer testing with aviation stakeholders in four countries is an excellent example of how they can work together. To optimize operational efficiency and reduce emissions.
Boeing 2023 Plans
Boeing plans to test 19 technologies on the Boeing 777 ecoDemonstrator in 2023. These include sustainable wall panels made of recycled carbon fiber, bio-based resin, and a fuel quantity sensor compatible with sustainable aviation fuel. Further, an Electronic Flight Bag application with Smart Airport Maps to reduce operational costs and improve safety during taxi operations.
The flights will use the highest available blend of sustainable aviation fuel for all test flights.
Bottom Line
The Boeing ecoDemonstrator program has been testing new technologies in operational environments since its first flight in 2012, accelerating innovation and aiding the decarbonization of aviation, improving operational efficiency, and enhancing safety and passenger experience.
With the 2023 plan, the program will have tested approximately 250 technologies, and about a third of them have been integrated into Boeing's products and services.
Stay tuned with us. Further, follow us on social media for the latest updates.
Also Read: Indian Students Deported Back to Delhi from USA on Delta Flight – Aviation A2Z
Join us on Telegram Group for the Latest Aviation Updates. Subsequently, follow us on Google News.