Since the first of March, these particular flights have been running. This year, the Air India Group has designated around 90 flights to be operated by an all-female crew in honor of International Women's Day.
International Women's Day
In preparation for International Women's Day on March 8th, these flights have been running since the beginning of this month. To honor International Women's Day, Air India, Air India Express, and AirAsia India have scheduled more than 90 flights with all-female crews.
Since March 1st, these unique flights have been running on both domestic and foreign routes. The 90th anniversary of JRD Tata's first commercial flight is also marked by the number.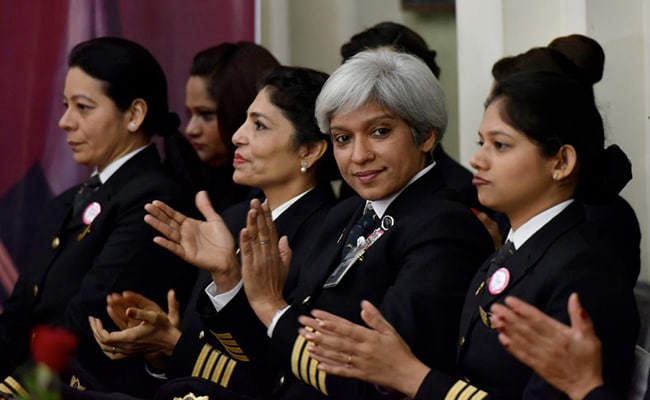 Managing Director and CEO of Air India
Women will mostly work as dispatchers, loaders, engineers, security, and safety and quality auditors on most of these flights in addition to the cockpit and cabin crew. Managing Director and CEO of Air India, Campbell Wilson, said,
We appreciate each of the ladies who work for Air India today for empowering women to succeed in all professions. We are proud of the women who work for us now. Since it has been using an all-female crew for more than 40 years on both domestic and international flights, Air India is not a newcomer to the practice. In addition to performing a comparable journey that charted the polar route, it also operated the first all-female crew flight across the world from Delhi to SFO.
Air India is operating 40 flights domestically and internationally out of the 90+ flights operated by an all-female cockpit and cabin crew, while Air India Express is operating 10 all-international flights to the Gulf route and AirAsia India is operating more than 40 flights domestically.
Also, read
Across all airlines in India, there are about 12.4% of female pilots
The majority of female pilots in the world are found in India, even though this figure is significantly lower than in certain other sectors.
There are several other factors contributing to the increase in female participation in the aviation industry in the country, including government outreach programs about aviation that date back to the 1940s, support from state government programs that subsidize expensive flight schools, and private companies that have pushed for greater diversity over time.
Women make up 15% of the cockpit crew at Air India, making it one of the airlines with the highest proportion of female pilots. 275 of the 1,825 Air India pilots are female.

More women are entering the workforce thanks to airlines throughout the world. Iberia declared its goal to have 40% women in management roles by 2025 on March 7.
The percentage is currently 35%. Oman Air recently held a ceremony at its corporate headquarters in Muscat to elevate its first female captain.
After completing the cadet program at the Royal Melbourne Institute of Technology (RMIT) in Australia, Maha Al Balushi joined the airline in 2010. In 2013, she was elevated to the position of the first officer, being the first female Omani to hold the post.
Thank you
Stay updated with Aviationa2z.com