A fire caused by the battery of an electrical gadget aboard a United Airlines flight forced the jet to return to San Diego on Tuesday, sending four people to the hospital, according to officials.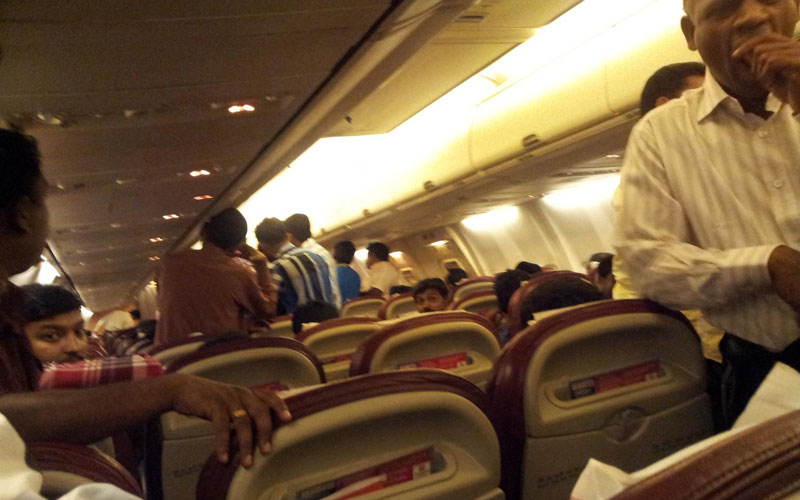 Laptop Catches Fire Onboard on United Airlines flight
According to a tweet from the San Diego Fire Department, the flight crew aboard United Flight 2664 stopped the fire from spreading further and returned the plane to the airport.
According to Sabrina LoPiccolo, a spokesman for San Diego International Airport (SAN), emergency services responded and are now treating passengers.
According to FlightAware, the aircraft, a Boeing 737 MAX 8, took off from the airport at 7:07 a.m. Pacific Time and landed in San Diego at 7:51 a.m.
Four people were brought to the hospital after fire services evaluated every passenger and member of the crew. According to another tweet from the San Diego Fire Department, two other patients denied further care.
According to FAA spokesman Ian Gregor, a laptop battery caused the fire. The FAA will look into it, Gregor promised.
The airline said, among those brought to the hospital are flight attendants who are credited with putting out the fire.
"Our crew responded immediately to contain the device and medical personnel greeted the aircraft when it arrived at the gate. Two customers were assessed on-site, and several flight attendants were transported to the hospital as a precaution."

Charles Hobart, a spokesman for United Airlines, said
"We thank our crew for their quick actions in prioritizing the safety of everyone on board the aircraft and we are making arrangements to get our customers to their destinations," Hobart added.
Also read:
India's Domestic Air Traffic Reaches 86% Of Pre-covid Level In 2022 | Exclusive
Air India To Borrow Rs 18,000 Crore From SBI And Bank Of Baroda | Exclusive
Follow us on Google News for latest Aviation Updates
Join us on telegram group
Stay tuned…