At Thiruvananthapuram International Airport on Wednesday, a Cessna-172 R being flown by a 34-year-old student pilot managed a remarkable escape after the aircraft drifted off the runway after takeoff.
When the aircraft plummeted from a height of around 5 feet, it veered off the runway and suffered severe damage as it plowed through the open land next to the runway.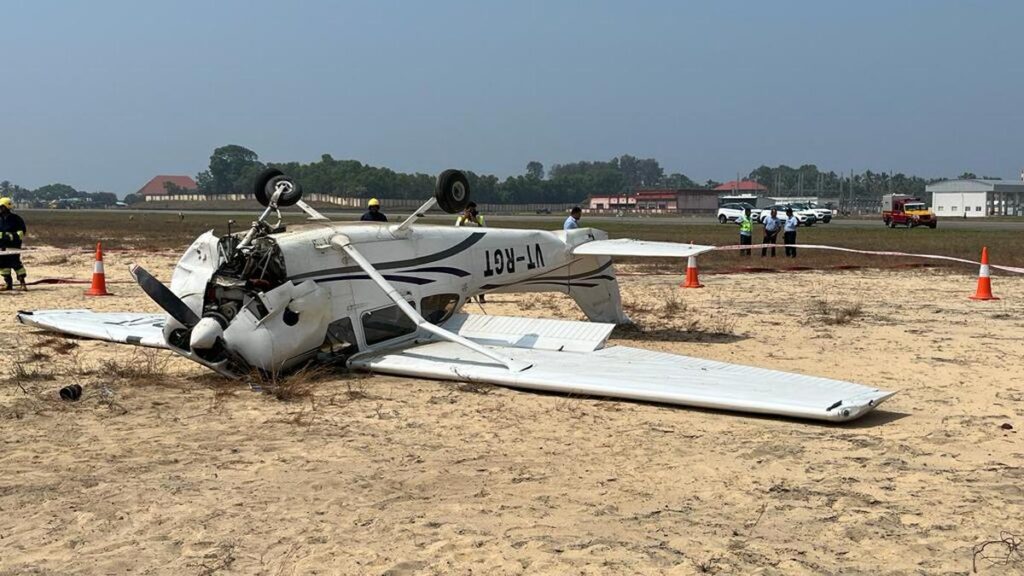 According to the eyewitness accounts from the airport, the plane came dangerously close to flipping over, damaging the landing gear and nose wheel in addition to the physical damage to the nose and belly of the plane.
Pilot and the incident
Rajiv Gandhi Academy for Aviation Technology
The incident happened at 11.36 a.m. when the Cessna belonging to Rajiv Gandhi Academy for Aviation Technology (RAGAAT), which he was solo-flying, veered off the runway during a regular solo training sortie.
The emergency services stationed at the airport and the crash tenders were on the scene within minutes and quickly roped off the area and started working to put out the fire that the aircraft was starting.
Also, read
For one hour, commercial operations on runway 32 had to be suspended due to the incident for reasons of safety. The event also caused a temporary halt to all commercial flight operations at the airport.
Directorate General of Civil Aviation
The accident caused delays for three domestic flights, however, at 12.36 p.m., the runway was open for regular commercial flight operations.
The Directorate General of Civil Aviation (DGCA) received a report from the airport authorities shortly after the incident, and it is anticipated that the Directorate General of Civil Aviation (DGCA) would direct the Aircraft Accident Investigation Bureau to launch a thorough investigation to determine what caused the accident.
Thank you
Stay updated with Aviationa2z.com