London becomes the latest in a growing range of destinations to welcome the carrier's flagship Airbus A350 aircraft.
Etihad Airways recently operated its inaugural Airbus A350 service from London Heathrow, with flight EY12 departing Heathrow's Terminal four on September 22nd.
Abu Dhabi International Airport & London Heathrow
The beginning of regular Airbus A350 services was originally prepared for October, but in July this year, the launch date was brought forward by 1 month. The Airbus A350-1000 will now run 5 times per week between Etihad Airways' hub at Abu Dhabi International Airport (AUH) and London Heathrow (LHR).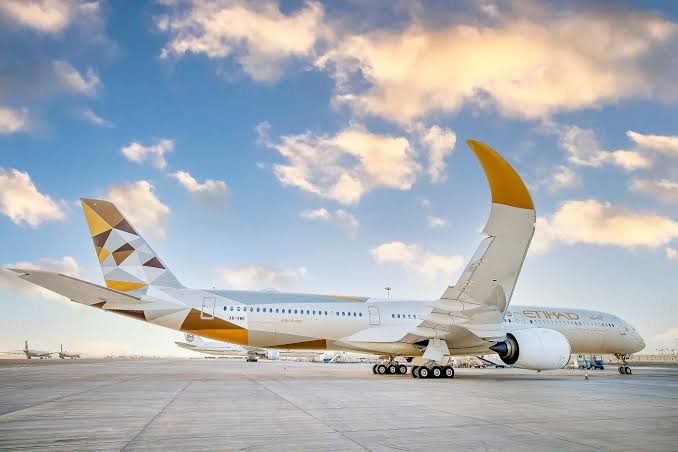 The modern aircraft brings with it raised fuel efficiency and a superior passenger experience, and the airline's Country Manager UK & Ireland, Jeremy Pollock, celebrated the first flight and said
"We are very proud of the launch of operations for our Airbus A350 aircraft in the UK. The aircraft will give our guests a world-class inflight experience whilst having the knowledge that they are choosing a more sustainable method of the trip."
London Heathrow flight schedule.
Etihad Airways currently operates four daily flights between Abu Dhabi and London Heathrow, with the majority being operated by the carrier's Boeing 787 aircraft – a mixture of the -9 and -10 variants. Flight EY11/EY12 is operated by the Airbus A350-1000 on Mondays, Wednesdays, Thursdays, Saturdays, and Sundays.

EY11 – departs Abu Dhabi at 02:15 and arrives in London Heathrow at 06:45
EY12 – departs London Heathrow at 09:30 and arrives in Abu Dhabi at 19:15
Etihad Airways

Elsewhere in the UK, Etihad Airways operates daily flights to Manchester (MAN), with the Boeing 787. Other airlines now flying the Airbus A350 to London Heathrow include British Airways, Virgin Atlantic, and Malaysia Airlines.
Building on the progress made with its Boeing 787 Greenline program, Etihad Airways' industry-leading Sustainability50 program aims to reduce the impact of aviation on the environment and reach net-zero carbon emissions by 2050.
With its impressive credentials as one of the most efficient aircraft types in the world and a fuel efficiency 25% larger than the Airbus A330, the Airbus A350 plays a key role in 50. This fuel efficiency arrived part thanks to the aircraft's Rolls-Royce Trent XWB engines.
Also, read
As part of its long-term sustainability plans, the UAE national carrier continues to work with manufacturers and fuel providers to increase the quantities of sustainable aviation fuel (SAF) that can be operated with existing engine technology. It currently operates a blend of up to 40% SAF. Earlier this year, the carrier also declared that it would be planting a mangrove tree for every Economy Class ticket sold.
Etihad Airways 1st Airbus A350-1000 entered into service in March this year, and the airline now has 5 of the type in its fleet, with a further 15 on order. In addition to London Heathrow, Etihad Airways flies its Airbus A350s to a range of destinations, including New York (JFK), Paris (CDG), and Delhi (DEL).
Each of the carrier's Airbus A350 carries a total of 371 passengers in a two-class configuration – 44 in Business Class and 327 in Economy Class.
The aircraft features Etihad Airways' latest Business Class suite, each with a sliding door that provides passengers with a high level of privacy.
Thank you
Stay updated with Aviationa2z.com