On Monday, a SpiceJet plane from Delhi had a tyre blow out as it touched down at the Mumbai airport. Even as the plane safely touched down on the runway, no fumes or smoke were seen.
SpiceJet aircraft tyre found deflated
Around 7.30 am, flight SG-8701 departed from Delhi and arrived in Mumbai at around 9 am. Following the incident, the main runway had to be shut down for inspection.
"Flight SG-8701 was carried out by a SpiceJet B737-800 (Delhi – Mumbai). Safe runway landing of the aircraft. One tyre was discovered to be deflated after the plane had left the runway. There were no odours or smoke noticed. As instructed by ATC, the aircraft was parked in the designated bay"

a SpiceJet representative stated
"The Captain felt nothing unusual during landing. passengers normally disembarked," Further, the spokesperson stated.
In the meantime, two more B737 aircraft that are leased by SpiceJet are likely to be deregistered by the Directorate General of Civil Aviation (DGCA). Irish lessor Horizon Aviation submitted the request for deregistration, according to IANS. The DGCA had deregistered four B737s earlier this month.
Flight deregistration requests are typically submitted if a lessor and airline are unable to negotiate a payment arrangement. The deregistration process is typically permitted after the aviation regulator determines whether the aircraft has any unpaid taxes or airport fees.
The low-cost airline had previously stated that it intended to gradually replace all of its older Boeing aircraft with the new Max model, adding about 20 new Max aircraft to its fleet over the course of the following calendar year.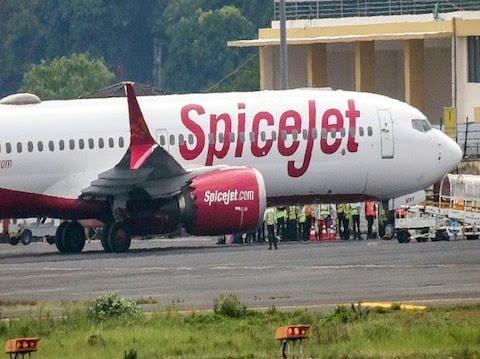 SpiceJet is operating almost 50% of its flights in accordance with DGCA directives. The airline's flights were restricted for eight weeks by the aviation authority in July because several of its aircraft experienced technical difficulties.
Also read:
Aviation ministry proposes using helicopter to provide rapid medical care for accident victims
Jet Airways is Back and ready to touch the skies again
Follow us on Google News for latest Aviation updates
Join us on Telegram group
Stay tuned…