KOCHI- Indian low-cost carrier SpiceJet (SG) Boeing 737 MAX suffered a tyre burst on landing at Kochi. Further, the SpiceJet flight SG17 operated between Dubai Airport (DXB) and Cochin Airport (COK).
The incident took place on July 4, 2023 on Tuesday. This is not SG's first involvement in such an incident. Further, SG has shown poor on-time performance this summer.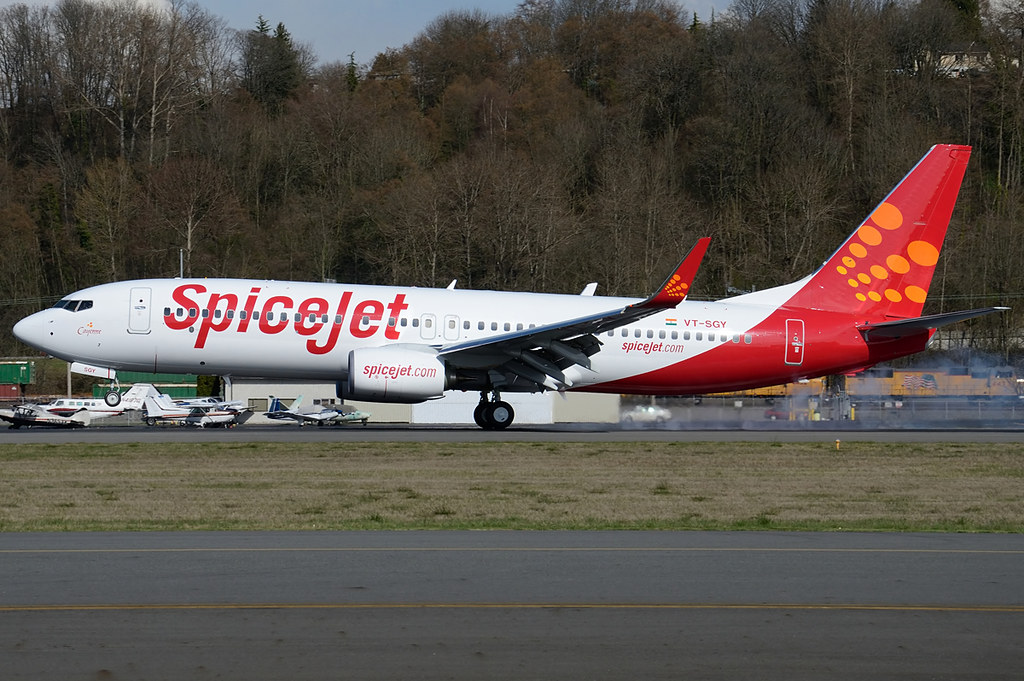 SpiceJet Boeing 737 Suffers Tyre Burst
In response to the incident, a SpiceJet spokesperson reassured that all system parameters were functioning normally and the landing was executed smoothly. The burst tyre was discovered during a routine surveillance procedure conducted after the flight.
"After conducting a post-flight walk around, we observed that the No 2 tyre had burst. It's important to note that all system parameters, including the landing, were normal throughout the flight," stated the airline's spokesperson.
However, it is worth mentioning that SpiceJet has recently faced multiple flight disruptions. Directorate General of Civil Aviation (DGCA) recorded that only 61 percent of the airline's flights departed on time from India's major airports, namely Delhi, Mumbai, Bengaluru, and Hyderabad.
According to Flight Radar 24, the Spicejet flight SG17 took off from Dubai (DXB) at 1:52 AM UTC. After being airborne for almost three hours and 50 minutes and covering a distance of 2,780 KM, it landed at Kochi.
The flight landed at Kochi (COK) at 5:42 AM UTC but suffered a tyre burst on landing. Fortunately, no injuries were reported.
The aircraft involved in the incident was Boeing 737 MAX, registered as VT-MXB. Further, it is four years and six months old aircraft; Boeing delivered it to SG in 2018.
Gurugram Office Gets Bomb Threat
The caller explicitly claimed to have placed an explosive device within the office premises, mentioning its imminent detonation.
In response, the Udyog Vihar police station promptly dispatched a team comprising a bomb disposal squad. Further, a dog squad to search the office thoroughly.
Following an extensive search that lasted close to two hours, the police have confirmed that no suspicious item is discovered at the office.
The authorities have declared that the incident is a false alarm initiated by an anonymous individual to instill fear. Subsequently, an FIR (First Information Report) has been lodged at the Udyog Vihar police station.
The search operation concluded without the detection of any explosive device. According to the company representative's complaint, the incident is reported and recorded on Thursday night.
The unidentified caller's contact number has been under surveillance, and a thorough investigation is underway," stated Anil Kumar, the Station House Officer (SHO) of Udyog Vihar police station.
Stay tuned with us. Further, follow us on social media for the latest updates.
Also Read: US Airlines, Including American, United, Delta, and Southwest, want you to Dress Properly – Aviation A2Z
Join us on Telegram Group for the Latest Aviation Updates. Subsequently, follow us on Google News.