TATA SIA Vistara Airlines become the second largest Airline in India after beating Spicejet and Go First in July month. The airline flew around 1 million or 10 lakh passengers for the first time in July 2022.
Vistara Airlines is a full-service airline founded in 2015 as a joint venture between TATA sons and Singapore Airlines. Today, Vistara Airlines has a fleet of 50+ Aircraft and fly to 40+ destinations in India and abroad.
Vistara Became Second Largest Airline in India
The airline achieved this feat in July month, when it flew around 1 million passengers with a market share of about 10.4%. While Go First and Spicejet achieved market shares of 8.2 and 8.% respectively.
Go First flew around 7.95 lakh passengers while Spicejet flew around 7.76 lakh passengers in July 2022.
Vistara was the Fourth largest airline in India in both quarters of 2022, But the airline strategically improve the operations standard and utilize its fleet properly in July to achieve this Milestone. so let us see in detail What different Vistara Did to defeat its Rival LCCs.
How does Vistara become Second Largest Airline in India?
1) Vinod Kannan As CEO
Higher management plays a crucial role in companies success, the same is true for Vistara Airlines. Vinod Kannan Joined Vistara as Chief strategy officer (CSO) and is Key to their success today, he then became Cheif Commercial Officer (CCO) for 2 years and recently in Jan 2022 he was raised to lead the company as Chief Executive Officer (CEO).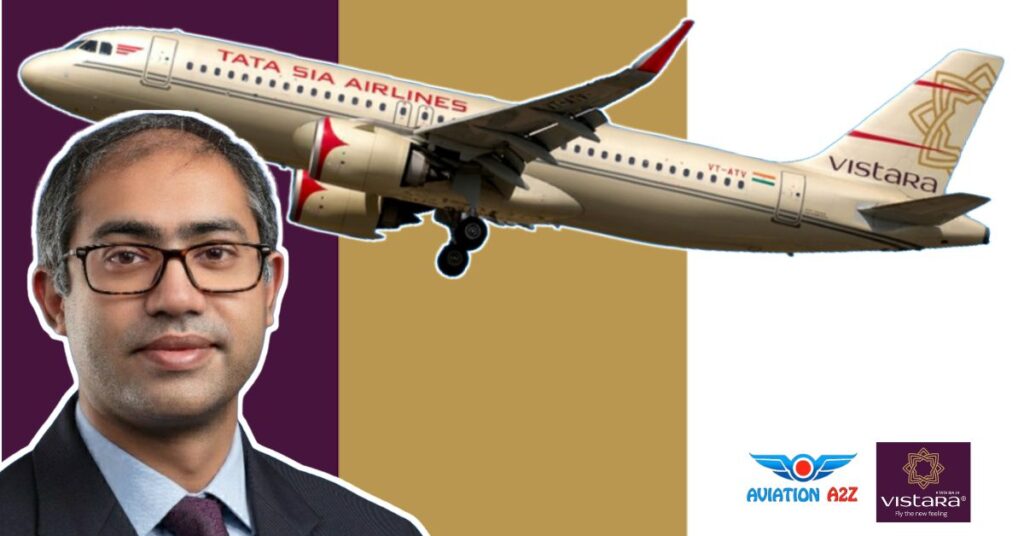 Vinod Kannan revolutionised the way Vistara is Today. He made Vistara a brand which is affordable for middle-class people and Premium for the Upper class of society.
He has lots of Experience in the Aviation Industry, Vinod has worked for Singapore airlines for around 16 years in different roles. Kannan was also CCO of Scoot– A low-cost arm of Singapore airlines.
While Spicejet is facing issues with senior management and Go First airline has financial barriers.
2) Vistara Fleet Optimisation
Vistara has a diversified fleet of 52 aircraft as of August 2022. The airline is continuously optimising its fleet and using it strategically to fly on the busiest routes with the best aircraft.
The Airline is flying 50 out of 52 aircraft while 2 are parked due to maintenance or certain reasons. So it is utilizing 96% of aircraft and is also adding new aircraft. They recently added the 50th aircraft into its fleet.
The type of fleet matters a lot, Vistara has a Boeing 787-9 First of its type in India which helps them connect European destinations. While Go First and Spicejet have Small to Medium range aircraft unable to fly long-haul.
But Spicejet having 80 aircraft failed to keep up with competition as out of 80 only 54 are operational while 26 are grounded. Spicejet uses around 67% of the total fleet.
While Go First, the second largest airline in Q1 & Q2 is also facing Engine issues and despite having more aircraft than Vistara is failing. Go First airline has around 57 A320 and A320 Neos out of which only 35 are in service and 22 are grounded. They are using around 61% of their total fleet.
3) Vistara is flying to Popular Destinations
Vistara Airlines has 41 destinations but many of them are popular and are often the busiest ones. They are serving 30 domestic cities while 11 international cities.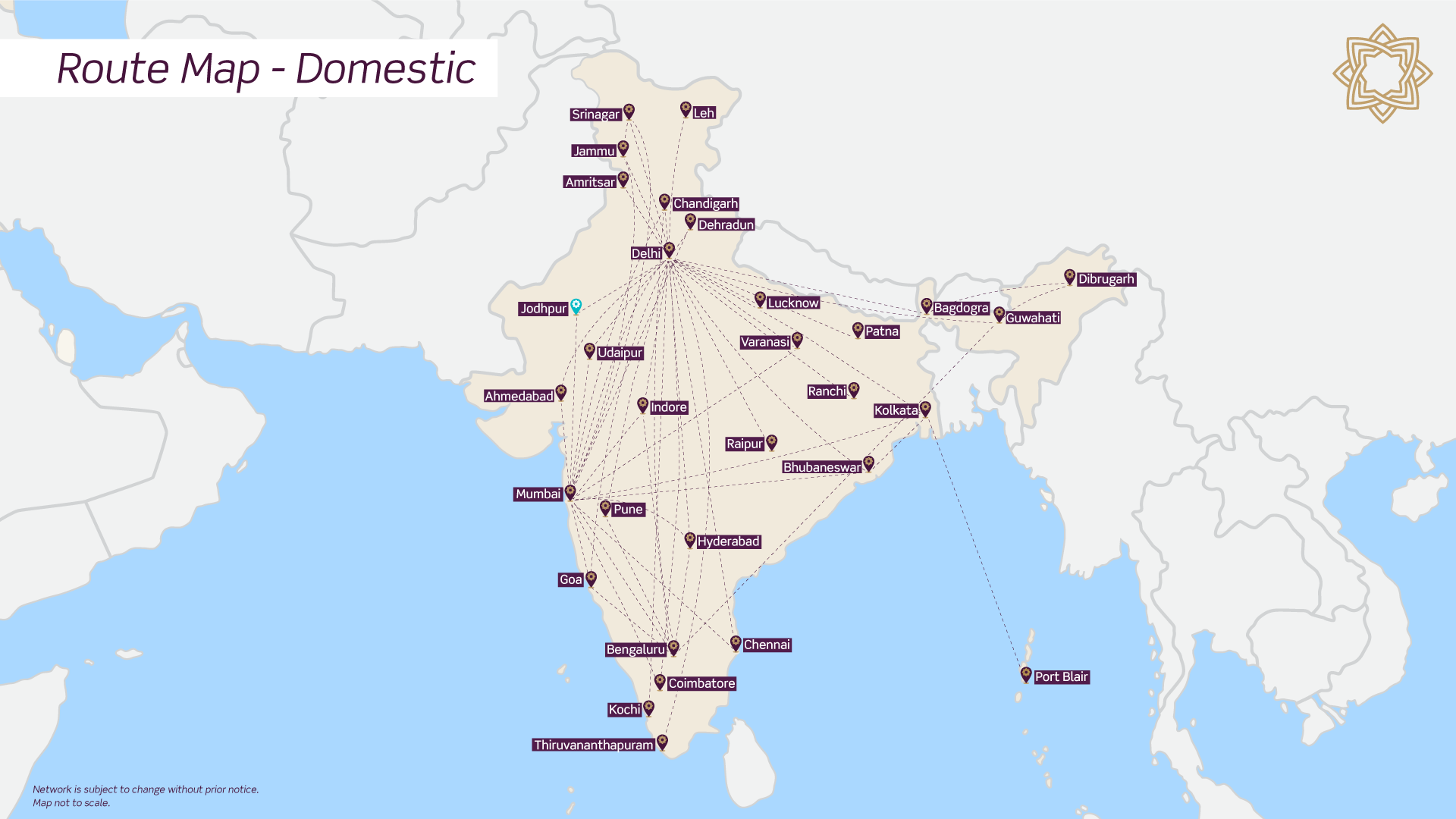 Spicejet flies around 64 destinations out of which 52 are domestic and 12 are International. Despite flying to more destinations compare to Vistara they have only able to carry 7.76 lakh passengers.
Go First flies around 38 Destinations with 27 domestic and 11 International. They flew around 7.75 lakh passengers on July 22 due to financial trouble and a grounded fleet.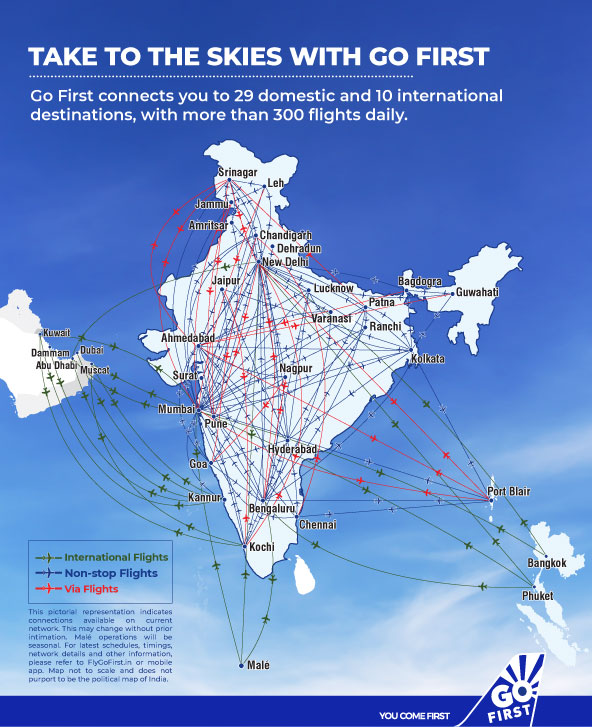 Apart from this Vistara Airlines records the second highest avg load share of 84.3% per flight on July 22.
Spicejet despite recording the highest load share of 84.7% failed to compete with Vistara. Go first recorded 76.5% of load share on its flights.
4) Innovative Approach by Vistara Airline
Vistara Airlines is Known for its Innovation in Travel Industry. They are continuously evolving through an Innovative approach to provide best-in-class services to their passengers. Here are some Key Innovative Approaches made by Vistara,
Vistara is the only airline to provide Premium Economy seats.
They are the first airline in South Asia as well as Southeast Asia to offer Starbucks Coffee onboard their aircraft.
Vistara introduces industry-first, menu-based pricing models 'Vistara Freedom Fares' and 'Vistara World' (wireless in-flight entertainment streaming service).
They become the first Indian Airline to order Boeing 787-9 Dreamliner.
Vistara receives its first Airbus A321neo, becoming the first airline in South Asia with full-flat beds on a narrowbody jet.
It is the world's first airline to feature Panasonic's Arc 3D Inflight Map Application.
They operated India's first flight with fully vaccinated pilots and cabin crew flight.
Vistara launches 'RADA' – India's first robot designed to assist travellers at airports
They have won multiple awards for being the Best Service airline in India and Southeast Asia.
Launched a 'Retrojet' – India's first aircraft in retro-themed livery to recreate the one used in the 1940s by Tata Air Lines, India's very first airline was founded by JRD Tata.
Brought sanitary pads onboard all domestic-India flights available upon request.
 the first Indian airline to introduce an E-tech logbook solution and go paperless in its operations, by appointing ULTRAMAIN ELB.
The Industry First and Innovative approach of Vistara make it successful and the Best Full-service airline operating in Indian skies.
While Spicejet and Go First due to their Low-cost model have failed to make new Innovations. IndiGo and Akasa Air are innovating and Expanding rapidly, One being the Market leader while the other is a startup.
Conclusion: Vistara, Second Largest Airline in India
Another main reason for Vistara's success is Jet airway's closure and the decline of Air India as a Full-service airline.
Vistara is backed by a Strong TATA legacy and managed by Experienced Singapore Airlines who has won many Awards at the Global level for being the Best in the World.
Spicejet is in News for multiple Emergency landings due to Poor operational standards while Go First airline has failed to raise funds due to pending IPO, engine issues grounded its 40% of total Fleet, and tough competition from LCCs.
The Vistara Airline celebrated this big achievement with its employees, here are some tweets of celebrations,
Soumen Mukherjee, Vistara Airline network planner Wrote,
Today we at #Vistara commercial division celebrated our best monthly performance as we've emerged as the second largest domestic airline in India with the highest ever dom market share since inception in Jan 2015

Tweet by Soumen Mukherjee, Vistara Airline network planner.
We wish that Vistara continues its reputation of being the best and evolves through its Innovative approach. They continue to progress and represent India at the world level for Best-in-class services.
We will keep you posted about Vistara Airlines-related Updates, so make sure you click on the bell icon.
Also read, TATA Airlines Trio- Air India, Vistara, Air Asia India's Top Performance in 2022 | Exclusive – Aviation A2Z
Check Out, TATA-SIA Vistara is restructuring its fleet with New planes | Exclusive – Aviation A2Z
Stay connected with Aviation A2Z!