Jet Airways Chief Executive Officer (CEO), Sanjiv Kapoor, recently talked about his experience on a flight with his son on Air India.
Kapoor was traveling with his kid on flight AI863 of Air India between Delhi and Bombay. Kapoor detailed his experience and the difficulties he had when his pre-paid ticket was abruptly altered in a series of tweets. He also mentioned that, in addition to his family, another family had a similar problem and had to sit apart.
Jet Airways, CEO Sanjiv Kapoor shared his experience
He added, "Flying @airindiain with my kid, AI863 DEL-BOM," in a string of Tweets. purchased seat 7DF. Internet checked in. I have a mobile BP. Straight to gate, no bags. All is well thus far. At the gate, I was informed that I had been relocated to room 18B. why. No idea, helpless, you need to have checked in at the counters, they say.
"Another family with children who had reserved and paid for seats in row 7 likewise became dispersed across the cabin. I believe that a downgauge of the airplane from 321 to 320 was what started this. People with the same PNR, though, weren't protected together, and the poor gate personnel was at their wit's end "He composed.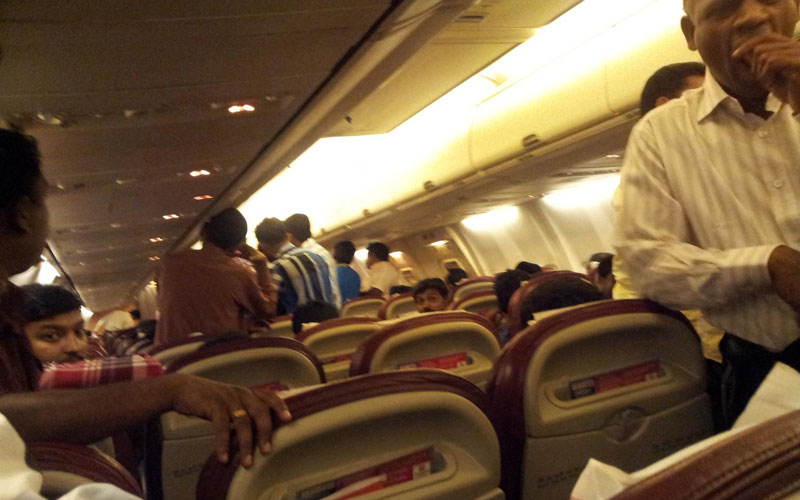 Many staff members in uniform are flying on this flight. I was informed that there was nothing they could do to give me the aisle seat or any other non-middle seat that I had paid for. I advised that they might reassign workers. They quickly wrote 6A into my BP while typing quickly. I don't know who got reseated, "He composed.
In order for the mother to at least be seated close to her children, my son eventually offered the family his seat. He stated that the father was unable to secure a seat with the family.
Additionally, Mr. Kapoor provided a list of re-assignment-related lessons learned.
Offered three Rules
There are many lessons to be learned from this incident regarding how to handle seat re-assignments when an aircraft changes. Rule 1: Reserved seating must be for paying customers only. #2: Keep everyone in the same PNR. The tweet stated, "#3. Make sure non-rev staff is not offered seats paid for by revenue pax.
Kapoor continued by saying that lessons learned will be shared with the Jet Airways workforce because we need to get the fundamentals correct and little changes can have a large impact.
"All will be included in the staff briefing for jet airways. We must get the fundamentals correct. These seemingly insignificant details have a significant impact. And my condolences to the gate workers and crew who were left to clean up the mess."
He also gave kudos for the flight is on schedule and for the enjoyable economy class lunch.
"However, credit where credit is due: the flight was on time (actually early), 100% filled, and the meal in Economy class was good. Catering has always been an area where Air India excels. By chance, on March 10, 2021, I took my final flight with AI DEL-BOM, which was also their final 747 flight "explained he.
Air India replies
After receiving his tweet, Air India wrote back, "We genuinely regret learning about your experience, Mr. Kapoor. This can definitely be avoided. We value Shiv's awareness of the circumstances and compassion for the family. To prevent reoccurrences, we are investigating the underlying reason. I hope to be able to help you more in the future."
Sanjeev Kapoor on Jet Airways facilities
Sanjiv Kapoor, a seasoned aviation executive who assisted SpiceJet Ltd through a challenging time, will take over as CEO of Jet Airways (India) Ltd in March 2022.
The carrier will this time have the best app, website, IT systems, and services, the CEO stated earlier in May, "but without losing the human touch." Kapoor stated that this time, the airline will be more customer-driven and that the staff should concentrate on professionalism.
"Human interaction cannot be totally replaced by technology — it must always be there as a backup, especially when things go wrong," Kapoor had written in an email to his staff (during irregular operations, etc).
Also read:
Akasa Air Founder Rakesh Jhunjunwala is No More | RIP
Qatar Airways begins an interactive bus trip around Europe | EXCLUSIVE
Join our telegram group for the latest Aviation Updates:-
Stay tuned…