British Airways finally launched its new Club Suite business class product in 2019. This was a long-awaited upgrade to its Club World product – revolutionary when it was launched, but now very dated. The only route where you are (almost) guaranteed Club Suite currently is London Heathrow to JFK (with all flights served by a renovated Boeing 777-200 or 777-300 aircraft). On a recent trip to California, I made sure to route this way to try out the new Club Suite offering for the first time.
This review looks at my experience onboard BA 173, an 11:40 departure from Heathrow Terminal 5. This was booked as a cash ticket from Madrid and I had flown in the night before BA Club Europe from Madrid.
The British Airways business class check-in at London Heathrow Terminal 5 (known as Club World for long-haul services) is usually efficient and fast. There is a big dedicated place at one end of the terminal.
There is also a fast-track security entrance close by. The airport was very busy on this Thursday morning. There was no delay for check-in, but it took around 30 minutes to clear security, with just one lane open. Heathrow (along with other UK airports) continues to suffer staff shortages, which was very apparent here. The wait for standard security looked even longer.
British Airways has three business class lounges in Terminal 5 (along with a first-class lounge and the Concorde Room for ticketed first class only). On this visit, I went first to one of the main lounges in the A gates place. Just like the main terminal, this was quite busy. I handled to get a cup of coffee, but ordering any food would have been a struggle.
British Airways moved during the pandemic to an app ordering service for food and drinks – and has stuck with this since. Drinks are now self-service, though. To be fair, the service is good, and the food is an improvement over the buffets offered in the past. When lounges are very busy, though, it is challenging to find a table, which you need to be able to place an order.
My flight was departing from the C gates. With over an hour to wait, I decided to move to the lounge in the B gate area. You can break the train journey to the C gates here easily and visit the lounge, and I would recommend that to anyone who has time to do so. The T5B lounge is much quieter but offers the same food, drink, and seating options. The views are not as good, though – over the apron and gate area rather than the runway.
Also, read
The flight boarded on time from the C gate area – a 10-minute journey from the lounge using the train once again. Boarding was fast and calm – despite both business and first-class being full.
I had chosen seat 11K – a window seat in the main cabin just ahead of the wing. The Club Suite cabin on this 777-200 was split into two sections. The main section is a huge 15 rows (54 seats), with a smaller three-cabin row in front. The front cabin is likely quieter if you prefer that, but I prefer the space and openness of the larger cabin. There is also a two-row First cabin ahead of the smaller Club Suite cabin (BA operates New York JFK flights with four classes of service).
I was quickly offered a pre-departure drink and a menu – although the traditional "welcome chat" from the crew seemed to be dropped! The usual White Company amenity kit was handed out.
After boarding, a delay was declared due to cargo loading issues. With tight slots at Heathrow, it is understandable that airlines do this, but it is still frustrating when it happens after boarding. The delay stretched to an hour waiting at the gate. In Club World, though, this is much easier to deal with. I used the hour to explore the new seat, do some laptop work, and enjoy another drink.
British Airways Club World on long-haul flights
For many years, I have tried to avoid British Airways Club World on long-haul flights where there are other options. The standard 2-4-2 "yin yang" seating may have broken ground with the first flat bed in business class but is now showing its age. Other carriers have moved on to offer much better products, with 1-2-1 seat layouts, all aisle access, and flatbeds quickly becoming standard offerings.
The new Club Suite changes this for British Airways. Overall, I was very impressed. It offers the much-needed 1-2-1 layout with aisle access and a full flay bed – but goes further than this.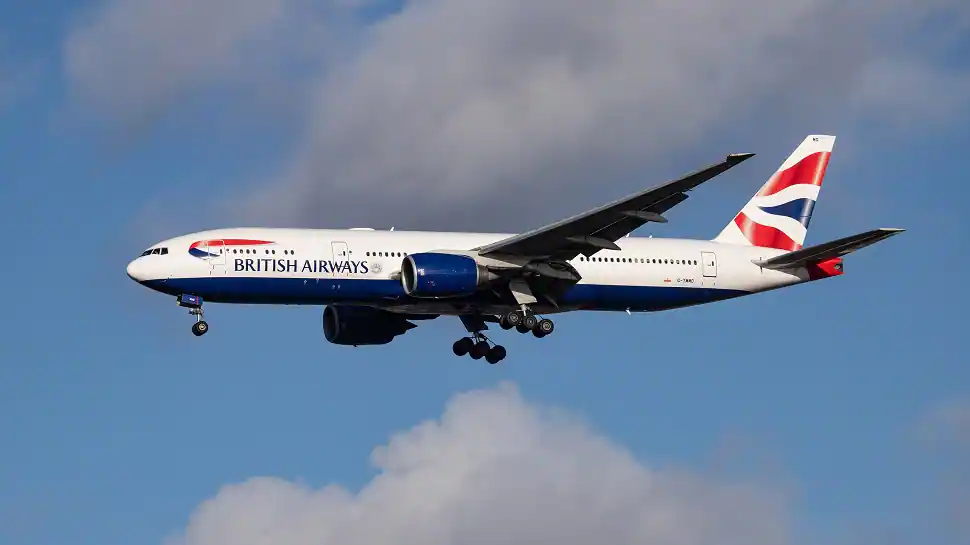 The seat is the Collins Aerospace Super Diamond seat, with some modifications. Most notably, the addition of a closing door. There is also a full seatbelt with a shoulder strap that must be used for taxi, take-off, and landing. This is unusual in such a seat and certainly takes some getting operated on.
Overall, the seat feels open and spacious. Two windows for the side seats help, as do proper-sized feet – something I often find cramped with this type of seat.
There is an extendable, large table with two different locking positions and a fixed storage shelf next to the seat. Several additional storage areas are provided, too, including a useful floor level shelf, two separate opening areas under the fixed shelf, and a headset cupboard with a mirror to the side of the seat.
There could be improvements, though. There is no large storage area for a laptop or paperwork – meaning this has to be left on the shelf. The seat and screen controls are also located in the large opening cabinet below this shelf – frustrating when you have items set on top!
The sliding door is the most exciting addition – much marketed by British Airways. This changes the product from a seat to a "Suite" and is not something offered by many airlines in business class. I was a bit skeptical beforehand about its value – after all, it is only partial cabin height so does not fully close in the seat. But when reclined or lying down, with the door pushed closed, the suite feels very private.
The first meal was served soon after take-off. I chose the roasted lamb shank, which was very good. The other main course choices were fish pie or a ricotta mezzaluna pasta dish.
A lighter meal was served almost an hour before landing. This was just a choice of two sandwiches, followed by cake or scones. For a relatively short flight, and given that many passengers will also eat in the lounge before departure, this was understandable but still disappointing not to be offered the choice of something more substantial. It is worth noting too that British Airways does not allow an advance choice of meals. American Airlines does so on the exact routes (and longer domestic ones, too), and this is reassuring to guarantee availability.
The recent bar offering is also disappointing. There is a complete offering now of beers, spirits, and wine but some limited choices. There are several gins, but just one vodka and whiskey, for example. As for wine, British Airways has decided to offer just two white and two red wines, with one of each being an unnamed "cellar selection." This is a strange move, leaving passengers not understanding what they are drinking. It must be inspired by uncertainty over stock and supply but is not something commonly seen in business class.
British Airways has finally begun to offer onboard WiFi
This is now available on most widebody aircraft but not on the narrowbody fleet. This was my first flight with BA to have WiFi, and I was keen to try it out. It is a shame that WiFi is not offered free in Club World – it is in first class. Pricing is reasonable, though. On this flight, access was priced at £4.99 for one hour, £11.99 for four hours, or £14.99 for the whole flight.
The screen is a significant advancement over the old Club World one. It is larger and clearer and the airline offers a vast selection of movies. There are several featured new releases, but a library of hundreds of other movies too. This is becoming common and is a grand bonus for frequent visitors who may want more variety. I opted for the latest James Bond release – I had seen it before but enjoyed it again!
New York JFK Airport
Our flight made up for some of its delays, but it still came to New York JFK Airport almost 40 minutes late. First and Club Suite passengers disembarked first, which can be a big advantage with often lengthy immigration queues at US airports.
Arrival at JFK Terminal 7 was a delight. British Airways has by far the most international comings here (it is also operated by Aerolineas Argentinas, ANA, Iberia, and LOT), and you will often be the only one coming. We were the only arrival, and I was happy through immigration, customs, and baggage collection within 30 minutes. Having had immigration and customs delays of several hours when arriving on American Airlines flights before, this was a great experience!
Thank you
Stay updated with Avitaiona2z.com
Join our Telegram group for the latest updates