A 10-seater private jet went down in flames after hitting a power line near San Diego – no one was expected to survive after the plane was completely destroyed.
Doorbell camera footage shows the Learjet 35A hitting the ground before a flash of light explodes in a cloudy sky when it explodes in El Cajon, California.
The jet, taking off from John Wayne Airport in Orange County, crashed at around 7.15 p.m. Monday in the area of ​​Paper Drive and North 2nd Street.
San Diego Sheriff's Lieutenant Mike Krug told The San Diego Union Tribune that the jet collided with a power line and exploded to the ground shortly after.
Firefighters said they were unable to find any survivors and the jet was completely destroyed.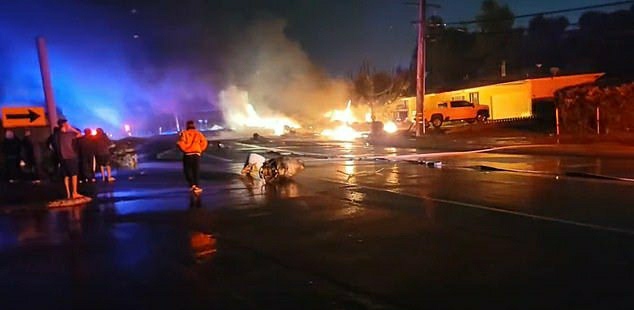 "There is very little left on the plane," said fire chief Don Butz. 'We were not able to find any survivors.'
The accident has led to a blackout for some 2,500 customers in the area.
Footage from a doorbell camera shows the moment the plane hits the ground before a flash detonates in the cloudy night sky in El Cajon, Calif.
Firefighters work to douse flames on the ground after a small private jet plane crashes in an unincorporated area in a city about 17 miles east of San Diego.
Several units of fire and police worked to extinguish the blaze in El Cajon, California, until about 9 p.m. local time.
Fire and smoke can be seen in a video provided by a local resident. A Facebook livestream showed a car caught fire in front of a house and debris in the street.
No one on the ground was injured or injured. Rainy conditions and darkness have prevented investigators from ascertaining the full extent of the damage.
Footage from the scene showed a car on fire in front of a house and debris in the street.
However, no casualties or injuries were reported on the ground.
The cause of the private jet accident is yet to be ascertained as officials are still investigating.
San Diego Sheriff Bill Gore's office tweeted that the fire was under control by about 9 p.m. local time.
The sheriff's office said there were 'unknown injuries' and encouraged anyone who witnessed the accident to contact the National Transportation and Safety Board.
Butz said he found a car with some damage from the accident, but because of the rainy conditions and dark outside, he didn't know if there was any further damage to other homes or properties.
However, the plane pulled out several power poles during the crash. As of 8 p.m., El Cajon has more than 2,500 residents without hours.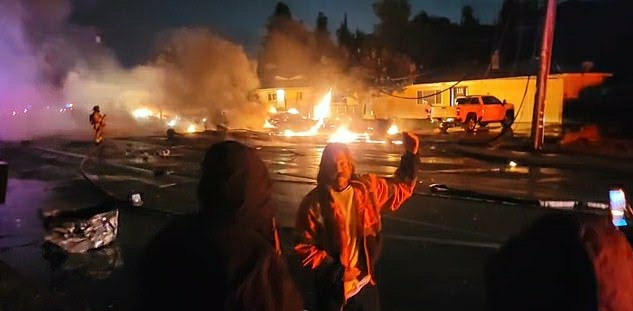 Local electricity officials said their power would probably be restored by Tuesday morning.
Stay tuned and updated with Aviationa2z.