DUBAI- Boeing will showcase its comprehensive portfolio, including commercial, defense, and services offerings, at the 2023 Dubai Airshow. Notably, the new widebody 777-9 aircraft will take part in the flying display.
Additionally, the company will feature a demonstration of the technologically advanced F-15QA (Qatar Advanced) fighter, marking the first appearance of the digitally advanced Qatar Emiri Air Force F-15 at an airshow.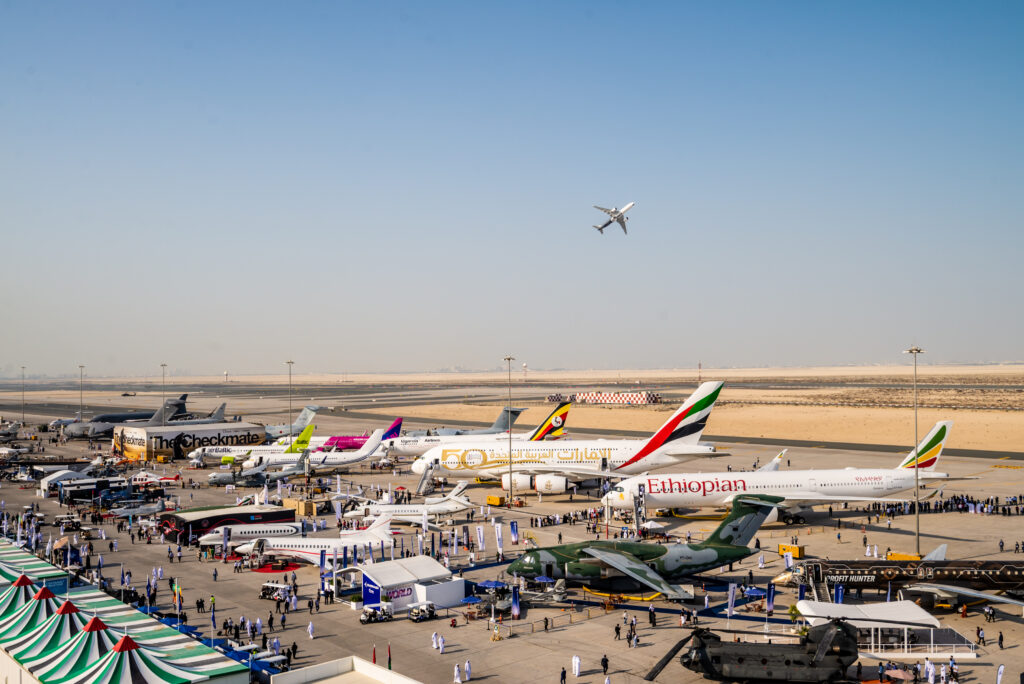 Boeing Dubai Airshow Display
Boeing, as a strategic sponsor of the Aerospace 2050 conference within the airshow, will emphasize its commitment and actions aimed at fostering a more sustainable future in the aerospace industry.
It will also showcase its support for the aviation industry's objective of achieving net-zero emissions by 2050.
Dr. Brendan Nelson, AO, President of Boeing Global, expressed pride in participating in the Dubai Airshow, where they will present their most advanced products and services to customers, suppliers, partners, and aviation enthusiasts from around the world.
He highlighted their focus on investments in technology and other initiatives to reduce emissions within the industry in preparation for the U.N. Climate Change Conference of the Parties (COP 28) in Dubai.
Events During the Show
During the airshow, Boeing will host several events and showcases:
Boeing Commercial Airplanes:
The widebody 777-9 flight-test aircraft will participate in the flying display and be available for static display. The 777-9 is the world's largest and most efficient twin-engine jet, featuring advanced technologies from the 787 Dreamliner and seating for 426 passengers with a range of 13,510 km.
Customer displays will include aircraft from Etihad Airways, Qatar Airways, Emirates Airlines, SAUDIA, and Air India Express. Riyadh Air will present a Boeing-owned 787-9 with its new indigo livery.
A presentation on November 14 by Darren Hulst, VP of Commercial Marketing, will include the 2023 Middle East Commercial Market Outlook and a product overview.
Defense, Space & Security:
The Advanced F-15QA fighter jet will demonstrate its superior capabilities in aerial displays.
Visitors can experience the T-7A Red Hawk Advanced Pilot Training System simulator, providing insights into ground-based training systems.
Global defense customers will showcase several Boeing aircraft, including the F-15E, KC-46A Pegasus, P-8A Poseidon, AH-64 Apache, and CH-47F Chinook.
Boeing Global Services:
Boeing will present various services for government and commercial customers, covering digital solutions, sustainment, modifications, parts, and training.
In-country partnerships for defense support and digital capabilities for efficient commercial aviation operations will be highlighted.
Sustainable Aviation:
On November 13, Sheila Remes, VP of Environmental Sustainability, will participate in a panel at the Aerospace 2050 forum to discuss Boeing and industry initiatives for aviation decarbonization.
On November 14, Brian Moran, VP of Global Sustainability Policy and Partnerships, and Jim Hileman, Chief Engineer and VP of Sustainability and Future Mobility, will discuss the Boeing Cascade Climate Impact Model, a data-modeling tool for actionable insights on decarbonization.
Innovation and Technology:
Boeing-led Aerospace Xelerated is a strategic partner of the Vista 2023 startup hub at the Dubai Airshow. It supports emerging aerospace technology companies and will showcase 10 portfolio companies backed by the UAE's Tawazun Council.
Boeing's Applied Innovation team, dedicated to integrating startup innovation into Boeing products and services, along with seven portfolio companies, will also participate.
Stay tuned with us. Further, follow us on social media for the latest updates.
Also Read: US Airlines, Including American, United, Delta, and Southwest, want you to Dress Properly – Aviation A2Z
Join us on Telegram Group for the Latest Aviation Updates. Subsequently, follow us on Google News.