BRISBANE- Australia's Brisbane Airport (BNE) is preparing for a series of upcoming route launches from United Airlines (UA), Qantas (QF), and Others that will significantly boost Queensland's tourism industry and offer new travel options for residents planning their summer vacations.
These developments include introducing new services, airlines increasing the frequency of flights on existing routes, and deploying larger aircraft. These changes are expected to add approximately 1.3 million international seats to and from Brisbane within the next year.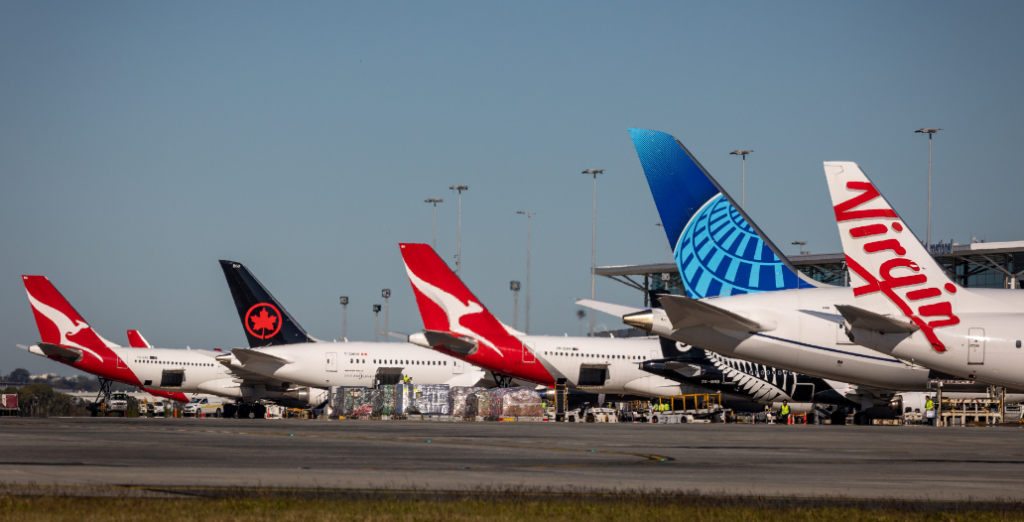 United Qantas Increases Brisbane Flights
These expansions align with the commencement of the 2023 Northern Winter travel season. In September, the International Terminal witnessed a recovery to 81% of pre-Covid19 capacity.
With the launch of seven new routes and the expansion of existing ones, international travel recovery is anticipated to reach 90% in December.
Here are the upcoming flight launches at Brisbane Airport:
Starting October 29th, Qantas will operate 3 weekly services to Honiara (Solomon Islands) and 7 weekly services to Wellington.
On October 29th, United Airlines will increase its San Francisco service to daily flights.
Beginning October 30th, Jetstar will offer 5 weekly services to Tokyo (Narita), while Rex will provide 7 weekly services to Adelaide.
From November 1st, China Eastern will introduce 3 weekly services from Shanghai, which will later increase to daily flights from December 11th.
On November 18th, China Southern will begin operating 4 weekly services from Guangzhou, which will also increase to daily flights from December 11th.
On December 1st, United Airlines will launch 4 weekly services from Los Angeles.
Executive Insights
"This marks a significant upturn for Queensland's tourism industry. Brisbane Airport's increased activity is a direct indicator of Queensland's economic vitality, and we're about to witness a considerable uptick," said Ryan Both, Executive General Manager of Aviation at Brisbane Airport.
"We are particularly thrilled about the return of tourists flying directly from mainland China to Queensland. The resumption of services by China Eastern Airlines and China Southern Airlines to Brisbane heralds the return of Queensland's most lucrative tourism market, one that generates thousands of jobs for the economy.
"We also applaud United Airlines for substantially expanding its flights to Brisbane. Just a year ago, United initiated three weekly flights from San Francisco to Brisbane, thanks partly to Queensland's Attracting Aviation Investment Fund. This will become a daily service, with United also adding Los Angeles as a destination in time for the holiday season. This success underscores the effectiveness of the joint initiative between the Queensland Government and airports in kick-starting and growing new services to enhance the state's visitor economy."
Brisbane Airport will connect to 29 international destinations with these new routes.
International travelers arriving at BNE will also have access to Australia's most extensive domestic network, with connections to 61 scheduled and charter destinations.
Stay tuned with us. Further, follow us on social media for the latest updates.
Also Read: US Airlines, Including American, United, Delta, and Southwest, want you to Dress Properly – Aviation A2Z
Join us on Telegram Group for the Latest Aviation Updates. Subsequently, follow us on Google News.