DELHI- Air India (AI) SATS Airport Services Private Limited (AISATS), a prominent airport services management company in India, marked a significant milestone by completing its 100th Robotic Aircraft Exterior Cleaning for Vistara (UK) at the Indira Gandhi International Airport (IGIA) on October 11, 2023, employing its automated aircraft cleaning system, known as 'AeroWash.'
This service was introduced by AISATS for Vistara in June 2023, making it the first and only ground handler in India to introduce such an innovative and eco-friendly solution for cleaning aircraft exteriors.
Air India SATS 100+ Vistara Planes Aerowash
Over the course of these 100 aircraft exterior cleanings, AISATS has contributed to Vistara's efforts to reduce CO2 emissions by 1,000 tons and conserve 120,000 liters of water.
This 100th aircraft cleaning milestone demonstrates AISATS's commitment to providing cutting-edge, technology-driven airport services. It illustrates how this groundbreaking technology is setting a new standard for aircraft exterior cleaning in the Indian aviation sector.
AeroWash leverages advanced robotic technology to deliver precise and efficient exterior cleaning while maintaining the highest safety standards for both the aircraft and equipment operators.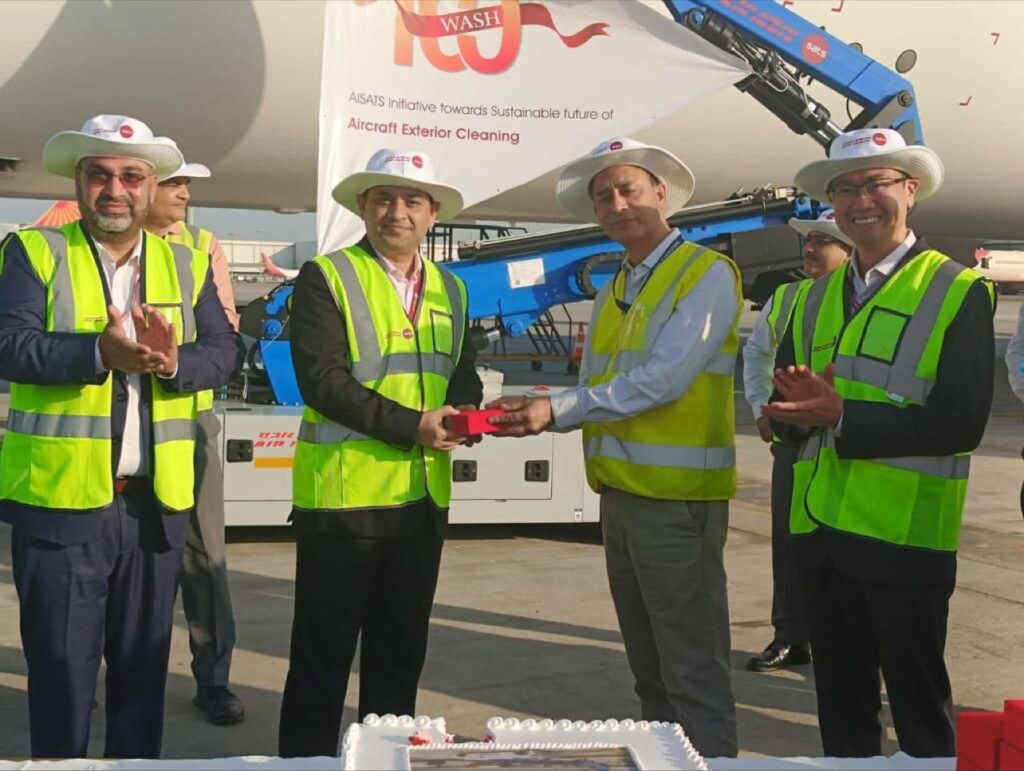 This system reduces water usage during the cleaning process, resulting in decreased aerodynamic drag on aircraft, lower fuel consumption, and reduced CO2 emissions for airlines.
Additionally, it streamlines aircraft ground time, reduces human intervention during the cleaning procedure, and ensures that critical areas of the fuselage, including the crown, elevator, and rudder, receive thorough cleaning, which manual methods might overlook.
Furthermore, the environmentally friendly nature of this technology underscores the idea that the aviation industry can achieve both environmental sustainability and operational efficiency by utilizing the right equipment and eco-conscious alternatives.
Stay tuned with us. Further, follow us on social media for the latest updates.
Also Read: US Airlines, Including American, United, Delta, and Southwest, want you to Dress Properly – Aviation A2Z
Join us on Telegram Group for the Latest Aviation Updates. Subsequently, follow us on Google News.