AUCKLAND- In the fiscal year ending on June 30, 2023, Air New Zealand (NZ) growth boosted and reported statutory earnings of NZ$574 million ($344 million) and served 15.8 million passengers just two months into the new fiscal year.
The airline has already transported 2.5 million passengers, indicating a promising start to what appears to be another prosperous year, primarily driven by a significant increase in international long-haul travel.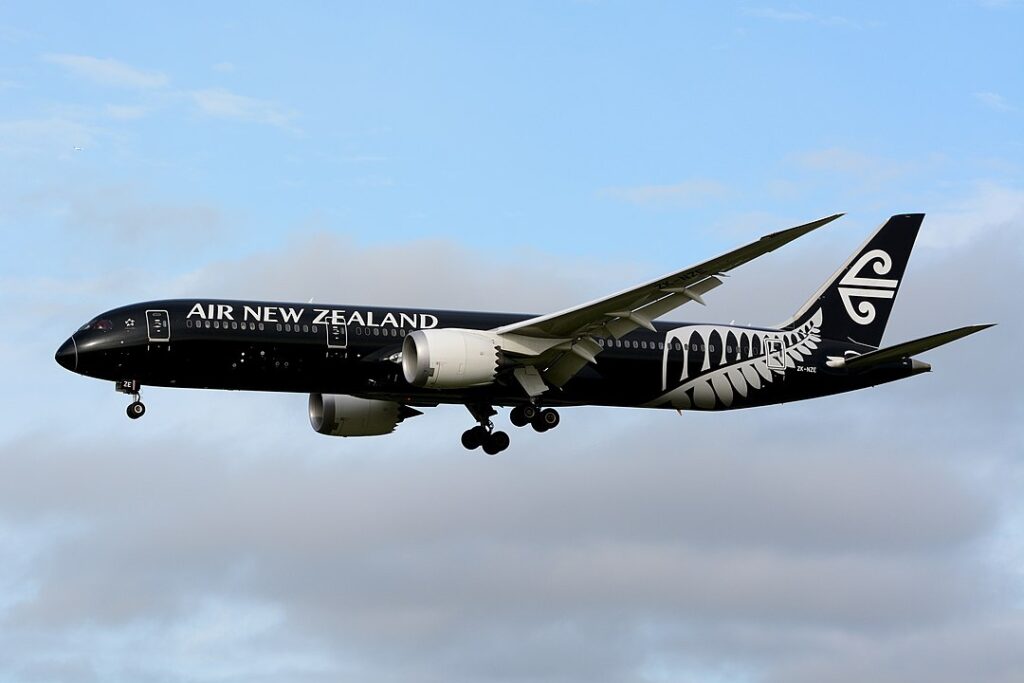 A Difficult Year to Repeat
Air New Zealand (NZ) Surpasses High Expectations from FY23, Anticipates Different Conditions for FY24
Air New Zealand exceeded expectations in FY23, achieving NZ$6.3 billion ($3.8 billion) in revenue and NZ$574 million in statutory earnings.
Chair Dame Therese Walsh noted the uniqueness of the 2023 financial year, characterized by substantial customer demand, limited market capacity, and lower fuel prices in the latter half. She indicated that the challenges faced in FY24 will likely differ from those encountered in 2023.
In its August Monthly Investor Update, Air New Zealand reported carrying 1.22 million passengers, marking an 11% increase compared to August 2022. With its international network fully restored, the airline experienced a 67.2% year-on-year growth in capacity, measured by available seat kilometers (ASKs), resulting in a passenger load factor decrease from 85.8% in 2022 to 78.9%.
For the financial year to date (July/August), short-haul traffic grew by 0.6%, and long-haul traffic surged by 138.7% compared to the same period the previous year, resulting in a combined increase of 9.1%.
As of June, Air New Zealand's fleet comprised 106 aircraft, including seven Boeing 777-300ERs, 14 Boeing 787s, 17 Airbus A320s, 16 A320/A321neos, 29 ATR72-600s, and 23 Bombardier Q300s.
Significant Increase in Long-Haul Capacity
The most significant capacity increase was observed in the long-haul international segment, with a remarkable 143% rise in available seat kilometers (ASKs), in contrast to 25% for short-haul Tasman/Pacific and 5.8% for domestic operations, all on a year-on-year basis.
In terms of the financial year-to-date performance, Air New Zealand carried 2.53 million passengers compared to 2.36 million in 2022, marking a 9% increase. ASKs increased by 73.1%, resulting in a decrease in load factors from 86.9% to 79.8% over the two-month period.
The Monthly Investor Update primarily focuses on operating statistics and does not include financial results. However, it provides a breakdown of these statistics into various categories.
Short-haul passengers constituted 87% of total traffic, experiencing a 3.7% year-on-year growth in August. Among these, 785,000 were domestic passengers, with stable numbers, and 277,000 were Tasman/Pacific passengers, showing a 17% increase.
The most significant shift in capacity was observed in the long-haul segment, which accounted for just 13% of total passengers in August.
There were 155,000 long-haul travelers, marking a 119% increase compared to the 71,000 carried in August 2022. ASKs increased by 143%, while load factors declined from 87.1% to 78.9%.
Long-haul traffic was divided between Asia (53%) and the Americas/UK (47%), comprising 82,000 and 73,000 passengers, respectively.
Passenger numbers and capacity aligned with Asia, with traffic surging by 196% and ASKs by 204%. In contrast, the Americas/UK experienced a 69% increase in passengers and a 106% increase in ASKs.
Stay tuned with us. Further, follow us on social media for the latest updates.
Also Read: US Airlines, Including American, United, Delta, and Southwest, want you to Dress Properly – Aviation A2Z
Join us on Telegram Group for the Latest Aviation Updates. Subsequently, follow us on Google News.