GURUGRAM- While waiting for the introduction of its Airbus A321XLR for long-haul flights, IndiGo (6E) Airlines is relying on codeshare agreements flights with international carriers to establish its brand presence in regions like Europe and America, where it currently lacks significant recognition.
IndiGo is actively exploring "mitigating measures" as Pratt & Whitney (PW) engine issues continue. PW recently cautioned that 600-700 engines worldwide will require inspections over the next three years, reports TOI.
Mitigating Pratt and Whitney Issues
Despite being the largest customer for Airbus A320 family aircraft, the budget airline is awaiting specific details from PW regarding the number of engines requiring examination. Concurrently, it is exploring alternative strategies to expand its capacity and network.
Over the past year, IndiGo has been addressing this by wet leasing aircraft and extending leases on older planes.
"We are currently facing challenges with Pratt engines, and it's crucial for us to understand the implications of the recent announcement. The sooner we obtain clarity, the better. We are already dealing with supply chain issues, and some of the groundings result from that," explained IndiGo CEO Pieter Elbers in an interview with TOI on Friday.
The airline's fleet comprises 324 aircraft, including approximately 40 ATRs and two Boeing 777s under wet lease agreements. The remaining aircraft belong to the A320 family, with half equipped with Pratt & Whitney (PW) engines and the other half powered by CFM's Leap engines.
Despite nearly 50 planes being grounded for an extended period due to Pratt engine issues, IndiGo has managed to expand its passenger operations and network after the pandemic.
Elbers noted, "We are benefiting from orders placed before Covid, which are now being delivered. This year, we are receiving approximately 40 new planes equipped with CFM Leap engines. We have extended leases, entered into new wet leases, and leased two wide-body aircraft from Turkish Airlines. Over the past year, we have taken numerous measures to address these challenges and recently added 11 more planes through wet leases."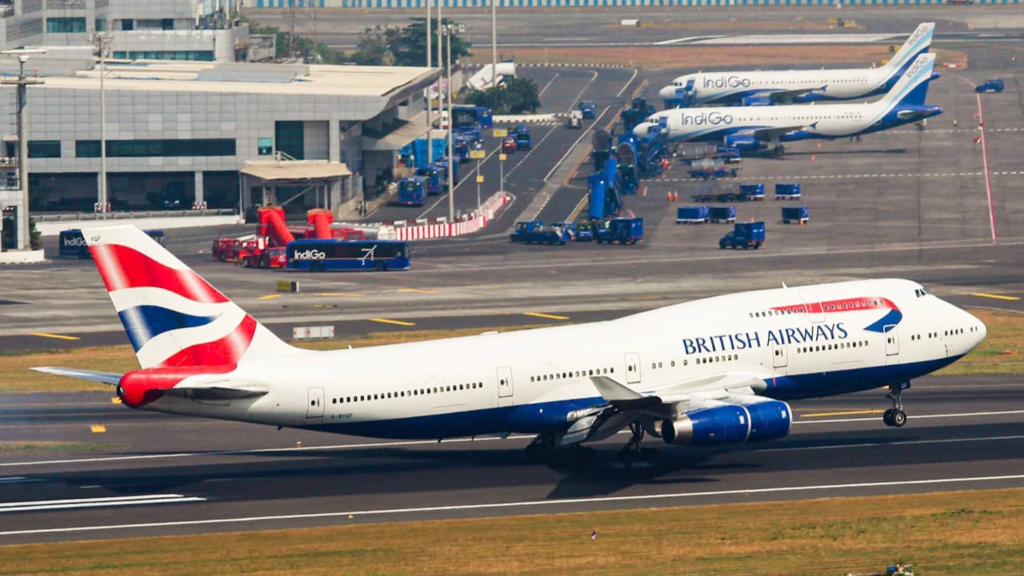 IndiGo New Codeshare Flights with British Airways
IndiGo (6E) and the Flag carrier of UK British Airways (BA) have forged a codeshare agreement to enhance connections between India and the United Kingdom.
Commencing on October 12, 2023, this collaboration aims to provide travelers with improved connectivity options between the two countries.
British Airways, through this codeshare partnership with IndiGo, will have the opportunity to extend its network by including three additional routes: Thiruvananthapuram to London Heathrow via Mumbai, Rajkot to London Heathrow via Mumbai, and Vadodara to London Heathrow via Mumbai.
This arrangement streamlines travel for passengers traveling from places like Rajkot to London or those connecting through London Heathrow. They can now easily book a single ticket for their entire journey.
Strong Growth
Consequently, as of last September, IndiGo's network covered 100 cities, and that number has now grown to 120.
In 2019, before the pandemic, the airline served approximately 7.5 crore passengers; in the last fiscal year, that figure increased to 8.6 crore. It is anticipated to reach 10 crore in the current financial year.
Pieter Elbers, CEO of IndiGo, explained, "Thanks to our mitigating measures, we have been able to provide capacity in line with our guidance and expand our network. We continuously assess the market for opportunities and manage our company. The airline has recently added six new international destinations to our network, including Tbilisi, Baku, Tashkent, Almaty, Nairobi, and Jakarta. We are also introducing new city pairs like Hyderabad-Colombo, Ahmedabad-Jeddah, and Abu Dhabi."
In addition to addressing current capacity challenges, IndiGo is preparing for the future with nearly 1,000 planes on order for delivery until the mid-2030s. The airline is working on its manpower requirements to meet this expansion.
The A321XLR aircraft, expected by late 2024, will provide nonstop flights to Europe and the Far East. Elbers mentioned, "The product will be finalized later as the Indian market is evolving rapidly."
Meanwhile, until the A321XLRs begin flying IndiGo to distant destinations, the airline is leveraging code-share agreements with foreign carriers to increase brand recognition, particularly in regions like Europe and the Americas, where it may not be as well-known.
Stay tuned with us. Further, follow us on social media for the latest updates.
Also Read: US Airlines, Including American, United, Delta, and Southwest, want you to Dress Properly – Aviation A2Z
Join us on Telegram Group for the Latest Aviation Updates. Subsequently, follow us on Google News.