DELHI- Tata Group-owned Air India (AI) is discontinuing its flights from Delhi (DEL) to Amsterdam Schiphol Airport (AMS) in late October 2023 due to slot constraints at the Dutch airport, which have made it impossible for the airline to schedule flights for the Winter 2023 season.
Back in May 2023, Air India announced the DEL to AMS route, indicating that it would be serviced by its Boeing 787-8 aircraft.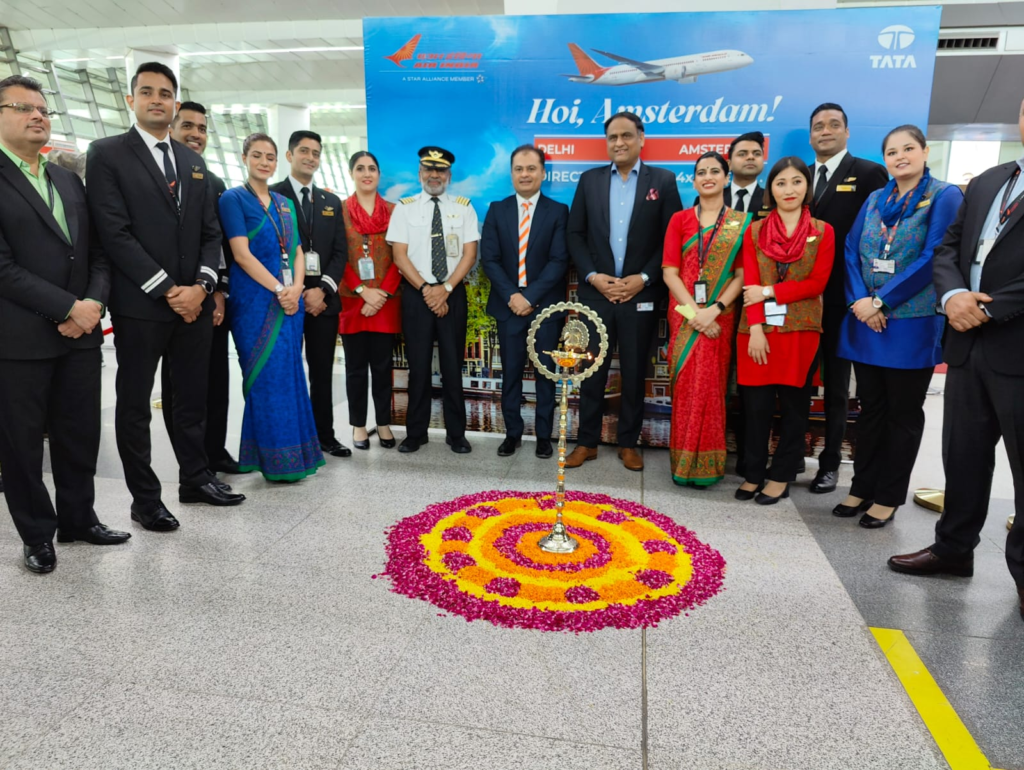 Air India to Cancel Amsterdam Flights
Starting from October 27, 2023, Air India will cease operating its route from Delhi Indira Gandhi International Airport (DEL) to AMS. The International Air Transport Association (IATA) winter season for 2023/2024 begins on October 29, 2023, and will run until March 30, 2024.
Campbell Wilson, the Chief Executive Officer (CEO) of Air India, stated at the time of the announcement, 'With the launch of this new non-stop flight to Amsterdam, Air India adds further breadth to our long-haul network and more options for our customers. Together with the three other European routes started in recent months, and others to come, it supports our objective of establishing Delhi as a significant international hub.'
As reported by Aviation A2Z, the inaugural flight took off on June 11, 2023, with Air India initially offering four weekly flights between DEL and AMS.
This marks the fourth European destination from Delhi that the airline has connected in the past four months. With this new route, Air India now offers a total of 77 weekly non-stop flights between India and Europe. Further providing passengers with increased flexibility and convenience.
What's the Issue?
According to reports from Airport Coordination Netherlands (ACNL), which is responsible for slot coordination at Amsterdam Schiphol Airport (AMS), Rotterdam The Hague Airport (RTM), and Eindhoven Airport (EIN), the total number of available slots at AMS during the summer 2023 season was 303,000. However, ACNL has noted that this number has been reduced to 189,515 for the winter season.
In a letter dated September 2022, Hanne Buis, the former Chief Operating Officer of AMS, alerted ACNL to the fact that the airport's capacity declaration to ACNL had considered an aircraft movement limit of 500,000 for the entire calendar year.
"As you are aware, the aviation sector is still grappling with the disruptive effects of the global COVID-19 pandemic and a significant decrease in air transport movements well below the agreed limit of 500,000 movements in 2022 as a result," Buis stated at the time. She also mentioned that this situation was expected to persist into the summer of 2023.
ACNL's filings further revealed that there was a waitlist for slots at AMS, totalling 22,052 slots, with 18,640 of them being requested for passenger services, while the remaining 3,412 slots were sought after by cargo operators.
Stay tuned with us. Further, follow us on social media for the latest updates.
Also Read: US Airlines, Including American, United, Delta, and Southwest, want you to Dress Properly – Aviation A2Z
Join us on Telegram Group for the Latest Aviation Updates. Subsequently, follow us on Google News.