ANCHORAGE- It appears that the airline startup previously known as Northern Pacific Airways (7H), which currently operates flights exclusively between Ontario and Las Vegas despite its ambitions to expand trans-Pacific services, has undergone a rebranding and is now called New Pacific Airlines.
The airline has recently updated its social media profiles to reflect this new name. Although this rebranding is still a work in progress, visiting New Pacific Airlines' Facebook page will find the airline listed under its new name, reports OMAT.
Northern Pacific Airways Rebranding
Similarly, on the airline's Twitter account, you'll notice that the handle has been changed from @NorthernPac to @NewPacificAir.
This rebranding effort is also evident on LinkedIn; notably, the company has deleted its Instagram account. As of now, the airline has not issued a public statement regarding this change, but it is expected that they will provide more information in the near future.
Northern Pacific Airways has recently revised its social media profiles to showcase a new branding identity. It seems that the airline will now operate under the name "New Pacific Airlines."
Although the airline has not issued an official statement on this matter, it is plausible that this change is related to the lawsuit filed against the company by BNSF Railway Company.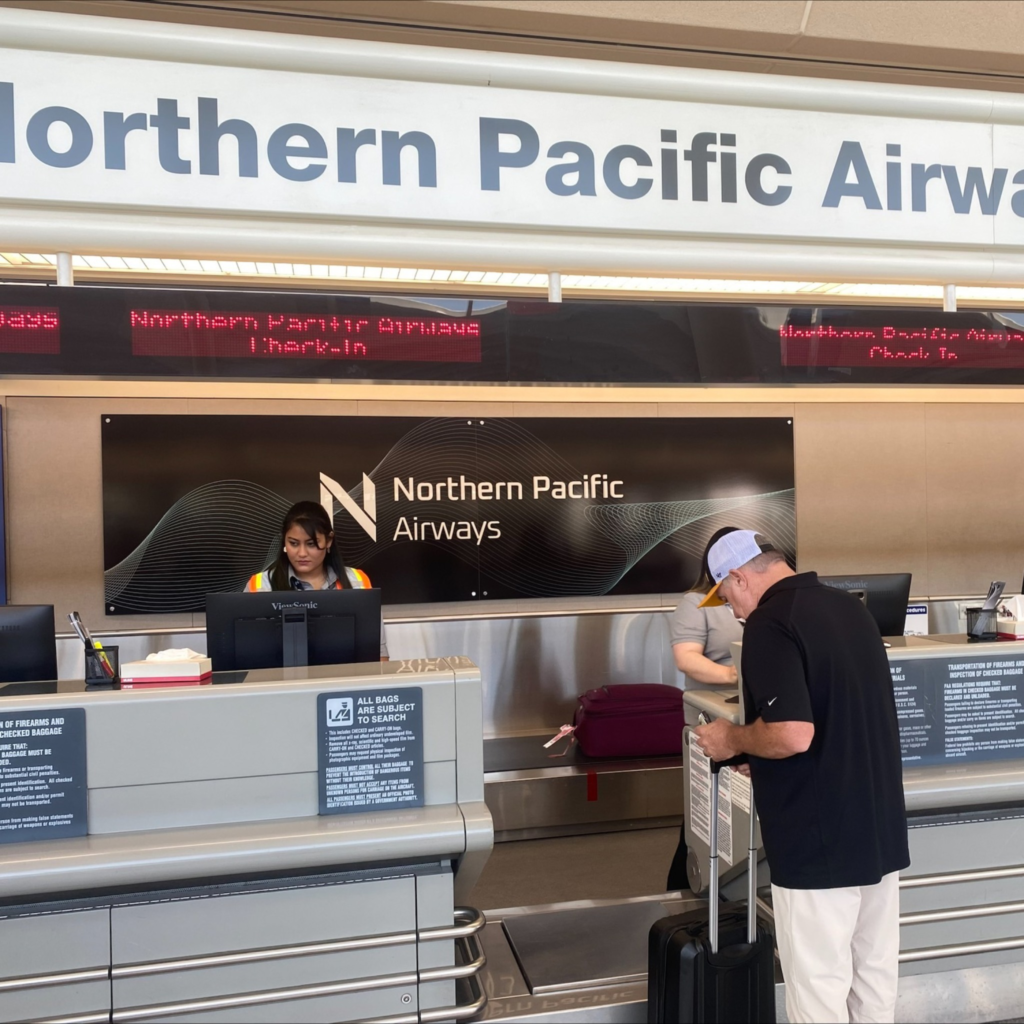 Maiden Flight
On July 14, 2023, Northern Pacific Airways (7H), the highly anticipated new airline, successfully launched its inaugural flight from Ontario International Airport (ONT) to Las Vegas (LAS).
After overcoming regulatory hurdles and delays, the carrier commenced its commercial services this afternoon. Subsequently, marking a significant milestone in the company's 719-day journey to take flight.
Rob McKinney, the CEO of FLOAT Alaska LLC, the parent company of Northern Pacific Airways, shared that launching the airline has been a long-term endeavour.
McKinney and his team navigated the complex landscape of regulatory approvals. Subsequently, culminated in a pivotal moment when the Federal Aviation Administration granted Northern Pacific its Operations Specifications on July 8.
Just days later, the inaugural flight took to the skies, showcasing the realization of their vision.
Northern Pacific's first flight departed from Ontario International Airport in Southern California. Subsequently, it landed at Harry Reid International Airport in Las Vegas.
Stay tuned with us. Further, follow us on social media for the latest updates.
Also Read: Indian Students Deported Back to Delhi from USA on Delta Flight – Aviation A2Z
Join us on Telegram Group for the Latest Aviation Updates. Subsequently, follow us on Google News.