UNITED STATES- When Southwest Airlines (WN) experienced a major disruption during the holiday season last December, it was the result of a convergence of weather-related issues and technological failures.
Adverse weather conditions initially triggered the problems, and the airline's systems were ill-equipped to manage the necessary adjustments to mitigate the disruptions efficiently.
American Southwest Strikes
Some aspects of the problem could have been prevented, as the airline was aware of the need to update its software, increase staffing, and enhance its winter weather equipment.
However, despite the severity of the situation, passengers generally acknowledge that inclement weather can indeed lead to flight cancellations.
Southwest Airlines (WN) aggravated its situation with technical issues and poor communication choices when dealing with its customers. However, despite the passengers' anger, they recognize bad weather as a legitimate reason for flight cancellations.
Airlines have no control over the weather, and even passengers who are frustrated while trying to reach their holiday destinations tend to have some degree of understanding.
This is not to say that Southwest initially handled the situation well – the airline has openly acknowledged that it did not. However, the airline's rapid recovery in terms of passenger numbers suggests that, ultimately, people realize that airlines cannot influence weather conditions. Instead, they can manage their interactions with their employees.
Both Southwest and American Airlines (AA) currently grapple with labor disputes. Southwest has yet to reach a new contract with its pilots and flight attendants.
American has reached an agreement with its pilots but not with its flight attendants. In the case of Southwest's pilots and American flight attendants, both groups have taken actions that raise concerns among passengers.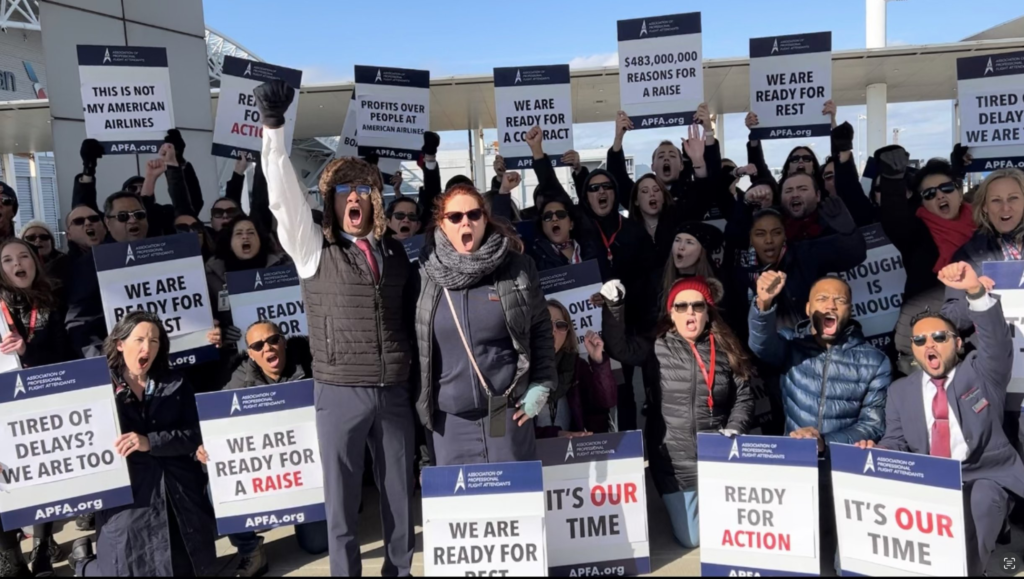 Flight Attendants Negotiations
While both American Airlines flight attendants and Southwest Airlines' pilots have voted overwhelmingly in favor of a strike, the possibility of an actual work stoppage faces certain obstacles.
Both groups are currently engaged in federal mediation with their respective airlines, which technically renders a strike illegal.
However, the general public is acutely aware of the issues and is likely concerned about potential work stoppages, especially during the winter holiday travel season.
An analysis of Google search data reveals a remarkable 1,328% surge in online searches for American Airlines flight attendants in the United States on August 31st, the day when the attendants voted in favor of a strike. Touristjourney.com shared this data with TheStreet, describing it as an "unprecedented spike in interest."
A spokesperson for the website remarked, "The recent vote by American Airlines flight attendants to initiate a strike could potentially have far-reaching implications for travelers across the U.S…. It will be interesting to see how the company handles the situation optimally. The best way forward is through constructive discussions and working towards better pay for their crew members."
Off-duty American Airlines flight attendants have been holding pickets to draw attention to their circumstances. Southwest Airlines pilots conducted similar actions in late August, but no actual work disruptions have occurred.
Although a strike would technically be illegal, both unions could resort to tactics such as sickouts or other quasi-legal measures to convey their message to their employers.
Southwest Pilots Picket
The Southwest Airlines Pilots Association (SWAPA) organized a one-day informational picket at several of the airline's hubs on August 31.
The union's intentions were prominently displayed on its X (formerly Twitter) page, with the headline declaring, "Southwest pilots are ready to strike." SWAPA's posts reiterated this stance: "But if we do get to a strike, you'll see @SouthwestAir grounded, and you're looking at the largest domestic carrier not flying."
Capt. Mike Santoro, VP of the Southwest Airlines Pilots Association, emphasized, "#TimesUpBob, your Pilots are #READYTOSTRIKE."
On the day of the picket, Southwest Airlines issued the following statement to TheStreet: "Southwest Airlines respects the rights of our employees to express their opinions, and we do not anticipate any disruption in service because of today's demonstration of off-duty pilots."
"Our contract negotiations continue, with leaders from both parties meeting this week, and we'll keep working with the assistance of the National Mediation Board to reach an agreement that rewards our pilots and places them competitively in the industry," conveyed an airline spokesperson via email in response to a request for comment.
Stay tuned with us. Further, follow us on social media for the latest updates.
Also Read: US Airlines, Including American, United, Delta, and Southwest, want you to Dress Properly – Aviation A2Z
Join us on Telegram Group for the Latest Aviation Updates. Subsequently, follow us on Google News.