UNITED STATES- On August 11, the United States Bureau of Transportation Statistics (BTS) unveiled its latest report concerning employment within the aviation sector.
The US BTS monitors the employment figures of both cargo and passenger airlines, drawing comparisons to previous years.
The data provided by the BTS is accurate up to August 7. Moreover, the definition of airlines in this context encompasses passenger, cargo, and charter carriers that operate at least one aircraft with the capacity to transport over 60 passengers or carry a payload exceeding 18,000 pounds.
US Airlines Employees
According to the latest report by the BTS, the US airline industry is now employing more than 800,000 individuals. This figure encompasses full-time and part-time employees across the cargo and passenger sectors.
The total of 801,801 employees represents a new peak and has risen by 1,992 individuals, translating to a 0.2% increase since May of this year.
This indicates a notable growth of 58,431 people in comparison to June 2019's figure of 743,370, signifying a substantial 7.86% surge in employee numbers and illustrating a recovery from the impact of the COVID-19 pandemic.
In specific terms, passenger airlines have contributed to the largest portion of this workforce, employing 525,000 individuals, accounting for 66% of the industry.
During the month of June, passenger airlines collectively added 3,481 new employees, marking the twenty-sixth consecutive month of growth in this sector since May 2021.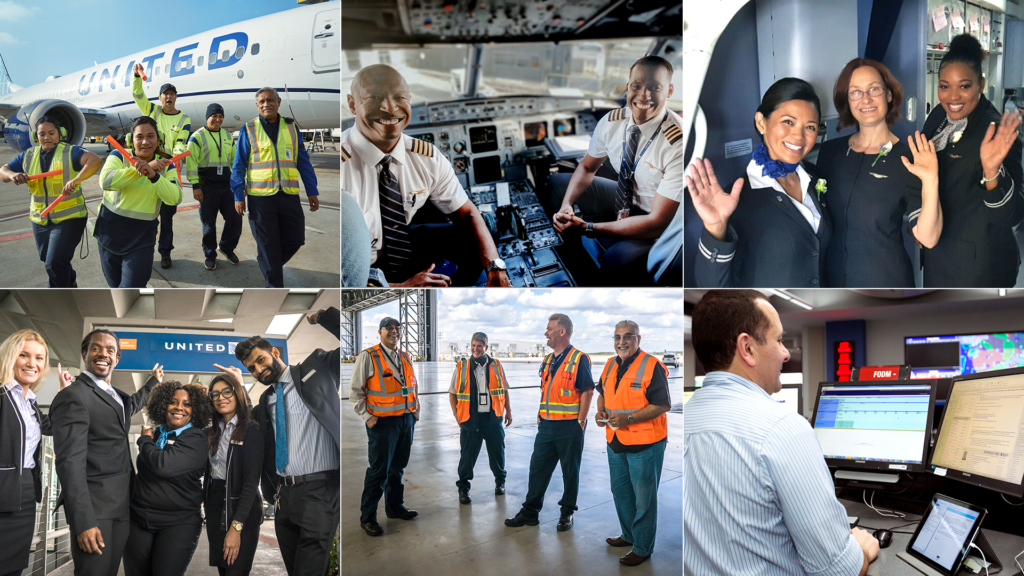 United Airlines (UA) led the hiring process within the passenger airline domain by welcoming 1,094 new employees in June.
Following closely, Delta Air Lines (DL) increased its workforce by 965 employees, while American Airlines (AA) secured the third position with an addition of 501 employees.
During the month of June, the remaining workforce of 270,000 employees in the United States-based cargo airlines sector was reported. However, this segment experienced a decrease of almost 1,500 employees.
Notably, the foremost cargo airline employer, FedEx (FX), recorded a total loss of 1,504 employees.
Full-Time Employees Calculated in Data
The Bureau of Transportation Statistics (BTS) employs the calculation of full-time equivalents, abbreviated as FTEs.
This calculation involves dividing the count of part-time employees by two and adding it to the number of full-time employees, resulting in an equivalent representation of full-time employees.
For June, BTS reported that there were 690,676 full-time employees and 111,127 part-time employees, which translates to a total of 746,238 FTEs.
This marked an increase of 1,797 FTEs compared to May, constituting a 0.24% growth. Remarkably, this robust employee count signifies a 9.15% rise when compared to the levels before the pandemic, recorded in June 2019, which had 686,656 FTEs.
Among these, passenger airlines accounted for nearly 500,000 FTEs, displaying an uptick of 3,428 FTEs from May of the current year.
Key contributors to this figure include American Airlines, with just over 100,000 FTEs; Delta Air Lines, with 99,417 FTEs; and United Airlines, with 90,492 FTEs. Southwest Airlines (WN) and JetBlue (B6) also feature in the top five, with 71,299 and 21,438 FTEs, respectively.
Envoy emerged as the largest employer in regional airlines, reporting almost 15,000 FTEs for June.
Conversely, cargo airlines reported a total of 242,964 FTEs in June, signifying a decrease of 1,638 FTEs compared to the preceding month.
On a broader scale, the cargo airline sector currently has 13,219 FTEs, fewer than the levels recorded in June 2019, prior to the onset of the COVID-19 pandemic.
Stay tuned with us. Further, follow us on social media for the latest updates.
Also Read: US Airlines, Including American, United, Delta, and Southwest, want you to Dress Properly – Aviation A2Z
Join us on Telegram Group for the Latest Aviation Updates. Subsequently, follow us on Google News.