DUBAI- Flag carrier of UAE, Emirates (EK), is celebrating a successful first year of full-service operations for its Premium Economy class, setting new industry standards in this travel segment.
Since its introduction in August 2022, over 160,000 passengers have upgraded to fly in Emirates Premium Economy. Further, the demand for this cabin class remains strong, and the airline expects continued momentum in the upcoming months.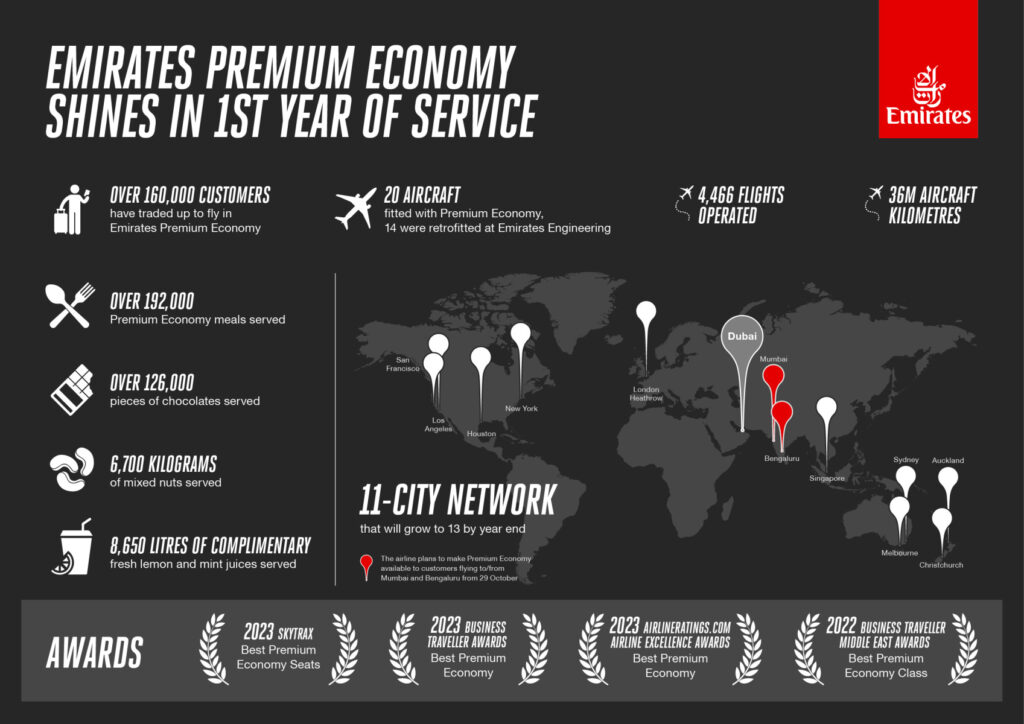 Emirates Premium Economy 1st Anniversary
The positive customer response to Premium Economy has been remarkable, with bookings exceeding expectations and consistent growth month after month.
Travelers from various segments have been drawn to the understated luxury and elevated experience offered at excellent value. Solo travelers, couples, and families have all embraced the Premium Economy offering, showcasing its broad appeal.
Emirates is continuously expanding its Premium Economy availability, currently servicing 11 cities, with plans to expand to 13 cities by the end of the year.
The airline has been retrofitting more aircraft with refreshed cabins to cater to the growing demand for this popular class.
Among the passengers choosing Premium Economy, approximately 60% are loyal Emirates Skywards members and frequent customers of the airline. Further highlighting the positive reception from its existing customer base.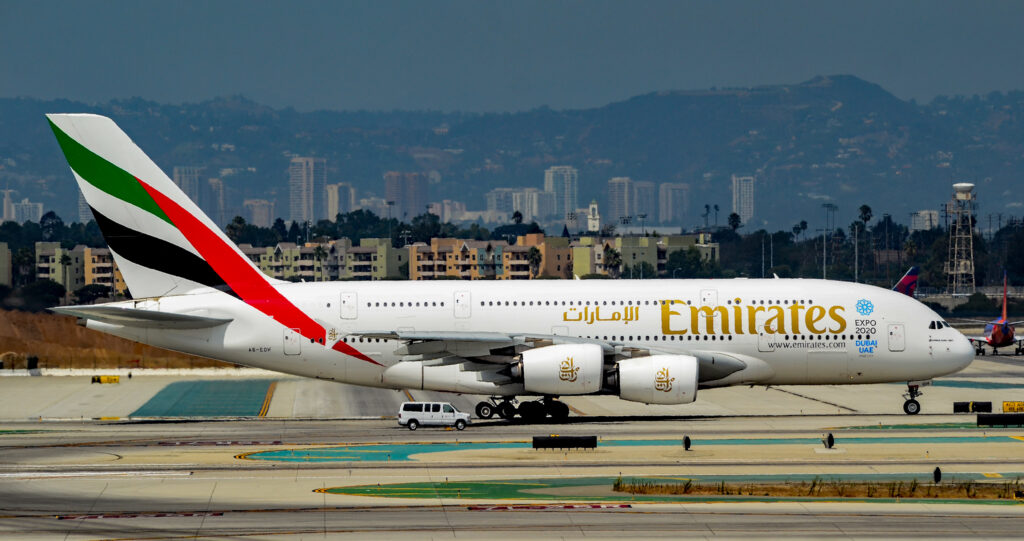 Existing Routes
Emirates currently operates its latest Premium Economy cabins on Airbus A380 flights to various destinations, including London Heathrow, Sydney, Melbourne, Auckland, Christchurch, Singapore, Los Angeles, New York JFK, Houston, San Francisco, and Dubai.
These flights consistently experience full seat loads in Premium Economy, indicating strong demand for this class.
The airline plans to expand Premium Economy availability to flights to/from Mumbai and Bengaluru starting 29th October. With further announcements of additional cities to come.
Emirates currently operates 20 aircraft equipped with Premium Economy. Fourteen of these were retrofitted in-house by the Emirates Engineering team in Dubai within the last nine months.
Premium Offerings
Since its introduction in August 2022, Premium Economy has been featured on nearly 4,500 flights, covering over 36 million kilometers worldwide. During these journeys, over 192,000 carefully curated meals featuring the finest ingredients have been served to passengers.
Further, the menus offer regionally inspired, generously portioned dishes. This includes indulgent desserts with edible gold leaf and other signature offerings.
To complement the meals, passengers have enjoyed over 126,000 pieces of chocolates and beverages, such as 6,700 kilograms of mixed nuts and 8,650 liters of complimentary fresh lemon and mint juices.
Among the beverage selection is a global exclusive for Emirates customers: Australian sparkling wine, Chandon Vintage Brut 2016, and a choice of unique white and red wines.
The Premium Economy menus are updated monthly to offer diverse flavors and dishes for discerning travelers.
Award Winning Services
Emirates' commitment to constant innovation and service excellence, demonstrated through the introduction of Premium Economy, has been widely recognized.
The airline has received top rankings and accolades in the cabin category at prestigious events like the 2023 Skytrax Awards, Business Traveller Awards, Airline Ratings Excellence Awards, and 2022 Business Traveller Middle East Awards.
In May, Emirates launched a global campaign featuring Academy Award-winning actor and philanthropist Penelope Cruz, who showcased the spacious seats in Premium Economy.
The airline has also conducted guided tours of the new cabin class for media, influencers, trade partners, airport and tourism officials, and government representatives in cities such as Sydney, Melbourne, Auckland, Christchurch, Singapore, New York JFK, and San Francisco.
The implementation of Premium Economy is a significant part of Emirates' multi-billion-dollar retrofit program. As part of this program, 67 Emirates A380 cabins and 53 Boeing 777 cabins will undergo interior upgrades.
By the completion of the retrofit, over 4,000 Premium Economy seats will be installed. Further, more than 700 First Class suites and 5,000 Business Class seats will be refurbished with the latest interiors.
Subsequently, this comprehensive initiative is a testament to Emirates' dedication to enhancing the travel experience for its passengers across all classes.
Stay tuned with us. Further, follow us on social media for the latest updates.
Also Read: Indian Students Deported Back to Delhi from USA on Delta Flight – Aviation A2Z
Join us on Telegram Group for the Latest Aviation Updates. Subsequently, follow us on Google News.