DELHI- Tata-owned Indian FSC Air India (AI) flight from Delhi (DEL) to Paris (CDG), operated using Boeing 787, made an emergency landing back at DEL due to tire debris found on the runway.
The Delhi Air Traffic Controller (ATC) noticed some kind of debris after the Air India flight took off from it. The aircraft took off from the newly inaugurated fourth runway.
Air India Flight Makes Emergency Landing
According to the flight tracking site Flight Radar 24 data, the Air India flight AI143 took off from DEL at 1:21 PM IST, after 25 minutes delay.
Shortly after takeoff, the DEL ATC witnessed some sort of debris which they suspected to be from the tire. They immediately contacted the AI143 flight crew and were told to make a U-Turn.
The flight performed the standard emergency procedure and burnt the extra fuel required to reach CDG and safely land in DEL. The flight did this for around an hour and landed safely back at DEL at 2:28 PM IST.
The aircraft involved in the incident is Air India Boeing 787-8, registered as VT-NAA. According to Planespotters.net, it is a six-year-old carrier; AI took it back in 2017. Further, it is the penultimate 787 in the AI fleet.
Following the incident, the Air India Spokeperson stated to news agency ANI that "they are planning alternative arrangements for the passengers of AI143 to reach their destinations while the aircraft undergoes necessary checks at Delhi."
Also Read: Where Does Air India Fly its Boeing 787 Fleet in 2023? | Exclusive – Aviation A2Z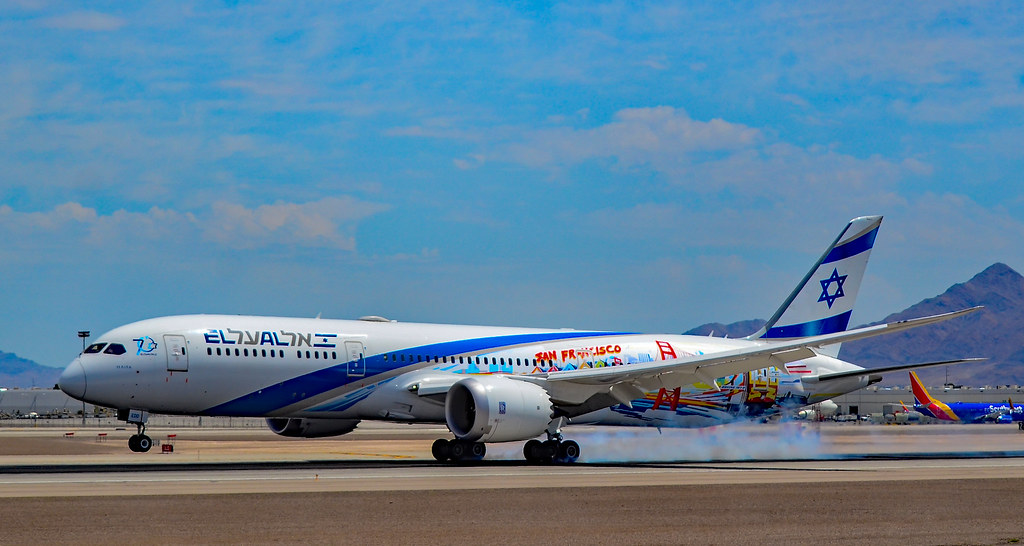 El Al Boeing 787 Boston Hard Landing
The flag carrier of Israel, El Al Airlines (LY) Boeing 787 flight from Tel Aviv to Boston, made a hard landing upon touchdown, leading to tire damage, nose gear damage, and steering failure.
The incident took place on Sunday, May 28, 2023. Furthermore, the aircraft involved in the incident is El Al Boeing 787-8, registered as 4X-ERB.
According to Avherald, Boeing 787-8 aircraft operated by El Al, with registration number 4X-ERB, was conducting flight LY-15 from Tel Aviv, Israel, to Boston, MA, USA.
Upon landing on runway 22L in Boston, the crew received instructions to exit the runway. However, they requested to stand by in response and later reported a problem with the nose gear steering system.
They successfully utilized asymmetric braking to exit the runway onto runway 27 and brought the aircraft to a stop clear of runway 22L. As a result of the incident, emergency services closed runways 09/27, 04L/22R, and 04R/22L.
Subsequent runway inspection discovered debris on runway 22L. The aircraft was subsequently towed to the apron.
Stay tuned with us. Further, follow us on social media for the latest updates.
Also Read: US Airlines, Including American, United, Delta, and Southwest, want you to Dress Properly – Aviation A2Z
Join us on Telegram Group for the Latest Aviation Updates. Subsequently, follow us on Google News.