VIRGINIA- RTX, formerly known as Raytheon, has announced that a significant number of its Pratt & Whitney GTF engines, responsible for powering Airbus A320neo aircraft, will require accelerated removals and inspections, leading to a 14% intraday drop in the company's shares.
According to RTX, Pratt & Whitney has identified a rare condition in the powder metal used to manufacture certain engine parts, necessitating inspections of 1,200 out of over 3,000 engines within the next nine to twelve months.
Fortunately, engines currently in production remain unaffected.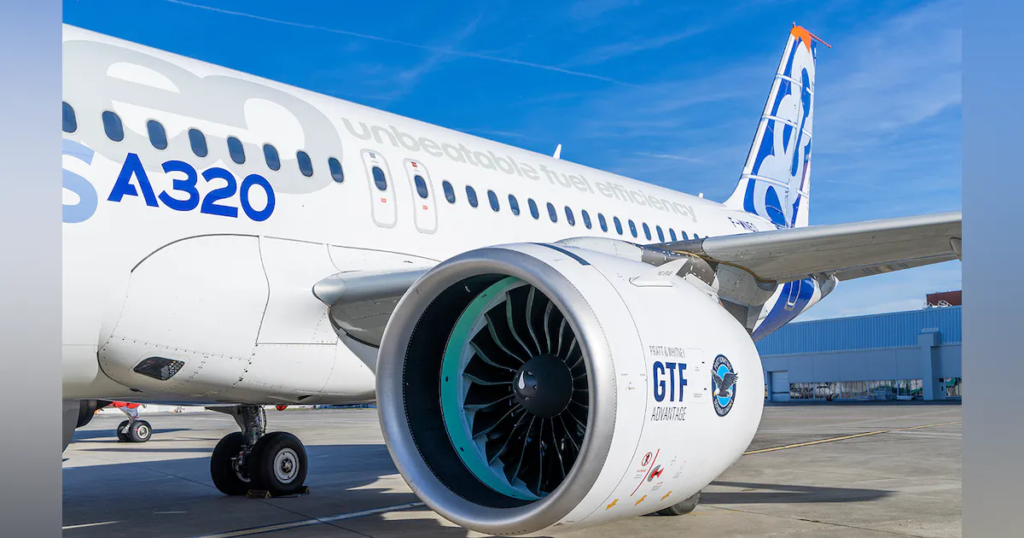 A320neo P&W Engines problems and Inspections
An insider familiar with the matter clarified that the problem is not an immediate safety issue. Last week, RTX started notifying customers about the inspection requirements, reported Business Standard.
It's worth noting that in June, the defense contractor Raytheon Technologies Corporation underwent a name change and became RTX Corporation.
As a result of the engine issue, RTX has adjusted its 2023 cash flow forecast, reducing it by $500 million to $4.3 billion due to the inspection process.
However, the company raised its 2023 sales expectations from $73 billion to $74 billion, compared to the previous forecast of $72 billion to $73 billion.
Notable customers impacted by the PW1100G-JM engine inspections include Spirit Airlines (NK), JetBlue (B6) Airways, and Wizz Air (W6), as reported by Cirium data.
While Airbus stock dipped by approximately 0.5% in Paris trading, Spirit shares experienced a 2.8% decline, JetBlue shares fell by 5.3%, and Wizz Air shares dropped by around 3.2% in London.
Airbus Assures Uninterrupted Deliveries
Airbus confirmed that A320neo deliveries would remain unaffected by the inspections. The company expressed its commitment to collaborating with airlines to minimize any disruptions to their fleets.
Benchmark analysts noted that the powder issue underscores the complexity of next-generation engines, which can introduce unexpected maintenance challenges.
RTX stated that around 200 accelerated removals from the jet fleet, equipped with PW1100G-JM engines, would be required by mid-September this year. Subsequently, an additional 1,000 engines will undergo inspections over the next nine to twelve months.
The problem lies in microscopic contaminants found in the proprietary metal used in the engine's high-pressure turbine discs. These contaminants have been present in the engines from 2015 through 2021.
Addressing the issue involves engine removal, disassembly, inspection, and potential replacement of the affected disc before reassembling the engine.
FAA's Involvement and RTX's Response
RTX expects the FAA to publish an airworthiness directive following a service bulletin. However, it can take months for the FAA to issue such a directive in non-emergency situations. The FAA has assured that appropriate steps will be taken in light of the situation.
RTX executives commented that it is too early to determine the impact of the engine issue on cash flow in 2024.
Nonetheless, CEO Greg Hayes affirmed that the company's 2025 financial goals, including reaching $9 billion in free cash flow, should remain unaffected. However, he acknowledged a potential margin impact.
Pratt & Whitney has also faced challenges related to GTF engines operating in hot and dusty climates.
For instance, low-cost Indian carrier Go First attributed the grounding of about half of its 54 Airbus A320neos to "faulty" Pratt & Whitney engines during a financial crisis earlier this year.
Stay tuned with us. Further, follow us on social media for the latest updates.
Also Read: Indian Students Deported Back to Delhi from USA on Delta Flight – Aviation A2Z
Join us on Telegram Group for the Latest Aviation Updates. Subsequently, follow us on Google News.