FRANCE- Over 40 World War II (WW2) veterans embarked on a Delta Air Lines (DL) charter flight to Normandy, France, for the second consecutive year.
They spent a week commemorating their sacrifices and reliving the memories of their wartime experiences 79 years ago.
Building on the success of the previous year's inaugural program, Delta's mission to return these veterans to Normandy grew even larger this time, with more than 40 veterans participating, up from 29 in 2022.
This grand undertaking was made possible through Delta's corporate partnerships, especially with the Best Defense Foundation, founded by Donnie and Kathryn Edwards in 2018, and Michelin.
Delta Takes WW2 Veterans to Normandy
Delta's Enterprise Sales Manager and Normandy Native, Virginie Durr, collaborated with Michelin's Vice President of Public Affairs, David Chapman, to conceive the idea for the charter.
Partnering with the Best Defense Foundation, a nonprofit organization dedicated to returning veterans to battlefields. Further expanded the program, providing a larger and more accessible tribute to the Greatest Generation.
On May 31, the historic journey commenced in Atlanta, Delta's hometown, with a parade through Hartsfield-Jackson Atlanta International Airport's international terminal.
The Dutchtown High School Band performed, leaving the entire terminal teary-eyed as they bid the heroes farewell.
In Normandy, the veterans were embraced by thousands of adoring fans from around the world, grateful for their liberators' sacrifices 79 years later.
The veterans also had the chance to honor fallen comrades and friends. Further reinforcing the profound impact of their service.
Delta's commitment to honoring veterans extends beyond these charters. The company believes in preserving the veterans' stories and sacrifices through education, ensuring they are never forgotten.
As part of the program, eight U.S., Brazilian, and France students joined to learn directly from the veterans and carry their legacies forward.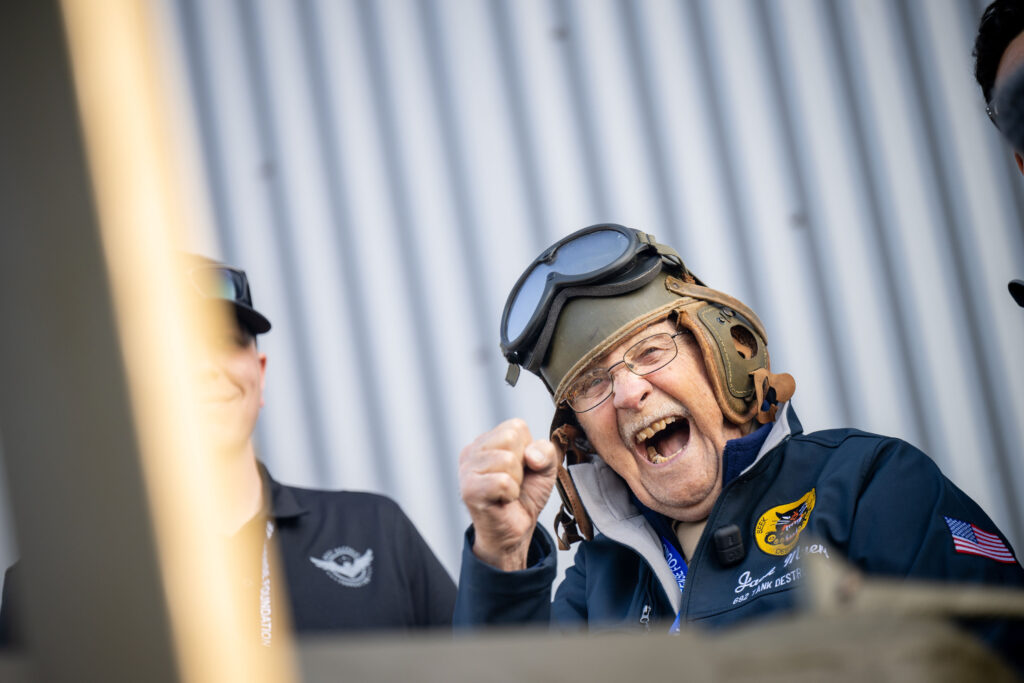 Go Above and Beyond
Throughout the program, volunteers from Delta's Veterans Business Resource Group and international team members in Europe worked tirelessly to provide the best experience possible.
From handling luggage to ensuring a warm welcome home, Delta's employees from every department contributed to the veterans' unforgettable journey.
The program's culmination featured a heartfelt farewell dinner at the Abbaye aux Hommes. The veterans expressed their gratitude and reflected on their time in Normandy.
Further, Caen Mayor Joël Bruneau, the dinner's host, assured the veterans that France would never forget their contributions to its liberation.
Delta, the Best Defense Foundation, and Michelin remain dedicated to honoring and connecting with our WWII veterans and the places they impacted 79 years later.
As this year's program concludes, preparations are already underway for next year's 80th anniversary of D-Day.
Stay tuned with us. Further, follow us on social media for the latest updates.
Also Read: US Airlines, Including American, United, Delta, and Southwest, want you to Dress Properly – Aviation A2Z
Join us on Telegram Group for the Latest Aviation Updates. Subsequently, follow us on Google News.