LONDON- G6 Aviation, a private charter firm that previously catered to high-net-worth individuals and pop artists, witnessed an unexpected turn of events last year when they received a unique request.
A group of ten passengers wanted to fly alongside their ten dogs from London to New Jersey. This unusual demand sparked the birth of a new venture – K9 Jets.
Dissatisfied with commercial airlines' inflexible pet travel regulations, pet owners sought the comfort and convenience of private charters for their beloved companions. Subsequently, laying the groundwork for the flourishing K9 Jets.
K9 Pet Jet New Flights
Founded in May of this year, K9 Jets has quickly gained popularity. Further, it has already chartered 150 pets, with its summer charters for July and August completely sold out.
Adam Golder, the company's Founder, and Client Director, aims to charter 700 pets by year-end. Fueled by soaring demand, K9 Jets is gearing up to launch its first-ever Dubai-London service on September 25. Further expanding its operations to meet the needs of its enthusiastic clientele.
K9 Jets, the brainchild of Adam Golder and his wife Kirsty, emerged as a sister concern of G6 Aviation, a private charter company established amidst the pandemic in February 2021.
While G6 Aviation typically served high-net-worth individuals and pop stars, a call from a grassroots Facebook group seeking a charter for ten pets propelled the creation of K9 Jets.
The primary objective was to provide a safer and more comfortable alternative to commercial airline pet transportation, often fraught with stress and potential risks.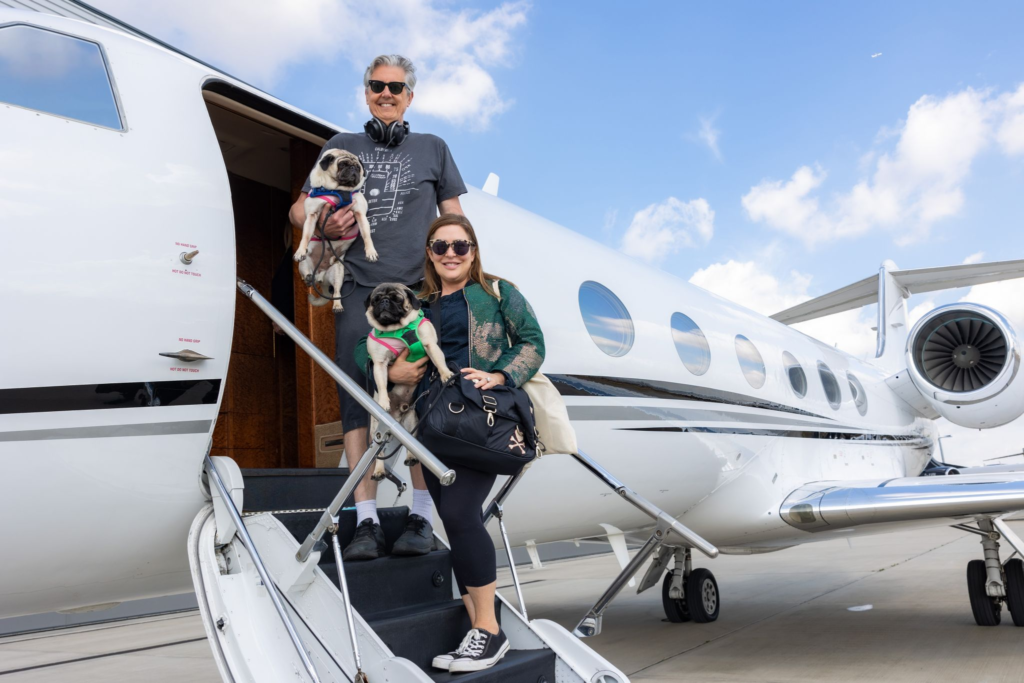 Pet-Friendly Travel Takes Flight
Recognizing the overwhelming demand from pet owners who yearned for better travel options, K9 Jets started its services in May this year.
The US-based company soon became a top choice for pet owners looking to relocate or travel for leisure. About 75% of its customers are middle-class individuals from diverse professions, including banking and tech.
Moreover, some customers own houses in London and utilize K9 Jets' services to visit their properties during the holiday season.
The launch of K9 Jets' Dubai-London service on September 25 is a testament to the ever-increasing popularity of the private charter firm.
Adam Golder revealed that they already received four pre-bookings within the first hour of announcing the new route.
The initial Dubai-London flight will accommodate approximately 15 passengers. But Golder expressed intentions to operate a second flight in December to meet the demand during the winter break.
With a keen focus on passengers' and pets' comfort, K9 Jets operates Gulfstream flights. Further ensuring a seamless journey lasting seven to eight hours.
The costs for chartering pets depend on the travel hours, with a round trip from Dubai to London costing $9,925 (Dh36,455) for one passenger and a large dog weighing over 51 pounds (23.1 kg) or two small dogs under 40 pounds.
While cats are also welcome, they must remain in their crates throughout the flight.
A Tail-Wagging Experience in the Sky
For the convenience of pet owners, K9 Jets requires pre-travel paperwork. This includes medical certificates and export-import documents. Passengers can check in one hour before departure and partake in a 15-minute familiarization session to introduce the pets to one another.
The company strategically plans seating arrangements based on the pets' temperament, keeping assertive pets apart from each other.
Golder assured that most pets settle down and enjoy a peaceful flight despite a few initial barks. Subsequently, they are lulled by the calming effect of white noise.
Upon landing at Farnborough private jet terminal, the border force verifies passports. At the same time, officials scan the pet's microchip and check relevant documents. Subsequently ensuring a smooth transition for both passengers and their four-legged companions.
The seat-sharing model ensures that the flight is confirmed once a 75% passenger and pet threshold is reached for the full route.
As the demand for pet-friendly travel continues to soar, K9 Jets is already contemplating routes to destinations in the Far East, expanding its service offerings to cater to a broader clientele worldwide.
With their customer-centric approach and dedication to pet safety and comfort, K9 Jets has become a go-to solution for pet owners seeking exceptional travel experiences with their beloved animals.
Stay tuned with us. Further, follow us on social media for the latest updates.
Also Read: US Airlines, Including American, United, Delta, and Southwest, want you to Dress Properly – Aviation A2Z
Join us on Telegram Group for the Latest Aviation Updates. Subsequently, follow us on Google News.