SINGAPORE- The Middle East renowned airline, Emirates (EK), marked a significant milestone today as it introduced its highly anticipated Premium Economy offering in Singapore with its A380.
The occasion was commemorated with an exclusive tour of one of their upgraded four-class Airbus A380 aircraft. It provided guests with an up-close look at the new product and the enhanced interiors available across all cabin classes.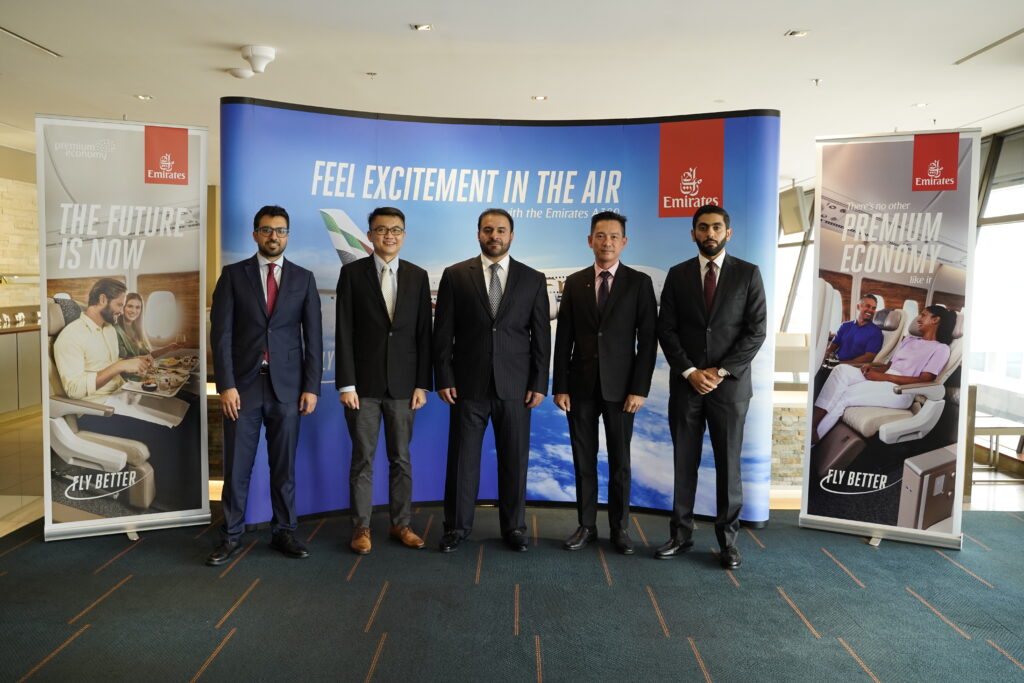 Emirates Introduces Premium Economy in Singapore
Immersed in the luxurious atmosphere of the Emirates Lounge at Changi Airport Terminal 1, attendees eagerly embarked on a guided tour, gaining insight into the remarkable features that await travelers in the brand-new premium economy experience.
Premium Economy takes center stage on the main deck of the Emirates A380, occupying the front section with 56 seats arranged in a comfortable 2-4-2 configuration.
Designed with utmost attention to detail, the cabin boasts ample space, offering a generous seat pitch and width to accommodate work and relaxation.
Passengers can also enjoy the convenience of personalized amenities such as in-seat charging points and a side cocktail table.
Complementing the exceptional onboard experience, Emirates provides meticulously curated in-flight amenities. Further, the diverse and inventive menu and an extensive selection of beverages.
Travelers flying between Singapore and Dubai can now experience the unparalleled comfort and luxury of Emirates Premium Economy on flights EK 354 and EK 355.
As guests embarked on a tour of Emirates' enhanced A380 aircraft, they discovered the many delights awaiting them in the Premium Economy cabin.
Generous Space and Personalized Comfort
The Premium Economy cabin at the front of the main deck offers a remarkable sense of space. Further with a thoughtfully designed layout and a 2-4-2 configuration, passengers can enjoy ample room to stretch out and relax.
Further, the carefully considered seat pitch and width cater to both work and leisure, ensuring a comfortable journey.
Emirates understands the importance of staying connected, even at 30,000 feet. That's why Premium Economy passengers can take advantage of in-seat charging points. Further enabling them to stay powered up throughout their flight.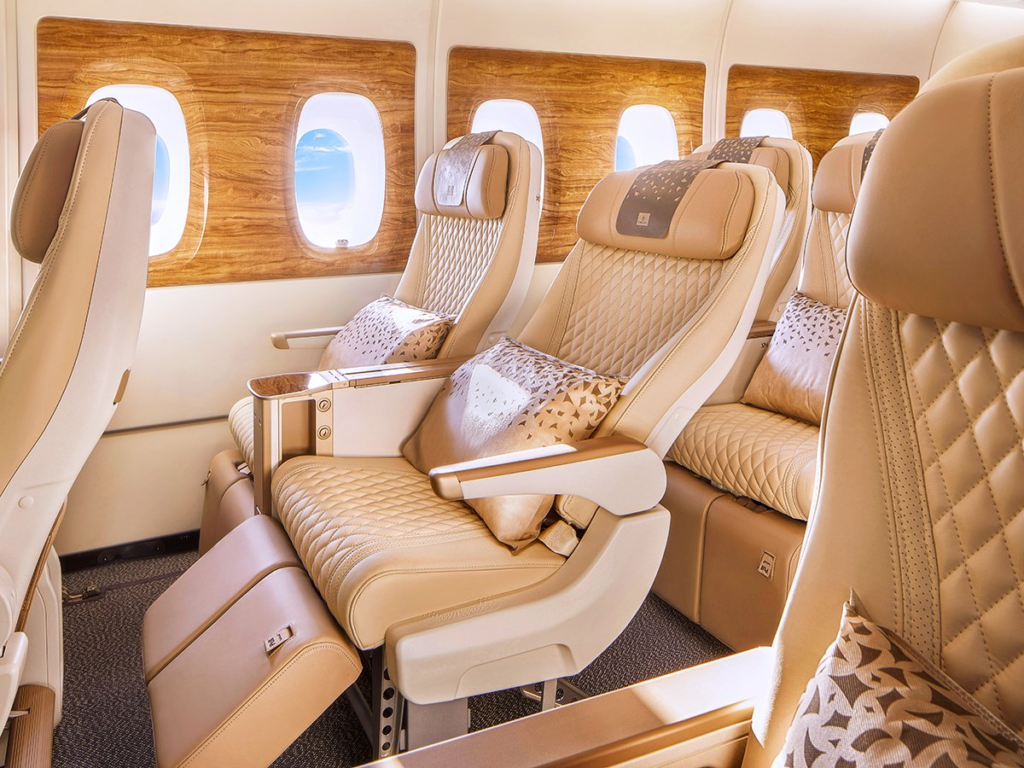 Additionally, including a side cocktail table adds a touch of convenience. Subsequently, allowing travelers to enjoy a refreshing beverage while working or relaxing.
A highlight of the Premium Economy experience is the inventive and diverse menu that awaits passengers. From delectable meals to an extensive range of beverage options, Emirates ensures that every culinary craving is catered to, further enhancing the overall journey.
With the introduction of Emirates Premium Economy in Singapore, the airline reaffirms its commitment to providing exceptional travel experiences, combining comfort, convenience, and world-class service.
Stay tuned with us. Further, follow us on social media for the latest updates.
Also Read: Indian Students Deported Back to Delhi from USA on Delta Flight – Aviation A2Z
Join us on Telegram Group for the Latest Aviation Updates. Subsequently, follow us on Google News.