BRISBANE- Virgin Australia (VA), a leading Australian airline, has reached a significant milestone in its ongoing transformation with the arrival of its first Boeing 737 MAX 8 aircraft. This delivery signals the start of Virgin Australia's journey towards a more advanced fleet.
The newly acquired 737-8 aircraft offers passengers a quieter and more comfortable flying experience. It represents the first of 33 MAX family planes that Virgin Australia plans to incorporate into its fleet over the next five years.
The decision to restructure the airline's aircraft order in December 2020 paved the way for this exciting development.
Virgin Australia Welcomes First Boeing 737 MAX 8
Stuart Aggs, Chief Operations Officer of Virgin Australia, expressed the MAX family aircraft's critical role in the airline's transformation. Not only do they provide a superior experience for passengers, but they also form the backbone of Virgin Australia's decarbonization efforts.
Aggs highlighted the new aircraft's capacity growth potential and enhanced efficiency. He stated, "These new aircraft will allow us to grow capacity and support more efficient jet services."
Moreover, the MAX family will contribute to a remarkable reduction of at least 15 percent in emissions per flight compared to the 737-800 NG fleet. This aligns with Virgin Australia's commitment to achieving net-zero emissions by 2050.
Fleet modernization is a vital component of Virgin Australia's sustainability agenda. Further offering a significant opportunity to decrease emissions intensity in the near term.
Aggs stated, "While our approach to decarbonization is multi-faceted, fleet modernization is critical to progressing our sustainability ambitions."
This and other fuel efficiency initiatives are expected to support over 80 percent of Virgin Australia's interim target to reduce carbon emission intensity by 22 percent by 2030.
Complementing the Young and Simplified 737 Fleet
Virgin Australia's simplified 737 fleet boasts an average age of just 11.7 years. Subsequently making it one of the youngest commercial fleets in Australia.
The introduction of the 737-8, which has a longer range than the 737-800 NG, will enhance the flight experience for guests. Aggs revealed that the new aircraft would soon serve the new Cairns-Haneda route, elevating travel between Tokyo and Far North Queensland.
Apart from its improved fuel efficiency, the 737-8 is approximately 40 percent quieter than the current 737-800 NG fleet. It also features Virgin Australia's new generation seats, complete with convenient device holders and in-seat power.
To mark this significant milestone, Virgin Australia has ordered a fuel blend consisting of 30 percent Sustainable Aviation Fuel (SAF) for the initial leg of the delivery flight to Brisbane. This commitment demonstrates the airline's dedication to sustainable practices.
The Virgin Australia team will have the honor of being among the first to tour the new aircraft. A celebration is planned for early July, preceding the aircraft's deployment on the Cairns-Haneda route.
The plane, registered as VH-8IA, follows Virgin Australia's tradition of naming its aircraft after Australian bodies of water. Monkey Mia, named after a renowned location in the Shark Bay region of Western Australia, aligns with the airline's longstanding naming convention.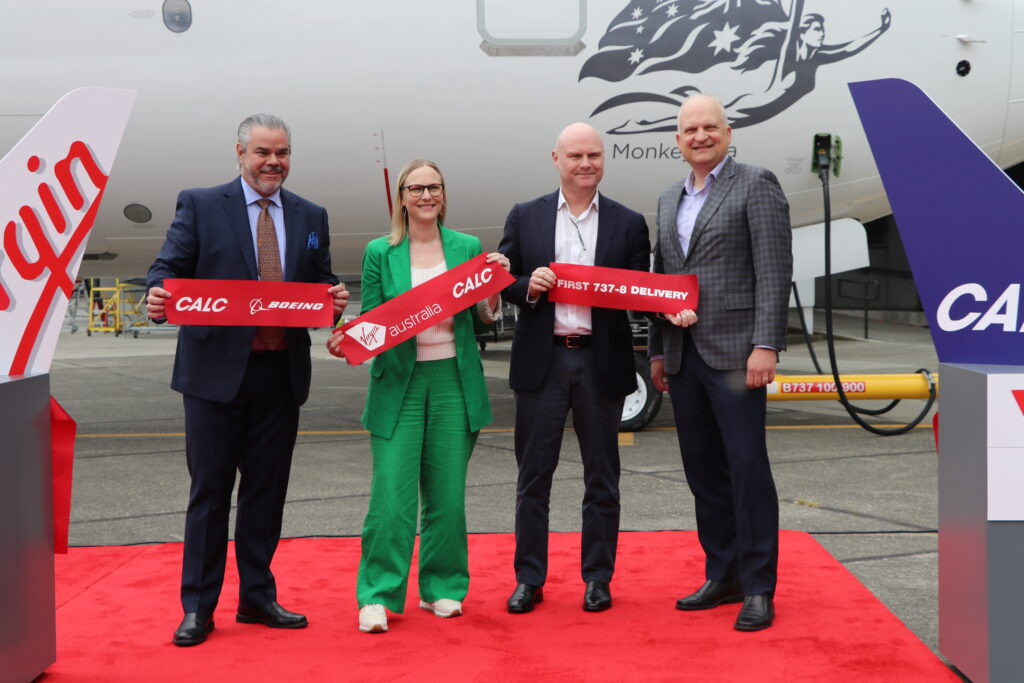 Global Presence and Boeing Partnership
While Monkey Mia is among the first 737-8s to operate in Australia, it joins a fleet of over 1,000 aircraft of the same type operated by more than 60 airlines worldwide.
Erika Pearson, Boeing Vice President, Commercial Sales and Marketing, Southeast Asia and Oceania, emphasized the positive impact of operating these younger and more fuel-efficient airplanes on Virgin Australia's sustainability goals.
She added that the MAX family's cutting-edge technology engines and winglets make it the most efficient single-aisle aircraft available.
The 737-8 aircraft joins Virgin Australia's fleet through a lease agreement with China Aircraft Leasing Group Holdings Limited (CALC), a renowned global aircraft lessor.
This collaboration strengthens Virgin Australia's commitment to sustainable fleet optimization. Further showcases CALC's dedication to investing in energy-efficient and environmentally friendly aircraft models.
In addition to the eight 737-8s, Virgin Australia has placed an order for 25 737-10s. Subsequently, it is scheduled for delivery starting next year. This expansion indicates the airline's confidence in the MAX family and its commitment to future growth.
Virgin Australia's fleet has grown significantly since its relaunch in November 2020. Further, comprising 84 predominantly Boeing 737 aircraft.
This rapid expansion equates to the addition of one new aircraft to the fleet every five weeks. Further solidifying Virgin Australia's position as a major player in the Australian aviation market.
Stay tuned with us. Further, follow us on social media for the latest updates.
Also Read: Indian Students Deported Back to Delhi from USA on Delta Flight – Aviation A2Z
Join us on Telegram Group for the Latest Aviation Updates. Subsequently, follow us on Google News.