MUMBAI- Chhatrapati Shivaji Maharaj International Airport (BOM) in Mumbai has successfully completed the major recarpeting project for its secondary runway, Runway 14/32.
With careful planning, flawless execution, and a strong dedication to strict timelines and safety, Mumbai Airport (BOM) has accomplished this vital infrastructure enhancement as scheduled.
This milestone represents a significant stride towards improving operational efficiency and upholding the highest safety standards for air travel.
With an average of 950 flights, Chhatrapati Shivaji Maharaj International Airport (CSMIA) operates one of the busiest single-crossover runways globally.
This underscores the importance of maintaining optimal runway conditions to ensure continuous and safe aircraft operations during takeoff and landing.
The recarpeting initiative for CSMIA's secondary runway 14/32 began on December 9, 2022. It has been successfully concluded as scheduled on June 10, 2023.
Mumbai Airport Runway Recarpeting Work
In order to achieve the best possible outcome, Chhatrapati Shivaji Maharaj International Airport (CSMIA) adopted a meticulously planned approach.
It ensured the smooth and efficient execution of the project for its secondary runway 14/32. Approximately 200 personnel worked diligently on a daily basis, putting forth their efficient and high-quality efforts. The goal was to attain an exceptional result in the recarpeting endeavor.
A meticulous daily program with specific targets was carefully designed and closely monitored to ensure efficiency and rapid progress. The runway was closed for approximately 12 hours each day as part of this strategy.
The closure provided an uninterrupted period for the project team to execute their tasks with precision and thoroughness.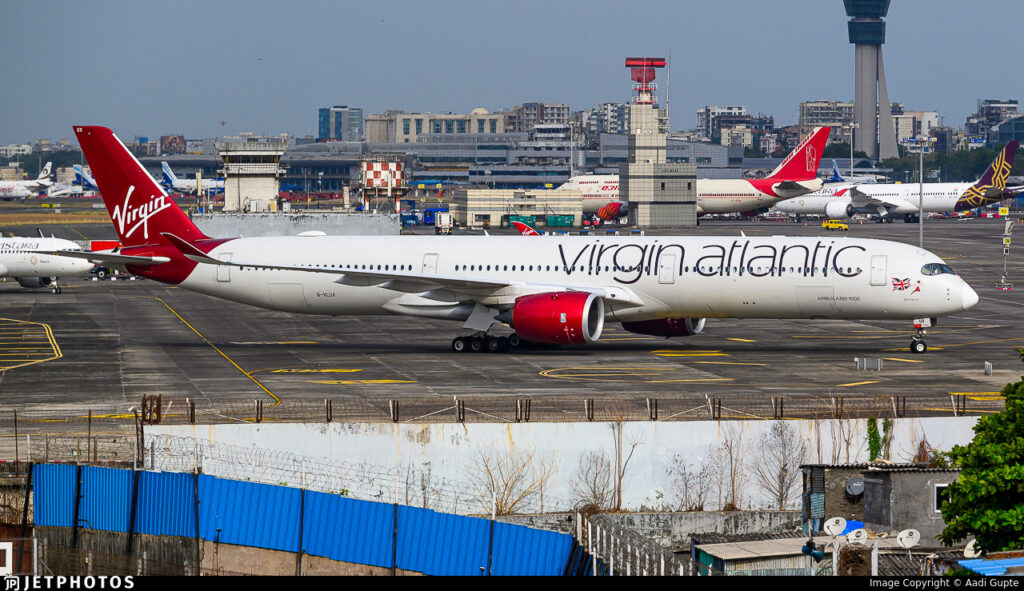 The extensive resurfacing project encompassed a significant area. The runway stretches an impressive length of 2210 meters (excluding the intersection) and a width of 75 meters.
This resulted in the upgrade of all stressed sections of the runway surface by laying approximately 72,500 metric tons (MT) of asphalt.
Chhatrapati Shivaji Maharaj International Airport (CSMIA) employed the highly regarded "Mill & Fill" technique for Runway 14/32, following carefully orchestrated steps.
These steps included the precise removal of existing Airfield Ground Lighting fittings through core cutting. Then subsequent filling with quick-set concrete and precise milling of the existing surface to the required depth.
Following meticulous overlaying with layers of advanced paver machines consisting of Asphalt (DBM, AC). Then followed by the core on the new surface to install fittings as per the planned strip chart.
Lastly, comprehensive testing and commissioning were carried out after the meticulous installation of all necessary fittings.
Bottom Line
The successful conclusion of the recarpeting project marks a significant advancement for CSMIA, exemplifying its dedication to maintenance excellence, operational safety, and streamlined flight operations.
The overlaying process has resulted in enhanced cross slopes, improving the runway's capacity to drain surface water, particularly during the monsoon season efficiently.
Additionally, the recarpeting work has substantially increased the runway's friction value, thereby enhancing overall operational efficiency. This achievement brings long-term benefits and reinforces CSMIA's commitment to continuous improvement.
During the entire project, CSMIA took extensive measures to ensure seamless flight operations. The airport consistently strives to offer advanced technology solutions that facilitate efficient and smooth airline operations.
These advancements have enabled CSMIA to uphold industry-leading standards for airlines operating in Mumbai, resulting in improved efficacy and a superior experience for all stakeholders involved.
Stay tuned with us. Further, follow us on social media for the latest updates.
Also Read: US Airlines, Including American, United, Delta, and Southwest, want you to Dress Properly – Aviation A2Z
Join us on Telegram Group for the Latest Aviation Updates. Subsequently, follow us on Google News.