Jyotiraditya M. Scindia, the Union Minister for Civil Aviation, claimed on Wednesday that India's aircraft fleet, which has increased to over 700 aircraft, an increase of more than 100% over the past nine years, has seen considerable growth.
He revealed the aviation sector's ongoing capital expenditure (capex) projects, totaling Rs 1 lakh crore. He stated that the private sector is expected to contribute roughly Rs 70,000 crore to this project.
Speaking at a news conference held in this city, Union Civil Aviation Minister Jyotiraditya Scindia said that domestic air travel in India had increased by an astounding 130 percent, with an estimated 145 million people annually taking to the skies.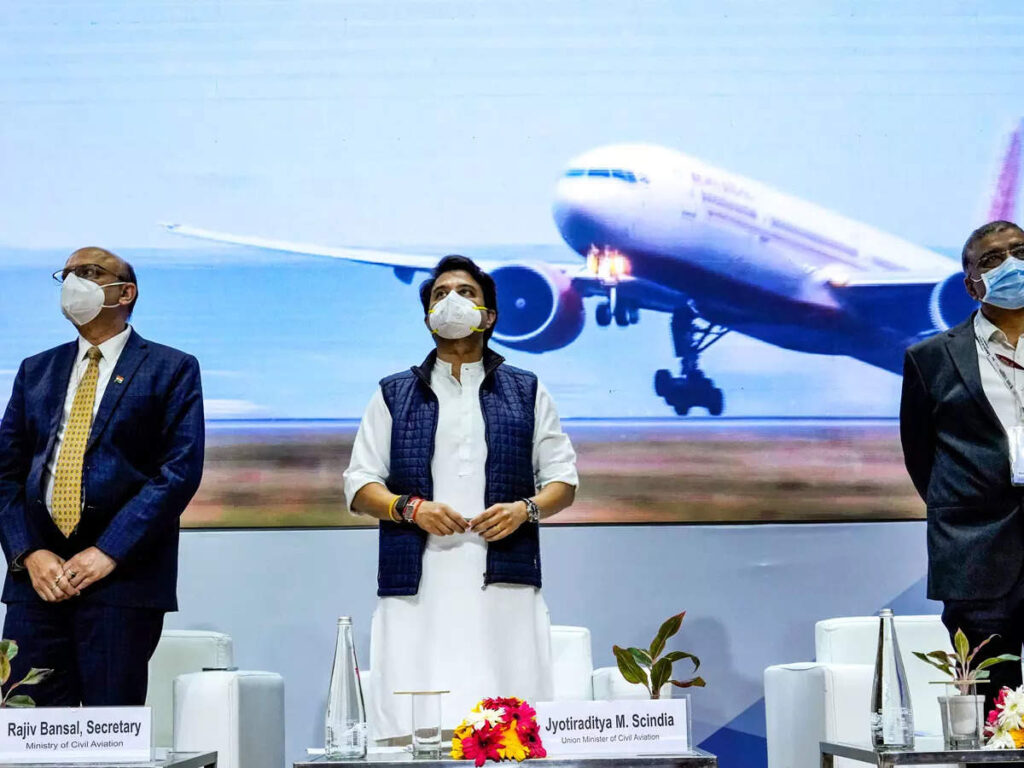 India's fleet Expansion
He also highlighted the positive changes seen at Air India since the Tata Group bought it, which represent an improvement in the airline's operations and performance.
"International passenger flow has also seen a noticeable uptick, recording a 50% increase. With almost 70 million passengers now setting out on international journeys each year. This increase reflects the growing demand for outbound travel among the Indian population," according to Scindia.
He said that during the previous nine years, movement in the freight transportation sector in India has increased by a significant 35%. Further demonstrating the country's impressive growth in this area as well. More than 3.6 million tonnes (MT) of freight have been moved.
Scindia stressed the increase of India's aviation fleet even more, describing the country's fleet, which now numbers over 700 aircraft, as "a remarkable leap of over 100% within the past nine years."
In addition, the Indian government has made significant efforts to improve airport infrastructure, building 11 new greenfield airports over the previous nine years. Eight new airports have been successfully established in the northeast thanks to special attention being paid to the region's airport development.
RCS UDAN flights
The minister added that 180 RCS airports, including 25 water aerodromes and 40 helipads, have been designated for use in the UDAN Scheme for the operation of these flights.
"As of now, out of 1,152 valid awarded RCS routes, 475 RCS routes have been commenced connecting 74 airports including 9 heliports & 2 water aerodromes," he claimed.
In addition, the minister stated that out of the budgeted amount of Rs. 4,500 crores as of March 31, 2023, the Centre had paid Rs. 3,367 crores for the revival/development of RCS airports for the operation of UDAN flights.
"As of April 11, 2023, VGF funds totaling about Rs 2,585.25 crore have been made available to the chosen airline operator for the operation of RCS UDAN flights," he said. "A total of 121.67 lakh passengers have traveled under the RCS UDAN scheme."
Scindia continued by saying that IACS has been established to provide air connectivity between specific domestic states and specific foreign locations to support socio-economic growth.
"Under this program, the corresponding state governments have suggested routes that are point-to-point direct connectivity (non-stop) routes that have not yet been put into action. Providing 100% subsidy support is the responsibility of the state governments. He said that four of the thirteen routes suggested for the scheme—Guwahati-Dhaka, Guwahati-Bangkok, Imphal-Mandalay, and Agartala-Chittagong—have been awarded.
Additionally, he said that the UDAN Scheme had revived several abandoned World War II-era airstrips that had been abandoned and were now in good condition and that airports had been built all around them to boost the local economy.
The airports at Darbhanga, Belgavi, Jharsuguda, Rupsi, Kishangarh, Hubli, Jagdalpur, Kurnool, and Pasighat, among others, are just a few of the many success stories that stand out, he said.
AAI Statement
Furthermore, according to Scindia, there were 29 flying training organizations (FTOs) as of June 2016; as of this writing, there are 35 FTOs and 54 bases.
Nine additional bases will probably be installed by December 2023, bringing the total to 63. In the years 2022–2023, one FTO and five bases—two at Kalaburagi (Karnataka). One each at Jalgaon (Maharashtra), Lilabari (Assam). Further, Khajuraho (MP)—has already started operations, the official added.
The Airports Authority of India (AAI) announced a liberalized FTO policy in 2020 that eliminated airport royalty payments (revenue share payments made by FTOs to AAI) and greatly rationalized land rentals, according to the statement made by the airport authority.
"The DGCA issued 552, 640, 744, 578, and 862 Commercial Pilot Licences (CPLs) in each of the following years: 2017, 2018, 2019, 2020, and 2021. The DGCA issued 1,165 CPLs in 2022, an all-time high, according to Scindia.
"The overall flying hours at Indian FTOs grew from 1.22 lakh hours in the pre-Covid period (2019) to 1.58 lakh hours in 2021. According to the minister, the number of flying hours increased even further in 2022, reaching 1.63 lacks.
Stay tuned with us. Further, follow us on social media for the latest updates.
Also, read FIRST LOOK: Air India Airlines New Possible Branding, Livery, Logo and More | Exclusive – Aviation A2Z
Join us on Telegram Group for Latest Aviation Updates. Subsequently, follow us on Google News.