On Sunday, many tires on a Boeing 737-400 being flown by Nigeria's Max Air exploded during landing at Abuja Airport. Authorities had to temporarily close the airport due to the event so that workers could take the plane off the runway.
A tiny fire started right next to the gear well after the plane came to a stop. On social media, a passenger's video of the flight, which was being attended to by the airport's fire department, was shared.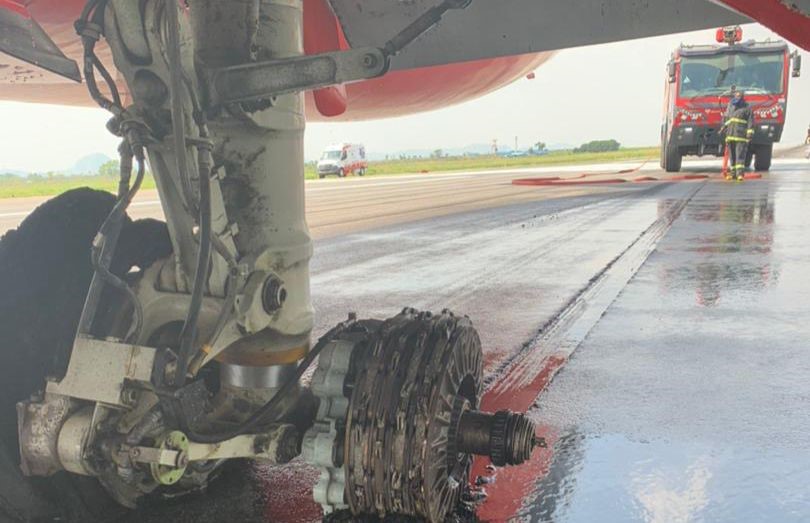 Max Air confirmed the B737 Crashed Landed
"On May 7, 2023, a Max Air flight carrying 143 people and one infant was due to take off from Yola at 14:05 and land in Abuja at 15:01. However, the plane's two tires exploded upon landing in Abuja, prompting the emergency response team to arrive at the Nnamdi Azikiwe International Airport without delay.
The 737-400, bearing the registration 5N-MBD, reportedly burst one tyre as the aircraft took off from Yola, according to the Aviation Herald. Both of the left main gears were reported to have snapped when the aircraft touched down in Abuja.
Nnamdi Azikiwe International Airport
Photos depict the plane's left landing gear, which is completely devoid of a rubber tire, wedged into the tarmac. The equipment left behind a trail as it sunk into the runway's surface. The gear grinding on the runway is probably what caused a minor gear fire to start.
A water truck splashed water directly onto the plane as airport firefighters arrived on the scene. Another firefighter is seen getting help from two other firefighters as they use a hose to physically pour water on the aircraft.
The airline expressed its gratitude to the airport administration, emergency services, and all other necessary agencies. For their rapid and professional responses to secure the safety of all travelers and staff members on board.
There were no injuries reported as all passengers safely descended from the aeroplane. There were also six crew members in the aircraft.
The carrier announced, "We are happy to report that all passengers and crew on board the aircraft are safe and sound. "The airline has taken all required measures to ensure the passengers are at ease. Further, they were cared for throughout this time. Their staff and luggage have been transported to the arrival terminal.
Stay tuned with us. Further, follow us on social media for the latest updates.
Also, read Karnataka Government: Break buildings taller than 45m near Jakkur airport
Join us on Telegram Group for Latest Aviation Updates. Subsequently, follow us on Google News.