India's government has launched 'Operation Kaveri' to evacuate Indian citizens stranded in Sudan, with a transit facility established in Jeddah for those rescued to be taken to. Following their evacuation from Sudan, all Indian citizens were transported to Jeddah in Saudi Arabia.
According to official data, over 530 Indian citizens have been evacuated from Sudan. With more than 250 Indians airlifted by two military transport aircraft of the Indian Air Force (IAF). Around 278 citizens were rescued by a naval ship from the conflict-ridden country.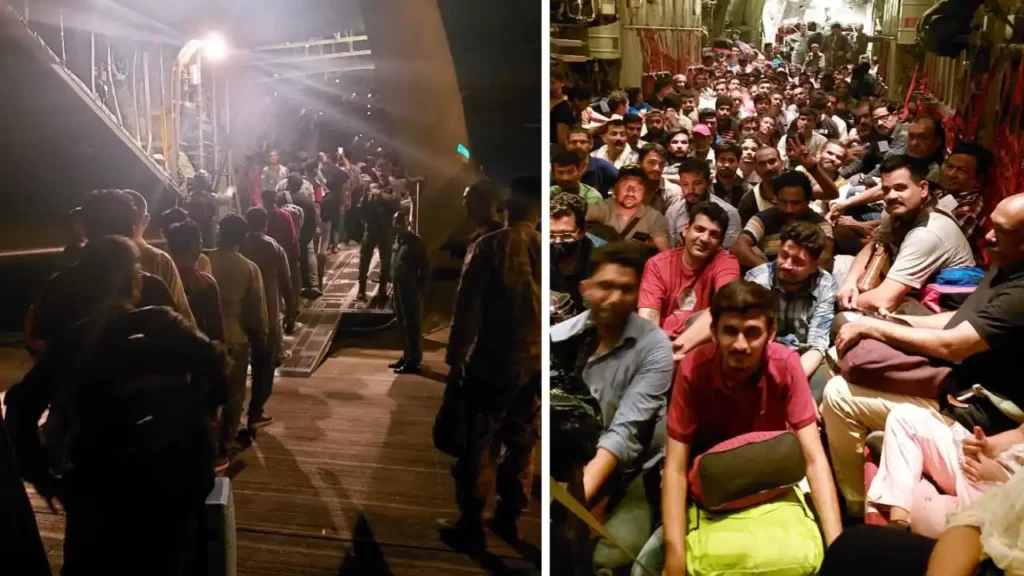 Operation Kaveri to Evacuate Indians in Sudan
The Indian Air Force (IAF) deployed two C-130 J aircraft to evacuate over 250 people from Port Sudan. As part of their mission to ensure the safe return of all Indian nationals from Sudan, the IAF also deployed its Garud Special Forces to Port Sudan.
During the evacuation of Indian nationals from Port Sudan to Jeddah. The IAF Garud Special Forces member was observed carrying a child on the C-130J Special Ops aircraft.
India has also sent military aircraft and warships to evacuate its citizens from Sudan. Additionally, on April 26, another group of 135 stranded Indians was rescued from Sudan.
The Minister of State for External Affairs, V Muraleedharan present at Jeddah airport to receive the second batch of 148 Indians. They were evacuated from Sudan by the first IAF C-130J aircraft as part of the ongoing Operation Kaveri.
The MEA tweeted today that 121 passengers left behind by the IAF C-130J aircraft. However, later the Minister of State for External Affairs, V Muraleedharan, tweeted that the second batch of 148 Indians was successfully evacuated.
Bottom Line
On April 24, External Affairs Minister S Jaishankar announced that 'Operation Kaveri' has been launched to evacuate Indian citizens from Sudan as the fighting between the Sudanese Army and paramilitary groups escalated in the capital Khartoum. Jaishankar informed that nearly 500 Indian citizens had reached Port Sudan under this operation.
Following intense negotiations, a 72-hour truce was agreed to between the Sudanese army and the paramilitary Rapid Support Forces (RSF). India has stepped up its efforts to evacuate its citizens from Sudan during this period.
Stay tuned with us. Further, follow us on social media for the latest updates.
Also Read: US Airlines, Including American, United, Delta, and Southwest, want you to Dress Properly – Aviation A2Z
Join us on Telegram Group for the Latest Aviation Updates. Subsequently, follow us on Google News.