Japan Airlines (JL) flight headed for Tokyo with approximately 200 passengers on board had to make an unexpected return to the Delhi airport after nearly five hours of being airborne due to a technical issue.
The flight, scheduled for Haneda Airport in Tokyo, departed from the national capital at 7.20 pm on Tuesday. But had to turn back around 12.45 am on Wednesday, according to an official source at the airport.
A passenger informed PTI that the flight en route to Tokyo returned to the Delhi Airport after flying for nearly five hours on Wednesday. All passengers have been provided accommodation at a hotel in Delhi.
The passenger added that the rescheduled flight is expected to take off later in the evening from Delhi for Tokyo. There is no comment yet from Japan Airlines regarding the matter.
Japan Airlines Delhi to Tokyo flight Diverted
According to Flight Aware, the flight tracking website, the Japan Airline Delhi to Tokyo flight JL30 operated Boeing 787-9 Dreamliner. Further, it has the registration JA879J and had to return to Delhi after flying being airborne for more than 6 hours.
The airline operates daily scheduled flights which take off from Delhi Int'l Airport (DEL) at 7:05 PM and land at Haneda International Airport (HND) at 6:05 AM IST.
However, amid technical glitches, the plane didn't reach HND and landed back in Delhi at 1:00 AM. Subsequently, the aircraft's last known status shows its being in Delhi and possibly getting maintenance support from Engineering staff.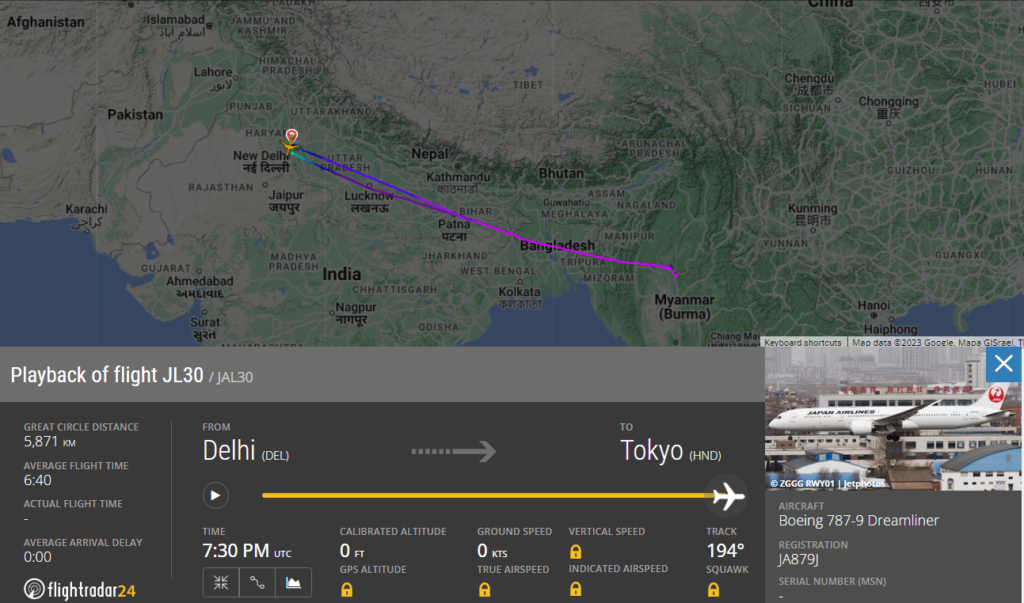 We hope there is no major problem with the aircraft and it can return safely to HND, Tokyo. The aircraft is one of the modern airliners and has various safety backups.
Stay tuned with us. Further, follow us on social media for the latest updates.
Also Read: US Airlines, Including American, United, Delta, and Southwest, want you to Dress Properly – Aviation A2Z
Join us on Telegram Group for the Latest Aviation Updates. Subsequently, follow us on Google News.