The Airport Authority of India (AAI) is wooing Qantas Airways (QF), Australia's largest airline by fleet size, to launch direct flights between Chennai and Perth or Chennai and Sydney, which would mean that Chennai Airport could soon have a direct flight service to Australia.
According to Dr Sharad Kumar, director of Chennai Airport, direct flights will assist the sizable Indian diaspora in the nation. Furthermore, Dr Kumar noted that Chennai is welcoming new airlines to utilize the first-rate amenities at the terminal that has just been opened.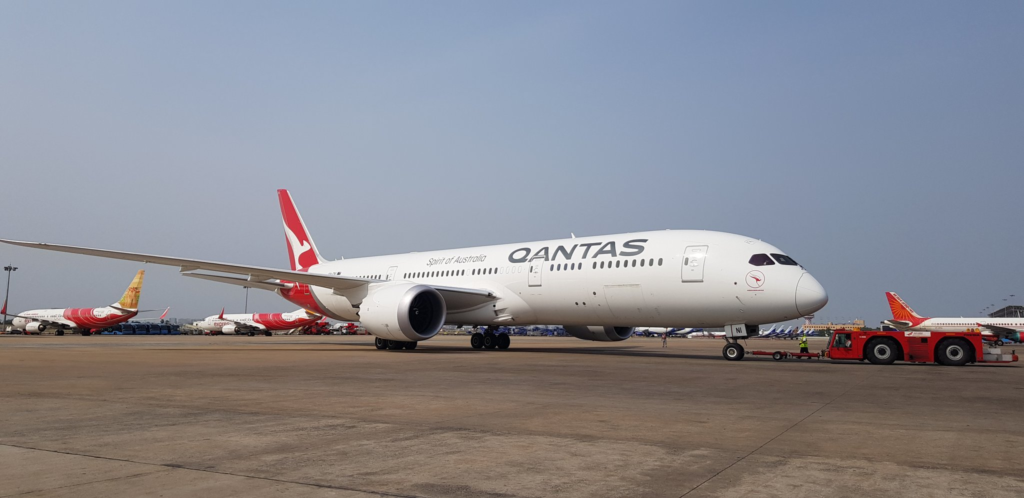 Qantas Direct flights
To strengthen its position abroad, Qantas also has plans. First, non-stop flights have been introduced between Australia and Bengaluru in Southern India by Qantas and its subsidiary Jetstar.
The current journey time to Perth, Australia, including a stopover in Singapore, is more than ten hours. There are no direct flights from Chennai to Australia at this time. It would take about half as long to travel on a direct flight from Perth to Chennai.
Nearly 7,000 000 Indians, both Australians of Indian descent and Indian residents, contribute significantly to Australia's society and economy.
Australia is eager to strengthen its connections with India following the signing of the Economic Cooperation and Trade Agreement (ECTA) between the two countries. Stephen Dawson, the Australian Minister for Emergency Services, Innovation, and the Digital Economy, emphasized the necessity of direct connectivity between Perth and Chennai while he was also in Chennai.
Aviation Summit plan to launch a direct route
Western Australia's Deputy Premier and Minister for Tourism, Roger Cook, recently travelled to New Delhi for the CAPA India Aviation Summit to discuss the possibility of launching a direct route from India. On March 20, 2023, the Western Australian and Tamil Nadu governments signed a letter of intent to improve their ties.
As part of the agreement, the two will collaborate in the areas of economics, education, energy, mining, space, and innovation, as well as on matters of defence, agriculture, health, and medical life sciences. Cook officially opened Western Australia's second office in India in July 2022 with the launch of the office in Chennai.
Dr Kumar says Tamil Nadu is one of the most dynamic states. Subsequently, it has strong growth in the transportation, textiles, health and wellness, and tourist industries. This presents a wealth of commercial opportunities for airlines, and Qantas can be the pioneer in realizing this potential.
Stay tuned with us. Further, follow us on social media for the latest updates.
Also, read Karnataka Government: Break buildings taller than 45m near Jakkur airport
Join us on Telegram Group for Latest Aviation Updates. Subsequently, follow us on Google News.