This summer, there are up to seven daily flights between Mumbai and Heathrow Airport. The upcoming UK path for Vistara is from Mumbai to London Heathrow. The fourth carrier on the 4,487-mile (7,221-km) airport pair will launch in two months, which is very little lead time.
Mumbai to London Heathrow
It isn't bookable this winter at the time of writing, probably because there aren't any slots (yet?). If that changes, it will become the fifth carrier, with a total of up to eight daily flights between them.
The capacity between the UK and India has increased continuously lately. The statement from Vistara comes shortly after Air India increased its service between Mumbai and Heathrow to twice daily, a record high, and moved its secondary India routes to Gatwick to focus on more premium Bangalore and Delhi.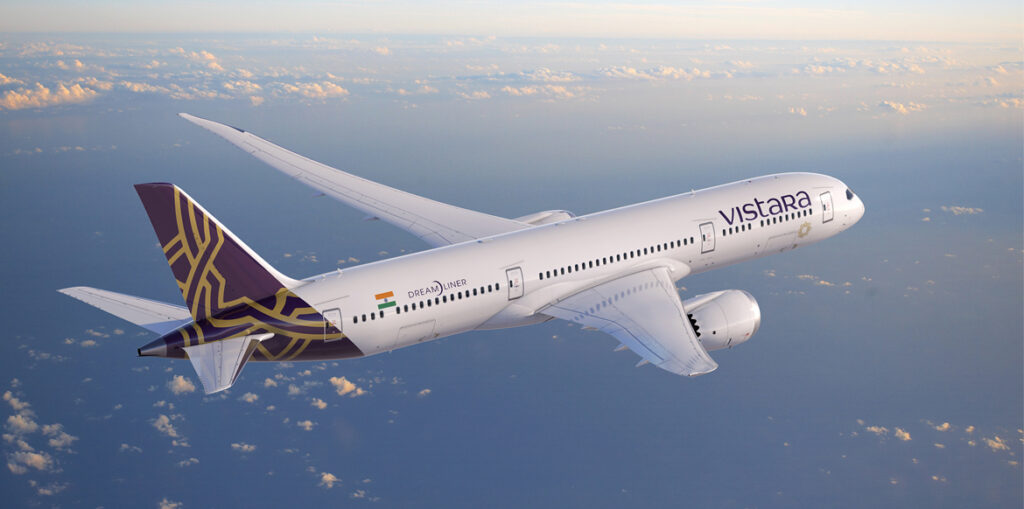 Beginning on June 1st, Vistara's new path is available for reservations, but only during the summer. It temporarily operated as a part of the UK-India air bubble agreement caused by the coronavirus, but this is a typical, everyday operation.
It will fly five times per week on its three-class, 299-seat Boeing 787-9s, of which it has four at the moment. The timetable is listed below; all times are local. The timetable is erratic because Heathrow lacks enough slots.
Mumbai-Heathrow: UK15, 13:50-19:10 (Mon), 14:30-19:55 (Tue, Thu, Fri, Sun)
Heathrow-Mumbai: UK16, 20:55-10:15+1 (Mon), 21:55-11:00+1 (Fri, Sun), 22:05-11:00+1 (Tue, Thu)
Mumbai is the 2nd Heathrow path for Vistara
This adds to Delhi's debut during the pandemic. It is offered every day and departs from Heathrow at 22:20 after arriving at 20:20. This implies that two of its 787s will be in the UK at once.
Heathrow-Mumbai had 529,000 roundtrip point-to-point (P2P) passengers in 2019, which fell to about 490,000 in 2022 for an obvious cause, according to booking statistics. It carried about 671 people everyday, one way, in the previous year.
Also, read
Mumbai was Heathrow's fourth-largest Asian market in 2019 after Delhi, Bangkok, and Hong Kong. Clearly, things were very different in the pandemic-stricken 2022. Such were the limitations throughout Asia that Mumbai placed second only to Delhi.
Unexpectedly, more P2P travellers chose to fly nonstop than to use a hub for their transportation. Virgin Atlantic carried more Heathrow-Mumbai P2P passengers than any other airline, in part because of its high cost and fewer connections-friendly frequency. Gulf Air, British Airways, Air India, and Etihad (via Abu Dhabi) came after it. (over Bahrain). Emirates was sixth, via Dubai.
Daily 7 flights this summer season
Air India, British Airways, Virgin Atlantic, and Vistara will all operate this summer. Between them, they have up to seven daily flights, as follows. Note that equipment is based on what is scheduled, and some will only occasionally be used.
British Airways: up to triple daily 787-8, 787-9, 777-200ER
Air India: double daily 787-8
Virgin Atlantic: daily 787-9, A350-1000
Vistara: five weekly 787-9
What about this winter season?
It's unclear if Vistara will be operating this winter. If so, statistics as of March 31 indicates that it would become the fifth nonstop operator with up to eight daily flights:
British Airways: triple daily 777-200ER, A350-1000, 787-9, 777-300ER
Air India: double daily 787-8
Air Canada: daily 787-9
Virgin Atlantic: daily A350-1000
Vistara: five weekly 787-9 (assuming it remains at that level)


Thank you
Stay updated with Avoationa2z.com