The Universal Hydrogen plane set a new record by flying with the largest hydrogen fuel cell ever utilised to power an aeroplane. The aircraft's first test flight took place in eastern Washington.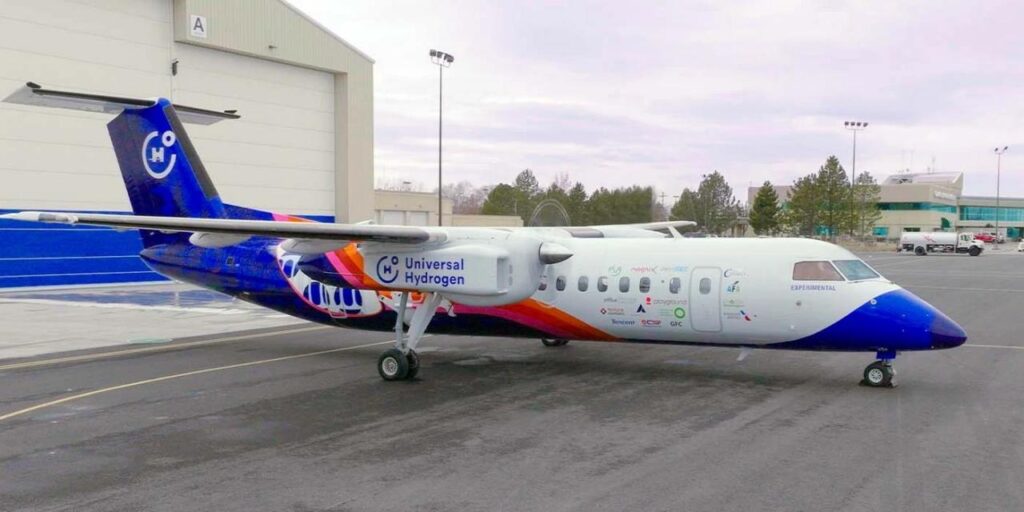 The footage of the test flight was uploaded on Universal Hydrogen's social media accounts, and it showed the branded plane in flight. Co-founder and CEO Paul Eremenko described the announcement as the start of a "new golden age of flying."
Although the 15-minute test flight of the converted Dash-8 was brief, it showed that hydrogen might be a useful fuel for short-haul passenger aircraft. That is, if Universal Hydrogen and the other participants in the emerging field of hydrogen flight are successful in achieving the scientific and societal improvements necessary to make their product widely used.
For short flights, Dash-8 can normally accommodate up to 50 passengers. On the Dash-8 that departed Moses Lake's Grant County International Airport on Thursday for the test trip, the cargo was very different. The Lightning McClean aircraft, built by Universal Hydrogen, had only two pilots, an engineer, and a lot of technology, including an electric motor and a hydrogen fuel cell supplied by two other companies.
Coming to the interior of the aircraft, there were two racks of electronics and sensors, two sizable hydrogen tanks, and 30 kg of hydrogen fuel for the batteries. Moreover, the aircraft had a magniX electric motor on one of its wings that could generate up to 800kW of electricity. A Pratt & Whitney turboprop engine on the opposite wing has nearly twice the power of one on the fuel-cell side.
Eremenko co-founded Universal Hydrogen in 2020, and the business raised $20.5 million in a Series A funding round co-led by Playground Global in 2021. With contributions from Airbus, General Electric, American Airlines, JetBlue, and Toyota, the total funding now approaches $100 million. The business's main location is in Hawthorne, California, not far from SpaceX, and also has an engineering centre in Toulouse, France.
Also read:
IndiGo gets govt nod to wet lease planes for US, Canada operations: Report
India To Partner With Embraer And Sukhoi To Manufacture Small Jets In The Country | Exclusive
Follow us on Google News for latest Aviation Updates
Join us on telegram group
Stay tuned…