Union Minister Jyotiraditya Scindia said on the second day of the UP Global Investors Summit 2023 here that Uttar Pradesh will soon have the most domestic flight services in India.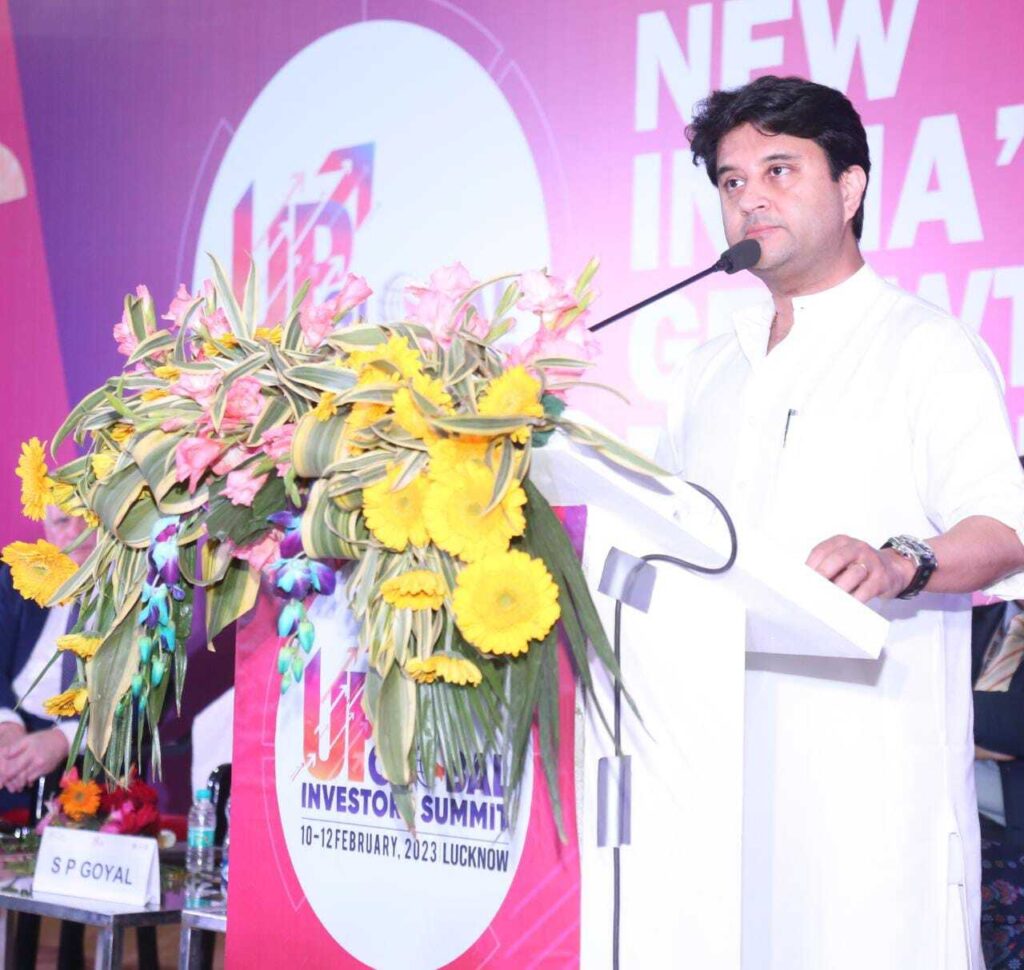 He also praised Uttar Pradesh's dual-engine administration, saying Prime Minister Narendra Modi and Chief Minister Yogi Adityanath have revitalised the country and the state. Previously, UP had just two airports, but presently it has nine operating airports.
Scindia stated that the land of Ayodhya, Kashi (Varanasi), and Mathura has always provided a fresh path to the country.
The minister went on to say that Uttar Pradesh is a "favourable destination" for investment and that it has advanced significantly in every area.
"In the state, ten new airports are being constructed, and site surveying for two more has begun. In the near future, Uttar Pradesh would have 21 airports."

said Scindia
PM Modi also declared earlier on Friday that UP will soon be home to five international airports. He claimed that the state is now renowned for stability, law, and order.
He claimed that in addition to changing its approach and investing in infrastructure, Uttar Pradesh is now a growth engine for the "New India."
"UP has updated its "Soch and Approach" for ease of doing business, along with its infrastructure. New India's expansion is being fueled by it. There have been advancements everywhere, from connectivity to energy". PM Modi stated at the UP Global Investment Summit 2023 that the state was experiencing "holistic growth."
According to him, the country is implementing reforms out of conviction and that there are chances for investors in the health, education, and other sectors.
Great investment potential exist in India in the areas of health, education, green growth, and social infrastructure. At the summit in Lucknow, Prime Minister Modi stated that India is currently doing changes out of conviction rather than because of necessity.
He continued, "UP will soon be known for its five international airports."
Mukesh Ambani, the chairman of Reliance Industries Ltd., declared on Friday that 75,000 crore will be invested in Uttar Pradesh over the next four years during this summit.
Also read:
US Fighter jets shot down Unmanned aircraft over Canada
American Airlines Aircraft Collides With Shuttle Bus At At Los Angeles Airport, Injuring 5 | Exclusive
Follow us on Google News for latest Aviation Updates
Join us on telegram group
Stay tuned…