Aeroflot on Wednesday signed a framework deal with United Aircraft Corporation (UAC) covering 339 locally made jetliners for delivery between 2023 and 2030.
Russian government
The flag carrier inked the contract, valued at a trillion roubles ($16.3 billion), during the VII East Economic Forum in Vladivostok, Russia. Deputy head of the Russian government and acting minister for industry and trade Denis Manturov informed the arrangement value, which sets a new record for the local aerospace industry and air transportation system.
"This agreement will become the primary one for funding from the National Welfare Fund," he stated. "The government will provide subsidies for procurement of indigenized versions of airplanes so as to freeze the acquisition costs for airlines to make sure our carriers would not experience additional financial burdens."
Manturov explained that initial production airplanes will carry high manufacturing costs and that the government will cover the difference between those expenditures and the acquisition price for airline customers from the federal budget. "As production gains, we will reduce these subsidies," he stated. "It is extremely important to us to get the production going, to enable shipments to the agreed timetable."
The agreement, originally expected to take place in June, covers 2 iterations; the flag carrier raised the number of airplanes specified in its initial plan for 300 aircraft, 1st by 2023, and then by 16, which contributed to the delay. Having refused to accept the Ilyushin Il-96 widebody quad and the Il-114 turboprop, both of which Aeroflot had considered earlier, the airline instead opted for narrowbodies and regional jets, specifically 210 MC-21s plus 40 Tu-214s and 89 Superjet-NEWs, respectively. Remarkably, the number of aircraft ordered exceeds the size of Aeroflot's recent 183-strong fleet. Apart from the core company, Aeroflot Group also controls Rossiya, with 129 aircraft, and Pobeda, with 41, for a entire fleet count of 352.
Aeroflot general director Sergei Aleksandrovsky told the airline has completely synchronized the fleet expansion strategy with the Russian government's program for the development of the national transportation industry until 2030.
"We need to raise the number of pilots, to lure more of them in—some 3,500—to make this project work," he stated. "We also need eight full-flight simulators. All in all, this is a serious step in the company's development, not just for the middle-term, but also long-term…This is also a milestone that sets new challenges for us and opens up new horizons for the development of Russia's civil aviation."
Shipments under the new agreement would begin next year, with a pair of Superjet-NEWs. In 2024, Aeroflot would take 7 Tupolevs. "The Tu-214 shall come as a reliable workhorse; this type has been staying in production thanks to orders from governmental customers and proved itself in operation," commented Sergei Chemezov, general director at Rostec corporation, which controls UAC.
Also, read
Earlier this year, Russian minister for transportation Vitaly Saveliev described the Tu-214 as "one of the jetliner designs that Russian airlines—and Aeroflot among them—are considering as their primary type for the intermediate future; they require to begin thinking right now how to make the transition [from Airbus and Boeing equipment]."
MC-31-310s to go to the flag carrier in 2024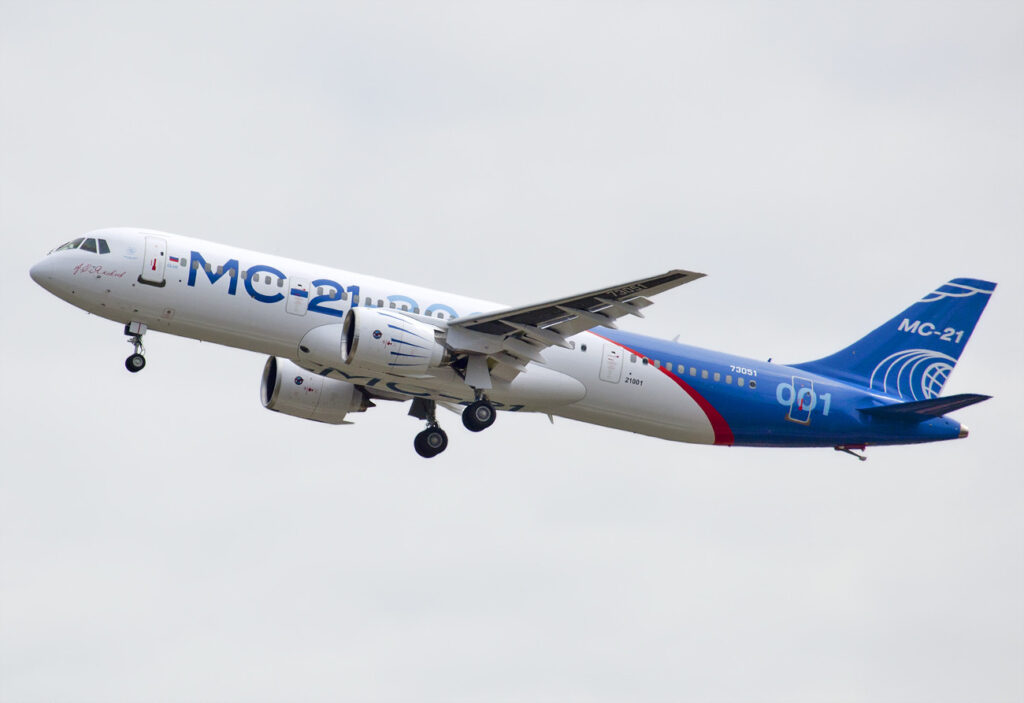 Plans call for an initial batch of 6 MC-31-310s to go to the flag carrier in 2024. Chemezov insists this type will become "Aeroflot's flagship" and explains that the MC-21-310 production standard features "innovative design solutions" for both pilots and passengers. The -310 version is "completely indigenized," he stated, carrying exclusively on-board systems of Russian origin.
Chemezov characterized the SSJ-NEW as a model in the same generation as the MC-21, noting that the 2 types together—numbering about 300 will cover most of Aeroflot's fleet expansion.
Boeing and Airbus
"These indigenous jetliners provide a replacement for Boeings and Airbuses that are unlikely to ever deliver into Russia," he explained, pointing to the economic sanctions that the U.S. and EU imposed on Russia amid the events in Ukraine.
Separately, Aleksandrovsky noted that Aeroflot proved itself capable of mastering and operating the "most advanced samples" of locally made aviation equipment.
"By signing this deal, we signal to the whole world that Russia is a great aviation power with huge potential and rich experience in aircraft production, able to manufacture reliable and modern airplanes," he told.
Thank you
Join our Telegram group and Stay updated with Aviationa2z.com
Follow us on Google News For Latest Updates