In an unfortunate incident, a KC-46A Pegasus recently underwent an emergency landing due to an issue with its refueling boom.
The disturbing video of this KC-46A seems to have taken the internet by storm, and it can be seen how the refueling boom of the tanker was hanging below the aircraft.
KC-46A tanker landed safely
Even after it handled to land safely, the boom kept dragging across the runway. However, it should be noted that it was a congressional delegation flight and had 16 people on board. Fortunately, the KC-46A tanker landed safely by keeping all the passengers safe.
Associated with this, the KC-46A reaches under the scrutiny of the 157th Air Refuelling Wing from the Pease Air National Guard Base in New Hampshire.
U.S. Senators Jeanne Shaheen
As per the 157th report, "The orientation flights of 2 KC-46 jets were flying a congressional delegation of 16 staffers from the offices of U.S. Senators Jeanne Shaheen and Maggie Hassan, and Representatives Annie Kuster and Chris Pappas.
During the flight, 1 of the KC-46s experienced an issue with its refueling boom hoist cable, which resulted in the aircraft landing with the boom extended. Emergency services from the 305th Air Mobility Wing responded and safely secured the scene, with no fire or injuries to crew or passengers."
Also, read
It has been said that the KC-46A in question was then directed to land in New Jersey, while the KC-46A that was engaged in an orientation flight managed to deter back to Manchester-Boston Regional Airport in New Hampshire. Reports are circulating that the KC-46A involved in this unfortunate incident has recently undergone a new paint job.
U.S. Air Force's 75th birthday
The new look that has been provided to this KC-46A is in regard to the U.S. Air Force's 75th birthday. Not only this, but the painting also depicts an honor for the 400th anniversary of the founding of Portsmouth, New Hampshire.
Speaking about this malfunction, Robert Hopkins, who is a veteran C-135 pilot, aerospace author, and historian, stated, "These are very rare events, maybe one every 5 years. Drogues are a bit more common.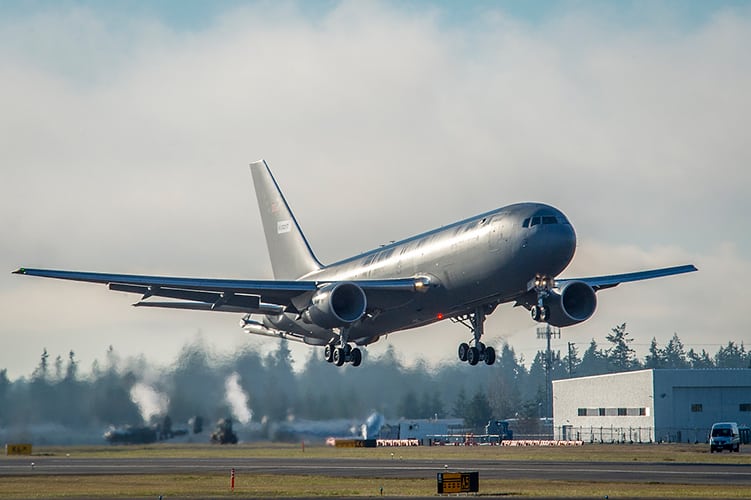 " One of the most interesting things to note is that no report by the 157th Refuelling Air Wing has been released regarding the investigation of this incident.
So we cannot tell what exactly the Air Force is thinking because if there is some serious problem with the refueling boom, then it would eventually have an effect on the entire fleet.
Thank you
Join our Telegram group and Stay updated with Aviationa2z.com
Follow us on Google News For Latest Updates