The airline flew a special flight in honor of the 100th anniversary of the first Black woman to get a pilot's license.
American Airlines recently operated a flight from Dallas Fort-Worth Airport (DFW) to Phoenix Sky Harbor International Airport (PHX), Arizona, with an all-black female crew.
100th anniversary of Bessie Coleman
This includes everyone involved in the safe operation of the flight, including the Captain, flight attendants, aircraft maintenance agents, to even the cargo personnel. The flight was to celebrate the 100th anniversary of Bessie Coleman getting her pilot's license.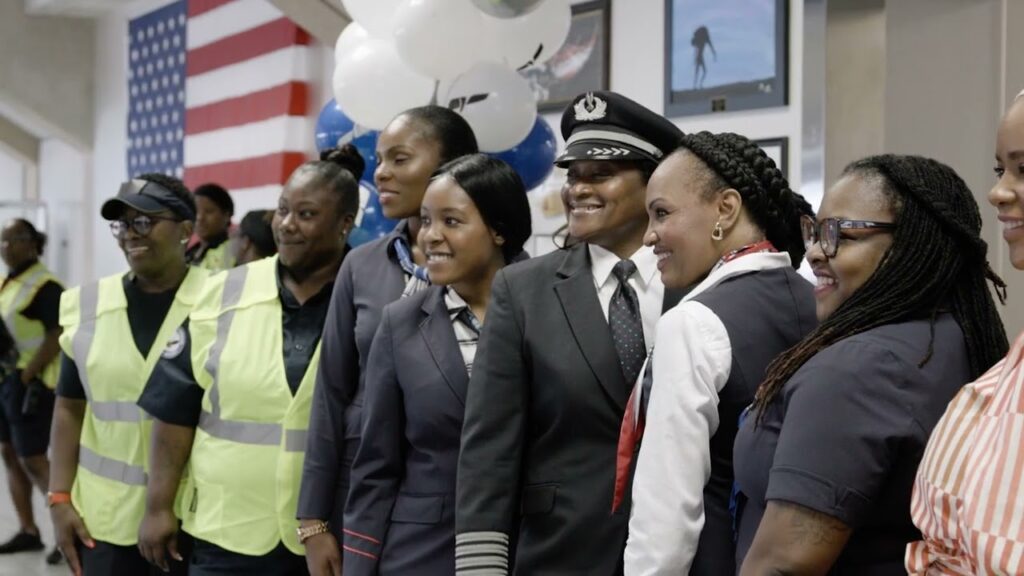 Onboard the flight was Gigi Coleman, Bessie Coleman's niece, who now runs an after-school aviation program named after her aunt. Gigi expressed her gratitude to American Airlines for the chance to highlight her great aunt's accomplishments in the field of aviation.
"I believe she would've been really amazed and in awe. I was in awe, and this is 2022. My great-aunt received her license 2 years before Amelia Earhart. She wasn't in the history books. No one knew about her."
This was the 1st time in American Airlines' history that a flight was operated by an all-black women crew. Bessie Coleman was the 1st ever woman of color to get a pilot's license. Fueled by her passion for aviation, she had to travel all the way to Europe to attend flight school, as females had virtually no opportunities in the United States. Bessie obtained her pilot's license in 1921, over a hundred years ago.
Also, read
American Airlines
American Airlines flight AA 372 was operated from DFW to PHX to mark this occasion. According to Simple Most, the flight was operated on August 8th on a Boeing 737 aircraft registered as N43AN. Data from Flightradar24 shows the plane departing Dallas at 22:50 UTC for the two-hour journey west.
The crew on this special flight comprised of:
Beth Powell – Pilot, Boeing 737 Captain
Charlene Shortte – Pilot, Boeing 737 First Officer
Cheryl Gaymon – Flight Attendant
Mary Roberson – Flight Attendant
Vanessa Bennett – Flight Attendant
Breana James – Flight Attendant
Sharron Brooks – Ramp Crew Chief
Nicole White – Ramp Crew Chief
Maya Matthews – Fleet Service Agent
Natasha Williams – Fleet Service Agent
Alisha Bates – Fleet Service Agent
Patricia Milfort – Manager on Duty, Customer Operations
Tracy Brown – Customer Service Agent
Arlene Law – Customer Service Coordinator
Lynette Daniels Moody – Customer Service Coordinator
Lillie Hayes – Customer Service Coordinator
Kacy Stevenson – Customer Service Coordinator
Muje Abdul-Qadir – Control Center Coordinator
Pamela Calton – Aviation Maintenance Technician
Crystal Tochi McDaniel – Duty Manager, Cargo Services
Audrey Van Hook – Cargo Crew Chief
Sandra Butler – Cargo Crew Chief
Jessika Mejia – Premium Guest Services Representative
Veronda Butler – Senior Manager, Premium Guest Services
Black representation in aviation
Even in 2022, black representation in aviation in the United States remains extremely poor. According to American Airlines, black women pilots now account for less than 1% of all pilots in the US commercial airlines industry. Therefore, it is clear that much work needs to be done in this regard to make the aviation community more inclusive and diverse.
Thankfully, several organizations are working towards this goal. American Airlines is working through its Cadet Academy, while Gigi Coleman's organization, the Bessie Coleman Aviation All-Stars, is doing its bit by promoting aeronautical studies among young kids.
Thank you
Stay updated with aviationa2z.com
Join our Telegram group for latest updates