On Tuesday, a small single-engine aircraft crashed and landed on Corona Freeway 91, colliding with a truck hauling passengers.
The Piper Cherokee quickly caught fire following the dramatic landing, creating a fuel trail as it drifted toward the eastbound lane barrier close to Lincoln Avenue.
The unusual incident was captured on the California Highway Patrol's dashcam.
No life fatalities
Thankfully, the unfortunate plane's pilot and passenger survived the impending collision with the California roadway. Additionally, nobody was hurt when the jet collided with the vehicle.
According to CHP Captain Levi Miller, who spoke with local news outlet KTLA, the pilot claimed to have "had suspected engine failure" while descending to Corona Municipal Airport.
The little aircraft's pilot, Andrew Cho, explained that he made the choice to land it in the middle of the busy highway after it lost power in midair. "It was difficult to describe, but it felt like a harsh bump. When the plane completely stalled and started to plummet, it was 4 to 5 feet in the air "explained the pilot.
Noting that there were no fatalities in the crash, he continued, "You act morally because of your training. The best result is achieved if you maintain your composure."
Light traffic prevented a terrible disaster
The Federal Aviation Administration is anticipated to open an investigation into the "successful" crash landing. Capt. Miller praised the pilot for "excellent landing navigation" in the meantime. He continued, "We were really lucky that the traffic was light today…averting what would have been a horrific catastrophe."
The terrifying dashcam video of the incident demonstrates how the small engine plane dropped from the sky vertically in the middle of the road, skidded off in the direction of the barricade, and then slammed into the truck. Aviation fuel was left in its wake as the plane slid.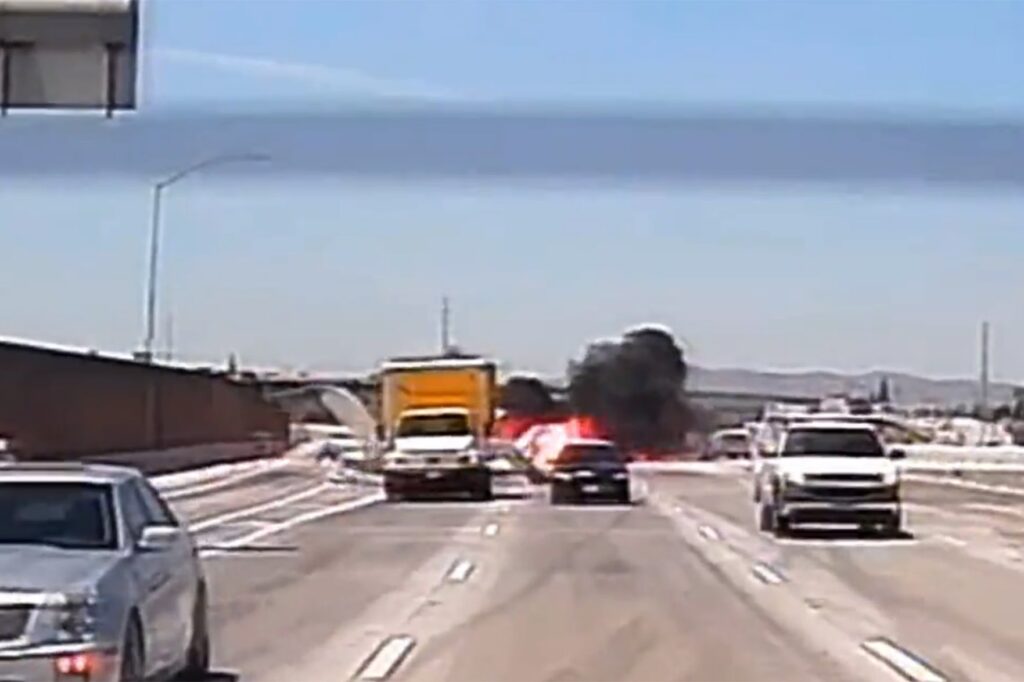 After colliding with the curb, the aircraft caught fire. As dense smoke covered the area, CHP officials arrived at the scene. Firefighters stationed at the scene poured water on the ignited aircraft to put it out. After first responders put out the fire, images and videos of the little plane's charred wreckage and debris quickly went viral on social media. Following the event, the highway was closed for many hours, which led to traffic delays.
Also read:
SpiceJet pilots complained about weather radar's dependability
Join our telegram group for the latest Aviation Updates:-
Stay tuned…