The E195-E2 from Brazil-based aerospace giant Embraer, landed at the London City Airport (LCY), United Kingdom, and showcased its steep approach capability. Embraer's test aircraft was participating at the Farnborough Air Show and it flew into LCY on a 39 percent blend of Sustainable Aviation Fuel.
The test aircraft featuring the eye-catching black and gold TechLion livery was greeted with the traditional water salute from the City Airport's fire service.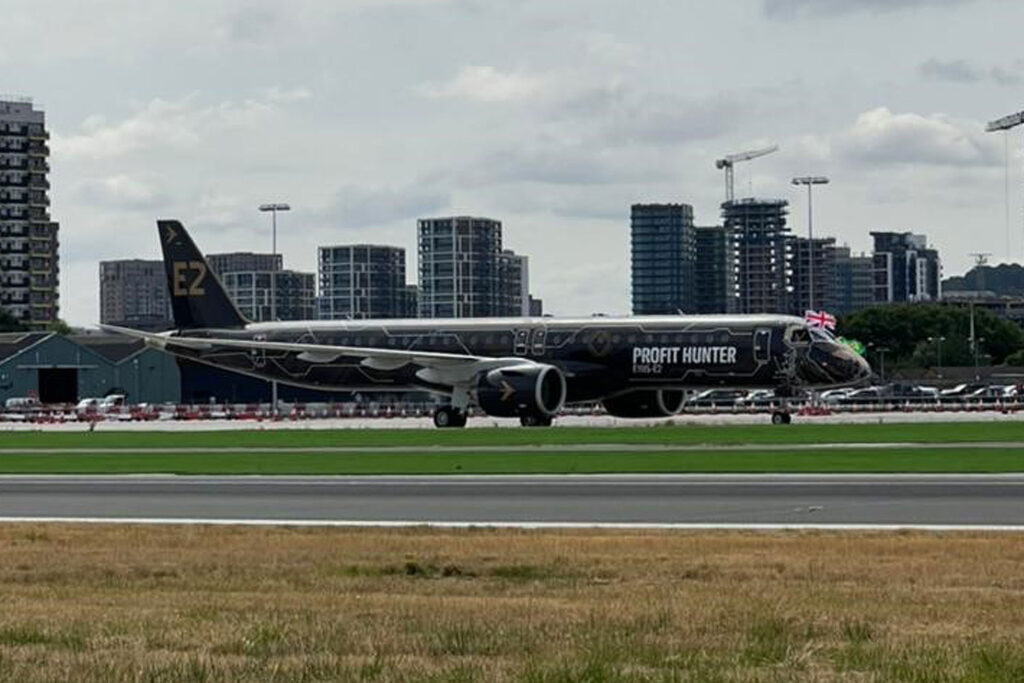 While reporters had a busy week covering all the breaking news and exciting features at the Farnborough Airshow, there was one more day of festivities at Farnborough Airport this week. Coming early to the Hampshire site this morning, we were welcomed by the Embraer team with drinks and snacks before being swiftly passed through security to board the famous Tech Lion demonstrator.
Before I sat down to enjoy the ride back to my home city, I took a quick glimpse at the 2-2 configured main cabin. media was provided with an in-depth tour of the cabin and its features at the Dubai Airshow in 2021. Nonetheless, there was plenty of space, but I was still keen to enjoy the luxury at the front.
The aircraft has the capacity for up to 146 passengers
This business class formation sees reclining seats laid out in a staggered manner. As a result, they are slightly wider than standard adjacent seats. This configuration also expands privacy while permitting passengers to enjoy 54-inches of the pitch. So, the interior makes for a comfortable experience and even an option for a nap also on quick continental hops.
There were plenty of views to be had on the short journey today. We caught a glance of the white cliffs of Dover before leading up to London. Approaching London, the unique skyline could be seen alongside the River Thames.
Even though the E195-E2 is larger than its counterparts, it just takes a press of a button to assist with the steep approach. There is a function just for this landing. There was not much of a difference in feeling when lowering altitude. Looking back, it felt like a standard LCY flight.
"The coming of the E195-E2 signals that we are on the cusp of receiving more new generation aircraft that provide world-class environmental performance, carry more passengers, and have the potential to connect this airport with more international markets. This moment also represents the strength of the partnership we have with Embraer, and together, we are pushing the envelope of what's possible at this airport, as at 146 seats and a wingspan of 35 meters, it will be comfortably the biggest aircraft to operate from LCY."
Saying onboard the plane, FitzGerald highlighted the noise reduction benefits of the aircraft. Notably, the plane offers more than a 65% reduction in noise footprint space when up against current-generation jets serving LCY. This factor undoubtedly will be music to the ears of those attending the consulting sessions hosted by the airport regarding the potential expansions of flight hours.
Earlier this month, LCY started a 10-week public consultation about how it can meet passenger needs ahead with quiet aircraft and more sustainable operations. All in all, the site is looking for better flexibility on Saturday afternoon and evening services, along with more freedom with early morning and late evening flights.
Also, read
Located close to offices and residential places, there has been a lot of pressure on LCY when it comes to expanding sustainably. Thus, the E2 is being touted as a solution in this next chapter.
Embraer's E2 is a natural fit with this initiative, with Pratt & Whitney PurePower Geared Turbofan engines replacing the General Electric units to provide a 17.3% improvement in fuel consumption. Altogether, Embraer is proud of the low level of external noise and emissions that this aircraft offer.
E190-E2 is already flying to London City
The E190-E2 is already flying to London City with Helvetic Airways, which inaugurated the type's services to the airport last September. The airline would also be keen to fly its E195-E2 units here. Today's touchdown helps this prospect to soon become a reality as Embraer is targeting certification for a steep approach into LCY by the end of this year. With a button solely dedicated to steep approaches, there shouldn't be too much of an issue with this process.
With a runway of 1,508 meters and descent angles up to 5.5 degrees, the commercial airport's operations are more specialized than their London counterparts. At this point, 85% of all services landing or departing London City are E-Jets or the E190-E2. The likes of BA Cityflyer and KLM Cityhopper join Helvetic on short and medium-haul operations from the site.
KLM Cityhopper will be the first to fly the E195-E2 to
KLM Cityhopper will be the first to fly the E195-E2 to LCY after certification. The airline holds 12 units of the model in its fleet. It's fitting the Dutch carrier will pioneer this service. After all, KLM's first flight utilized a leased Airco DH.16 to fly from London's Croydon Airport to Amsterdam on May 17th, 1920.
With LCY and its airlines determined to expand sustainably, we can expect the E195-E2 to become a core feature at the site. It's noteworthy that the aircraft flew into the capital of London with a 39% sustainable aviation fuel (SAF) blend.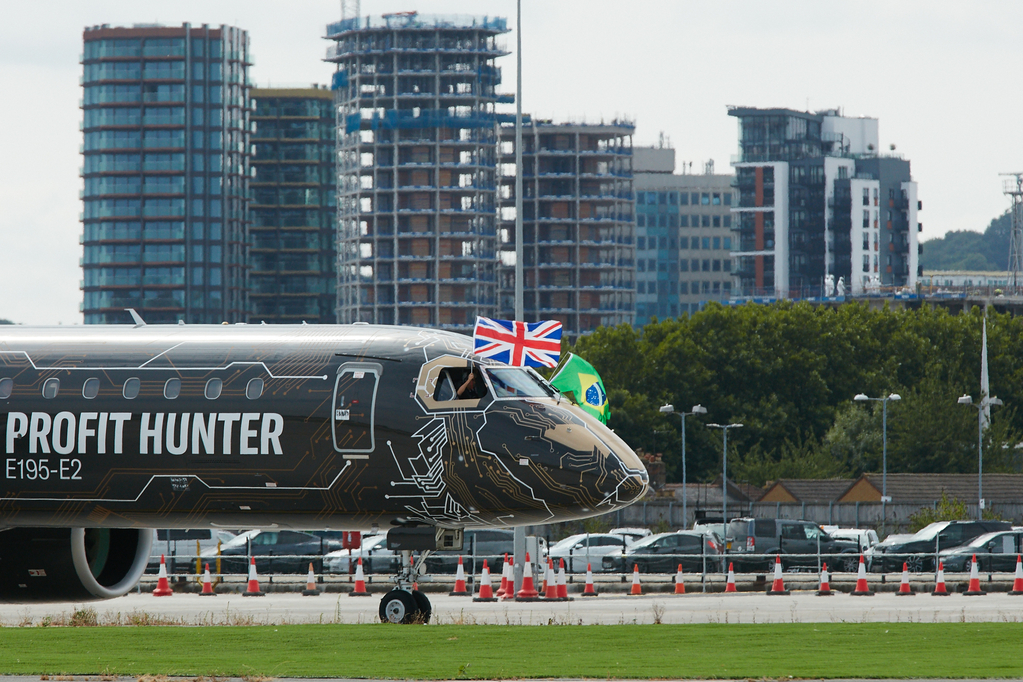 Ground personnel from different carriers were spotted looking at the aircraft in awe after landing. They welcomed the crew with a round of applause following a water cannon salute, and it won't be a surprise to see the likes of British Airways, who remains a fan of employing Embraer planes to LCY, eventually, take on this type.
Registration PR-ZIQ departed at 10:07 and landed at 10:54. It was a short yet scenic route, and provided us with the opportunity to see what passengers can expect by the time 2023 comes.
Thank you
Stay updated with Aviationa2z.com
Join our Telegram group for the latest updates