After the aircraft's air conditioning system failed, Go First Airlines recently ran into issues with passengers during a flight. The incident happened on flight G8 2316, which was carrying people from Dehradun to Bombay.
A passenger can be seen sharing information about the flight and the state of her fellow passengers as a result of the malfunctioning air conditioning system in a video of passengers complaining about the airline's air conditioner that was posted on social media.
A user by the name of Roshni Walia posted the incident's video to social media with the caption, "One of the worst experiences was on Go First Airways flight 2316! There was no way out for suffocation-stricken passengers on a packed flight with broken air conditioners, and frightened individuals were sweating heavily and on the edge of passing out. Three people lost consciousness, and one chemotherapy patient was unable to breathe."
Additionally, a passenger is seen in the video assisting a frightened passenger in walking along the aisle and subsequently assisting her in getting some air by using paper. In order to assist the sick woman in moving, there are also other travellers behind her. Later in the video, the woman discusses the issues they are having on the flight.
According to the woman in the video, there was a cancer patient on board whose husband alleges that the malfunctioning air conditioners made her feel uncomfortable. She adds that it's "a disgrace on the entire system" and that the airlines should never have descended off the plane if the ACs weren't functioning.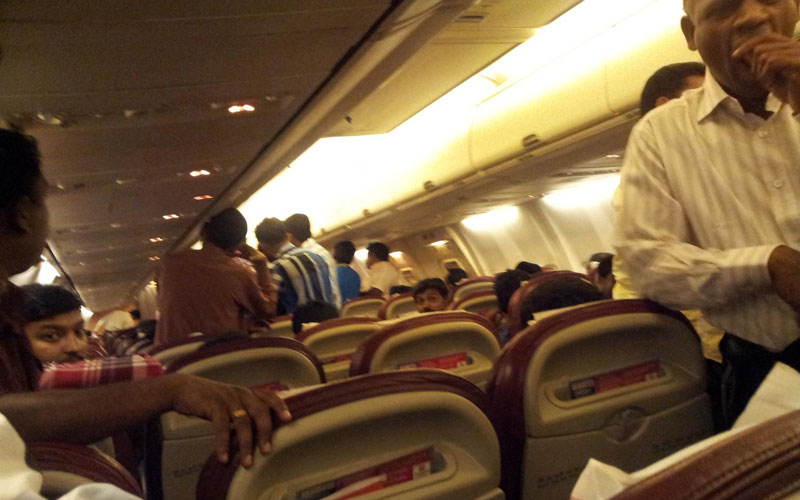 Go First Airways took note of the issue and commented to the post with the video, asking the passengers to give the specifics of the flight so they could check into it. In the tweet, Go First Airways stated: "Hello, we appreciate you getting in touch with us, and please know that we are here for you. Please provide our team a DM with your PNR, contact information, and email address so they can have a look."
Stay tuned and updated with Aviationa2z.