LONDON- British Airways (BA) inaugural flight from London Gatwick (LGW) to Accra arrived at Kotoka International Airport (ACC) at 18:26 local time, marking the start of this new service.
The arrival was met with a warm West African reception, featuring dancers, drummers, and a VIP delegation. Among the VIPs present was the British High Commissioner to Ghana, Harriet Thompson. Passengers disembarked from the aircraft to this lively welcome.
British Airways London to Accra Flight
Notably, the flight crew was seen in their new uniform, which was specially designed by the renowned British-Ghanaian master tailor, Ozwald Boateng OBE.
British Airways now offers travelers three weekly flights between Accra and London Gatwick, providing more flexibility in terms of flight times and airport options. The flights from Accra depart at 21:20 on Tuesdays, Thursdays, and Sundays, arriving at Gatwick at 04:00.
Additionally, a fourth weekly service will be introduced to the route schedule starting in April next year.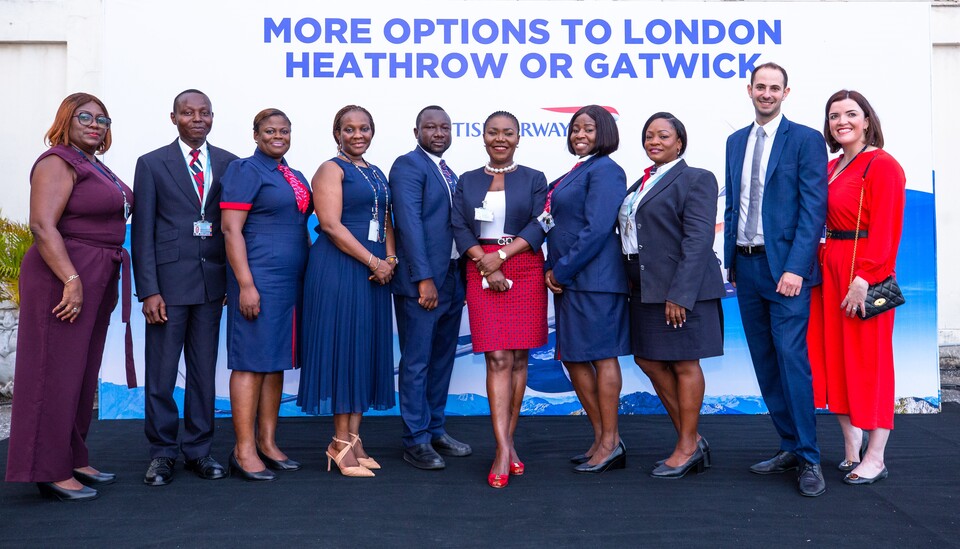 Executive Remarks
Neil Chernoff, the Director of Network and Alliances at British Airways, expressed the airline's commitment to providing Ghanaian customers with a wider range of product choices and pricing options.
The addition of 11 direct flights between Accra and London, operated through two London gateways, effectively doubles the seat capacity between the two cities.
In the upcoming summer season, there will be a 55% increase in capacity compared to 2019, showcasing British Airways' dedication to expanding its presence.
Airbus A350 Deployment
Daily flights from London Heathrow to Accra are operated by the airline's A350 fleet, known for its fuel efficiency and modern amenities, including the latest generation of the business class seat, Club Suite.
Furthermore, this new route enhances cargo capacity between the two capital cities, facilitating increased opportunities for Ghanaian exporters to transport perishable and other goods more efficiently via IAG Cargo, the cargo division of International Airlines Group, the parent company of British Airways.
To mark the expansion of its flight services between Africa and London, British Airways is introducing Afrobeats music to passengers, featuring an exclusive playlist available on board starting from November 1.
The playlist has been curated by the renowned global DJ, Cuppy, and will be accessible through the airline's inflight entertainment system, providing a selection of uplifting tracks for passengers to enjoy during their journey.
British Airways is a leading global airline, serving travelers across more than 65 countries. It offers a comprehensive flight network, both domestically and internationally, with flights departing and arriving at central airports at convenient times.
Additionally, through its sustainability initiative, BA Better World, the airline is committed to achieving net zero carbon emissions by 2050, emphasizing its dedication to environmental responsibility.
Stay tuned with us. Further, follow us on social media for the latest updates.
Also Read: US Airlines, Including American, United, Delta, and Southwest, want you to Dress Properly – Aviation A2Z
Join us on Telegram Group for the Latest Aviation Updates. Subsequently, follow us on Google News.