UNITED STATES- Airlines have significantly incorporated fees into their core business strategies. With the exception of Southwest Airlines (WN), which consistently refrains from imposing baggage charges, the majority of airlines apply additional fees for checked luggage even with their most basic ticket options.
This tactic is employed by JetBlue (B6), American Airlines (AA), and United Airlines (UAL) and by a strategy they all embrace. They market various fare tiers, with "Basic Economy" offering minimal benefits such as just boarding. At the same time, higher-tier options include seat assignments, carry-on luggage allowances, and even checked baggage privileges.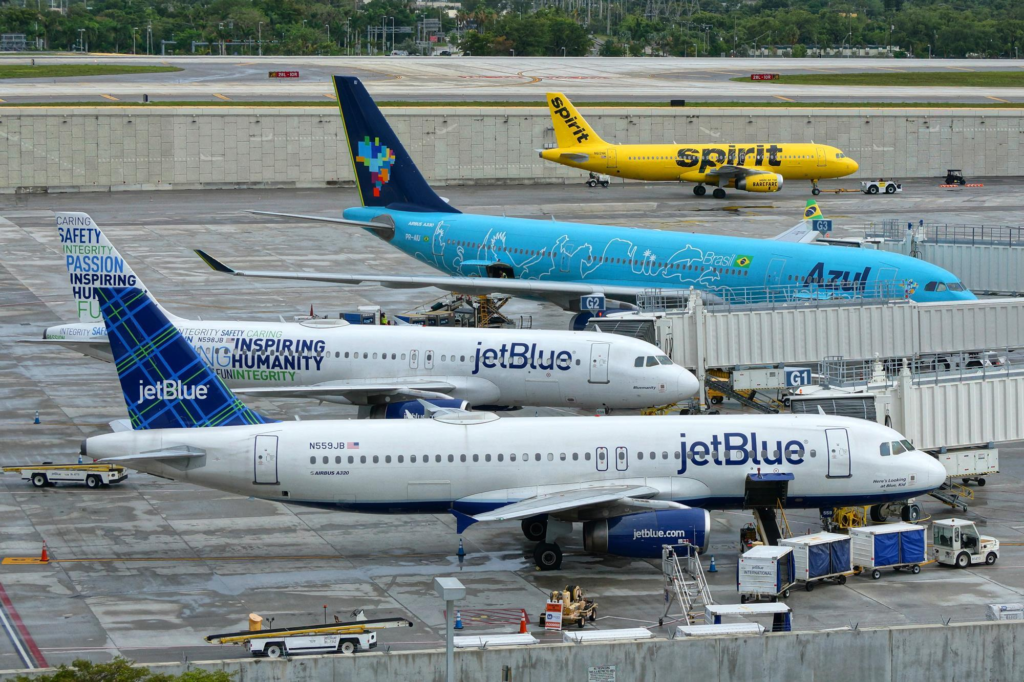 Significant Benefit Extended to Travelers
Introducing various ticket tiers essentially serves as a discreet method for incorporating additional charges, albeit without explicitly labeling them as such.
Generally, opting for a higher-tier ticket proves to be more cost-effective than individually purchasing seat assignments, baggage allowances, and other amenities. Occasionally, when one airline adjusts its pricing structure, it prompts its competitors to follow suit.
Nevertheless, this is not always the norm, as Southwest Airlines notably includes complimentary checked baggage across all ticket levels, a generous benefit for passengers. Despite this, Southwest consistently manages to offer competitive fares compared to United, American, and other airlines typically regarded as "full fare" carriers.
Despite the assumption that a major airline eliminating a significant fee might trigger others to follow suit, this has not consistently occurred. JetBlue, for example, has been offering a substantial complimentary perk for nearly a decade. Delta Airlines has followed suit and plans to extend the same offer to all its domestic flights by the end of the year, with international flights expected to follow suit by the end of 2024.
United Airlines Progresses Towards Complimentary In-Flight WiFi
In 2019, during an earnings call, United Airlines expressed its aspiration to enhance its technological capabilities to the extent that it could provide complimentary WiFi.
Fast forward nearly four years, the airline has recently been observed conducting trials of free internet service on specific flights. "Seems like United is cautiously exploring the possibility of testing complimentary WiFi?"
Should United Airlines take this step, it would undoubtedly exert significant pressure on all other prominent non-budget carriers to, at the very least, contemplate offering complimentary WiFi. Meanwhile, American Airlines possesses the necessary bandwidth but imposes higher charges for this service than any other player in the industry.
They initially pledged free in-flight messaging during their Media Day in 2017 but subsequently withdrew from that commitment," noted Gary Leff from View From the Wing.
Southwest Airlines Takes a Different Path
While Southwest Airlines has been known for promoting itself as an airline with minimal hidden fees, this hasn't held true for its WiFi services. Earlier this year, the airline quietly implemented a change that sparked outrage among many customers.
Previously, Southwest charged $8 for internet access, covering all flight segments. However, they shifted to a pricing structure of $8 per flight segment in February.
Consequently, passengers who already contend with the inconvenience of making connections now find themselves having to pay for WiFi multiple times if they wish to stay connected. Southwest attempted to rationalize this adjustment, stating, 'In addition to upgrading our current fleet equipped with our legacy provider, Anuvu, we're introducing an additional internet provider, Viasat, which will provide WiFi hardware on new aircraft in early March.
With two vendors offering connectivity in our fleet, we're introducing a new pricing model for onboard internet.' The airline also offers complimentary text messaging for customers and provides several live television channels at no extra cost.
Stay tuned with us. Further, follow us on social media for the latest updates.
Also Read: US Airlines, Including American, United, Delta, and Southwest, want you to Dress Properly – Aviation A2Z
Join us on Telegram Group for the Latest Aviation Updates. Subsequently, follow us on Google News.