TOKYO- Japan Airlines (JL) [JAL] has revealed the specifics of its upcoming Airbus A350-1000 aircraft and its interior cabin features. This aircraft will serve as the airline's new flagship for international flights, marking a significant upgrade after nearly two decades.
Passengers can look forward to an elevated level of comfort and a personalized overall travel experience. Originally scheduled to launch on the Tokyo (Haneda) – New York (JFK) route in late November 2023, the introduction of the A350-1000 is now expected to take place before the year's end due to disruptions in the supply chain affecting component deliveries.
Japan Airlines A350 New Cabin
The entire aircraft cabin has been carefully crafted to immerse passengers in the beauty of Japanese aesthetics and create a tranquil environment.
It aims to offer a serene ambiance that captures the essence of Japan. Additionally, the new interior has been designed to deliver a premium experience for passengers while maintaining the high-quality service for which JAL is known, a continuation of their domestic fleet that includes A350-900 and 787-8 aircraft.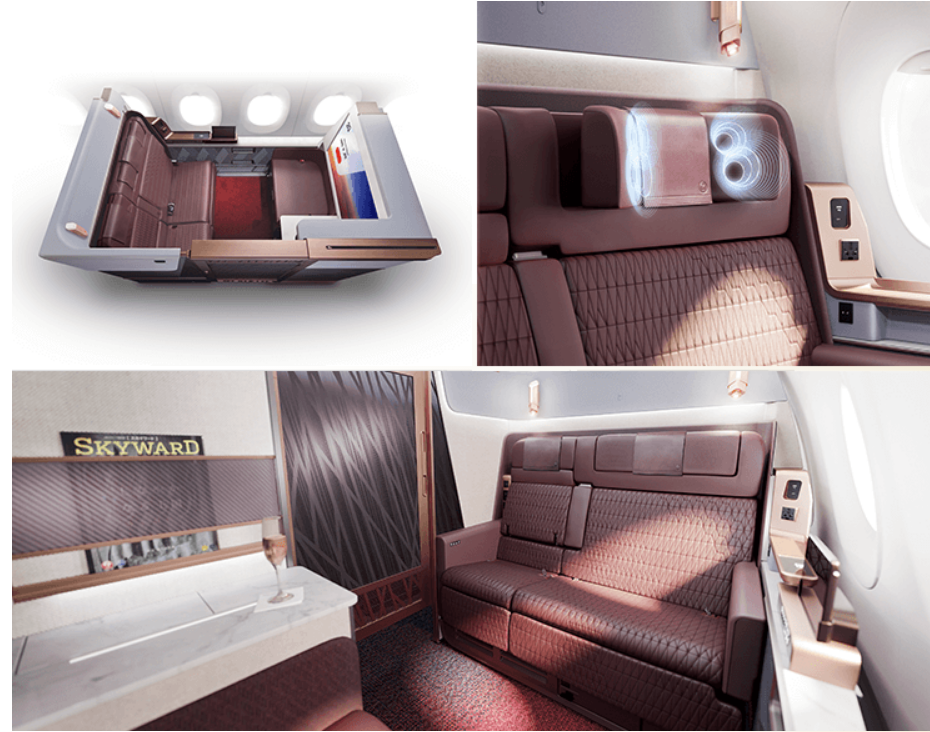 First Class
The new seating arrangement includes only six suites, creating a distinctive and exclusive cabin atmosphere. These seats are meticulously designed to enhance passenger comfort. For the first time at JAL, they feature individual doors, offering increased privacy and a more spacious and private feel within each suite, achieved by eliminating overhead storage compartments.
Additionally, JAL introduces a groundbreaking innovation, the world's first headphone-free stereo system with integrated headrest speakers. This technology enables passengers to enjoy the inflight entertainment system without the need for headphones. The headrest also offers a reclining function, ensuring comfortable viewing of inflight entertainment, even when the seat is in bed mode.
Furthermore, the suites provide a stress-free environment, equipped with wardrobes and storage space for passengers to store their personal belongings conveniently.
Business Class
While the seat capacity has increased to 54 from the existing international flagship configuration, the primary focus has been on providing generous spacing to ensure a comfortable and personalized inflight experience. Particularly in the Business Class, privacy is enhanced with the introduction of doors for the first time, and overhead storage compartments are exclusively located on the window side to create an open and spacious ambiance.
The bed mode, with a length of approximately 198cm, offers ample space at the foot area and a comfortable sleeping experience, thanks to cushioning structures that evenly distribute body pressure. Additionally, the headrest features a reclining function, allowing passengers to comfortably enjoy inflight entertainment while lying down.
To facilitate easy communication with travel companions, an electric privacy partition has been added. Furthermore, the cabin introduces a pioneering technology: the world's first headphone-free stereo system with integrated headrest speakers, enabling passengers to enjoy the inflight entertainment without the need for headphones.
Lastly, the suites are designed to provide a stress-free environment, complete with wardrobes and storage space for passengers to conveniently store their personal belongings within the suite.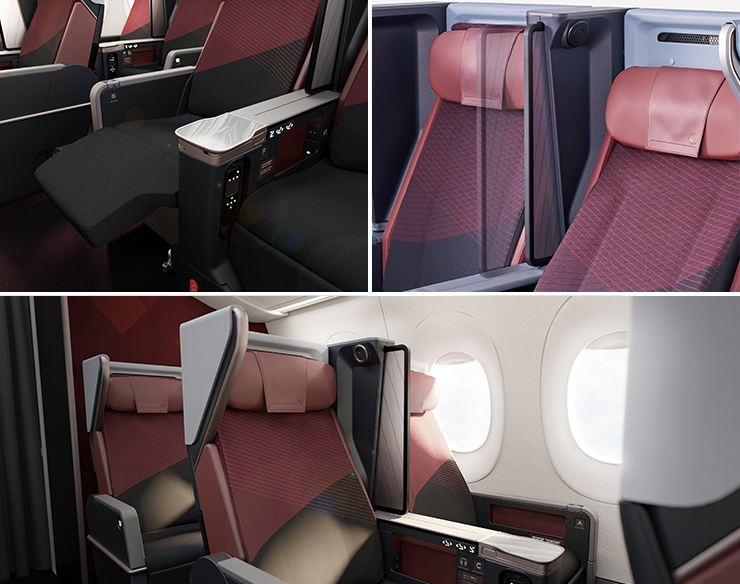 Premium Economy
With a commitment to providing unparalleled comfort within its class, the cabin incorporates spacious partitions that substantially enhance privacy. Additionally, it boasts being the world's first Premium Economy Class to introduce electrically operated reclining functionality.
The larger privacy partitions have been strategically installed to significantly elevate the sense of personal space for each passenger. Moreover, the electric leg rest is horizontally adjustable, enabling travelers to recline in their preferred position for relaxation.
To further enhance the inflight experience, a 16-inch 4K widescreen monitor has been incorporated, offering a screen size approximately 1.3 times larger than the current model.
Economy Class

As the recipient of the "Best Economy Class Airline Seat" award from SKYTRAX for an impressive five consecutive terms, JAL has continued to elevate passenger comfort. They have achieved this by enhancing the legroom and overall seating experience.
The seating arrangement offers a generous and comfortable space with a wide seat pitch, maintaining the same concept as the current model.
In addition, passengers can enjoy an expansive 13-inch 4K monitor, which is the largest in its class, for an exceptional inflight entertainment experience.
Other Features
Inflight Meal Service: JAL will gradually introduce new meal services that cater to the diverse preferences and values of its customers. To reduce the environmental impact and address social issues, the airline will promote the use of non-petroleum-derived plastics for tableware and cutlery. JAL is committed to fostering a sustainable future through collaboration with its passengers.
Inflight Entertainment: The new aircraft will feature Panasonic Avionics Corporation (USA)'s latest inflight entertainment system and inflight Wi-Fi service. All cabin classes will be equipped with 4K monitors for high-quality viewing, complete with Bluetooth connectivity. Additionally, passengers will have the ability to create personalized favorites lists using the JAL Mobile App, enhancing their overall inflight entertainment experience.
Stay tuned with us. Further, follow us on social media for the latest updates.
Also Read: US Airlines, Including American, United, Delta, and Southwest, want you to Dress Properly – Aviation A2Z
Join us on Telegram Group for the Latest Aviation Updates. Subsequently, follow us on Google News.