FRANKFURT- Lufthansa (LH) is set to introduce an upgraded cabin interior for its short- and medium-haul routes, promising a substantial boost in comfort and premium amenities.
Commencing in the spring of 2025, the airline will gradually outfit 38 of its existing Airbus A320 aircraft with this innovative cabin design.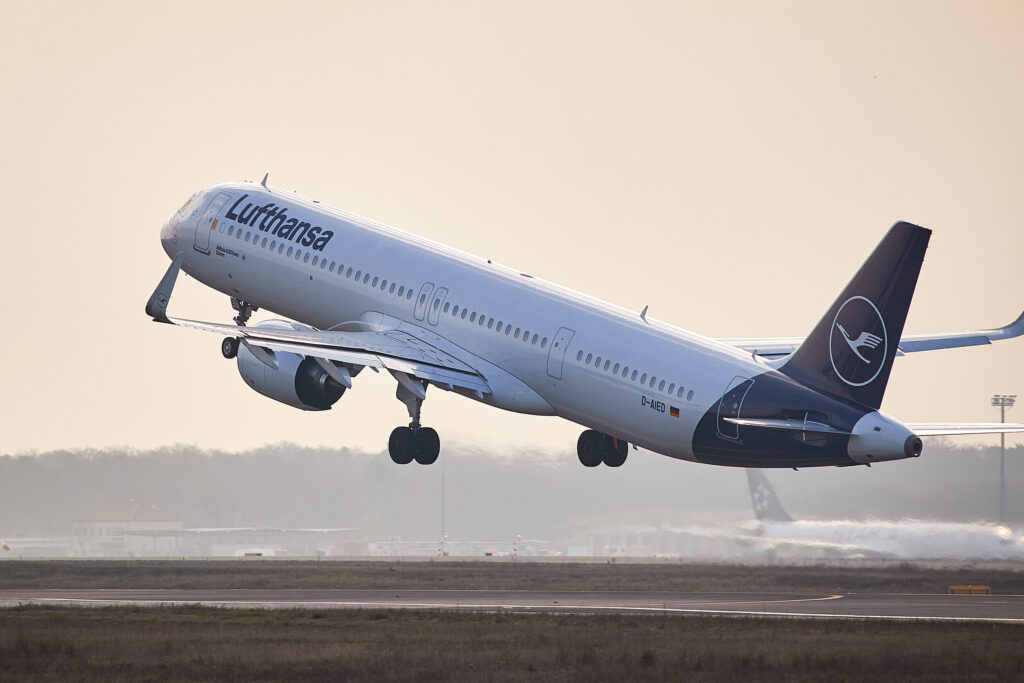 Lufthansa New Seats
Key enhancements include:
Increased Carry-On Space: The new cabins will feature spacious overhead bins capable of accommodating up to twice the number of carry-on suitcases or bags compared to the current bins. This is achieved by allowing luggage to be stored vertically, significantly enhancing convenience and speed. These new compartments are also 40 percent larger.
USB Ports: Each seat will be equipped with dedicated USB ports, allowing passengers to charge their mobile devices during the flight.
Tablet/Smartphone Holders: Lufthansa is introducing a unique feature by equipping all seats with holders designed for tablets and smartphones. This allows passengers to enjoy movies and series on their personal devices more comfortably, eliminating the need to hold the devices or place them on the folding tray.
Improved Legroom: The new seats, crafted by the Italian manufacturer Geven, offer an enhanced level of legroom while maintaining the same seat spacing. This is achieved through ergonomic backrest shaping.
These upgrades aim to elevate the in-flight experience for Lufthansa guests traveling on short- and medium-haul routes, with the implementation scheduled to begin in 2025.
More Enhanced Service
Starting in mid-August, Lufthansa (LH) has expanded its in-flight service to provide Business Class passengers on long-haul flights departing from Germany with an extended selection of main dishes.
Passengers can now choose from six different regional and seasonal menus, with the option to make their selections up to 24 hours prior to departure. This offers travelers a more enjoyable dining experience and contributes to reducing food waste.
Furthermore, as of August 1st, Lufthansa is introducing an extended range of hot beverages in its Onboard Delights Service for European flights. This includes a sustainable, reusable cup made from recyclable plastic, replacing the previous disposable cup with a plastic lid.
In addition to premium instant coffee options like latte macchiato, passengers can now enjoy three tea varieties and hot chocolate in the new eco-friendly cup. This initiative aligns with Lufthansa Group's commitment to eliminate single-use plastic and aluminum onboard by 2025.
Lufthansa is introducing several exciting features to entertain young passengers on its long-haul flights. In the near future, the airline's "e-journals" media library will present an extended selection of age-appropriate reading materials in the Children's Media Box.
This includes a diverse range of magazines and journals in multiple languages, available for free download. Additionally, coloring pages will be provided to keep the little ones engaged while waiting at the gate and during their flight.
Stay tuned with us. Further, follow us on social media for the latest updates.
Also Read: US Airlines, Including American, United, Delta, and Southwest, want you to Dress Properly – Aviation A2Z
Join us on Telegram Group for the Latest Aviation Updates. Subsequently, follow us on Google News.