SINGAPORE- Singapore's Transport Safety Investigation Bureau has initiated an investigation into an engine fire incident involving an Airbus A320neo, which Air China (CA) was operating.
The aircraft, with registration B-305J, was conducting flight CA403 from Chengdu to Singapore when the incident took place, specifically in the No. 1 engine of the narrowbody.
Air China A320neo Engine Fire
According to the Civil Aviation Authority of Singapore (CAAS), the flight crew declared an emergency after detecting smoke in the forward cargo hold and lavatory.
The aircraft proceeded to make an emergency landing at Changi Airport (SIN) at approximately 16:15 local time. Upon landing, the airport's emergency services successfully extinguished the engine fire.
The aircraft in question was equipped with two Pratt & Whitney PW1100G turbofan engines and was carrying a total of 146 passengers along with nine crew members.
During the evacuation process, nine passengers sustained injuries, as reported by the Civil Aviation Authority of Singapore (CAAS).
Following the incident, Changi Airport's Runway 02R/20L was temporarily closed for more than three hours while the disabled aircraft was towed away for further assessment.
It's worth noting that this specific aircraft, with manufacturer serial number (MSN) 8594, was constructed at Airbus' Tianjin final assembly line and was delivered to Air China in December 2018.
This particular aircraft marked a significant milestone as it was the 400th A320-family aircraft produced by the Tianjin facility.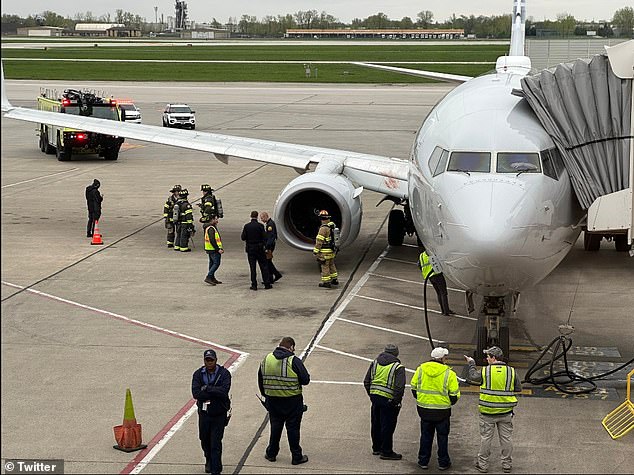 Similar Incident
In May 2023, the engines of an American Airlines (AA) Boeing 737 caught fire in a dramatic incident after colliding with a flock of geese during takeoff from Columbus Airport. As a result, the plane had to return and make an emergency landing 40 minutes later.
A video shared on the internet captured a Boeing 737 emitting flames into the sky after colliding with a flock of geese during takeoff from John Glenn Columbus International Airport.
The American Airlines flight 1958, heading to Phoenix, Arizona, departed at 7:43 a.m. Further, it landed back at the airport at 8:22 a.m., as reported by FlightAware.
Witnesses at the airport heard unusual noises. They also observed the engine emitting flames after the bird strike.
According to a witness in Columbus, Ohio, the noise from the Boeing 737's engines after the geese hit it is alarming. Further, it appeared like the engines were about to fail.
Thankfully, the plane was able to make an emergency landing back at John Glenn Columbus International Airport without any reported injuries.
Stay tuned with us. Further, follow us on social media for the latest updates.
Also Read: Indian Students Deported Back to Delhi from USA on Delta Flight – Aviation A2Z
Join us on Telegram Group for the Latest Aviation Updates. Subsequently, follow us on Google News.