FLORIDA- Mammoth Freighters, a US-based modification specialist, is making significant progress on its prototype Boeing 777-200LR conversion project for the cargo carrier Cargojet Airways (W8).
The company has shared images of the aircraft undergoing mid-panel removal on the left aft side, where the primary cargo door will be installed.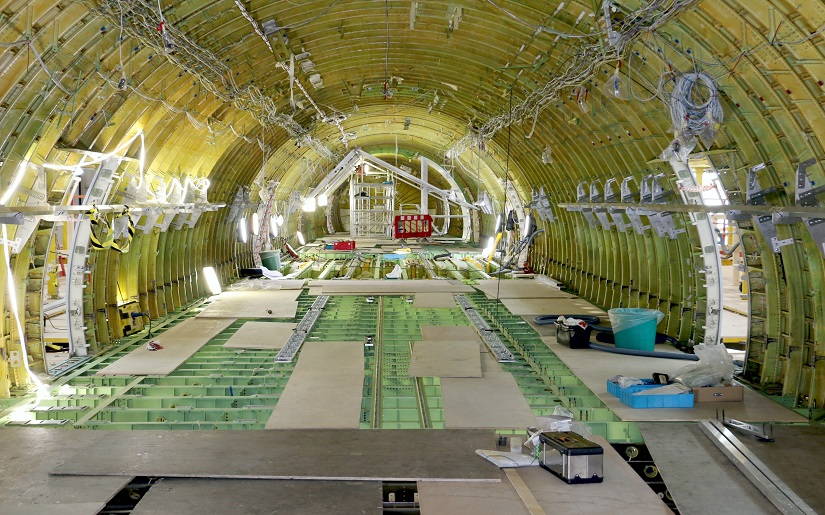 CargoJet 777-200LR Freighter Conversion
This particular airframe (N705DN) is equipped with General Electric GE90 engines and was originally delivered to Delta Air Lines (DL) back in 2009.
Mammoth introduced its 777-200LR and -300ER conversion programs in 2021 and officially revealed Cargojet as the launch customer for the -200LR modification in November of the same year. The converted aircraft is designated as the 777-200LRMF.
Cargojet initially placed an order for two of these converted aircraft with the option to acquire two more, in addition to a pair of -300ERMFs.
Mammoth has identified N705DN, with manufacturer serial number 29742 (MSN29742), as the aircraft for conformity during the certification process and the first one slated for delivery to the carrier.
Cargojet, in its semi-annual financial report covering the six months ending on June 30, revealed that it had entered into agreements for the conversion of four 777-200s, with the initial delivery anticipated in the first quarter of 2024.
The remaining aircraft are scheduled to be delivered in the second and third quarters of 2024 and the first quarter of 2025.
Furthermore, Mammoth has entered into 777-200LRMF conversion agreements with DHL Express, while AviaAM Leasing has committed as the launch customer for the 777-300ERMF.
Saab to Make Boeing 787 Cargo Doors
The framework agreement between Saab and Boeing represents an extension of a preexisting contract initially inked with Boeing back in 2004, specifically relating to the 787 Dreamliner program.
Over the course of the program's existence, Saab has already supplied more than 1,100 shipsets for the Boeing 787 Dreamliner program.
"This contract extension reaffirms our role as a valued partner to Boeing in the highly successful 787 program, which ranks among the world's top-selling widebody aircraft. It further solidifies our enduring and productive collaboration with Boeing, encompassing both the commercial aerostructures sector and our involvement with the T-7A trainer program on the defense front," remarked Lars Tossman, the head of Saab's Aeronautics business area.
Saab boasts extensive experience in providing major aerostructures for a variety of aircraft programs, both military and commercial. Similar to several other significant 787 components, these doors will primarily consist of composite materials.
Stay tuned with us. Further, follow us on social media for the latest updates.
Also Read: US Airlines, Including American, United, Delta, and Southwest, want you to Dress Properly – Aviation A2Z
Join us on Telegram Group for the Latest Aviation Updates. Subsequently, follow us on Google News.